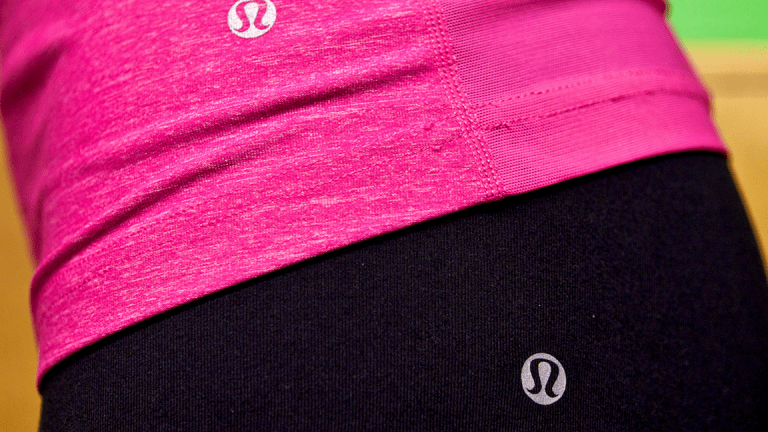 How to Trade Lululemon After Its Meteoric Rise
Lululemon is up 70% since March. This is how to get into the name in an intelligent way.
Lululemon is up 70% since March. This is how to get into the name in an intelligent way.
Lulu's stock has stretched.  
Wall Street did not seem pleased at first with the appointment of Calvin McDonald as the new CEO at Lululemon (LULU) - Get Report . The shares plummeted in late July, bottoming out around $117. Well, not only are the shares back, they look like they're breaking out.
Yesterday, we saw Buckingham Research raise their target price from $110 to $130. Impressive for a research firm to flip from a downside target to an upside one overnight. Then came JPMorgan. The firm lifted their target from a pedestrian $133 to a far more aggressive $146. Huzzah.
The bank's Matthew Brinkman is seeing strength for Lululemon across both North America and Asia. He also expects the firm to raise annual guidance when it reports a week from this Thursday. All I know is that this stock was up 5% yesterday, and is up some 70% since March. This is a beast that I missed. What can I do now? Let's pop the hood, and take a look.
Lululemon
View Chart »View in New Window »
This year has been a strange one for this stock, really segmented so far into three different "eras." Three months of straight sideways, then an upside break followed by a two-month steady climb. Then another violent upside break, this one followed by another ten weeks of sideways. By the way, both of these upside breaks were provoked by earnings releases that came bearing significant revenue growth.
Fancy Pants
The name appears expensive, trading at 36x next years earnings. They also don't pay you anything to own the shares. You own these shares for two reasons. The consumer is hot, and this is what the consumer is buying.
Two key items here for me. Profit margins seem to have grown significantly into 2018 from 2017. On top of that, they also appear to have their balance sheet under control. The firm runs with a Quick Ratio of 3.7, which is truly astounding for a firm that one would think is forced to carry on day to day operations with huge inventories in house.
What I Think
I don't chase equities that are up 70% before I get in. I may be wrong, but this prevents me from being extremely wrong. This is what a trader could do to get long-side exposure in an intelligent way (minimal lots).
#1
If you think the name is off to the races... buy 100 shares here ($136.67), and sell one August 31 145 call (last: $3.25). This drops your net basis down to $133.42. You may be called away at $145 the day after earnings. If that does happen, you will be looking at a total profit of $11.58.
#2
If you think $130 resistance now turns into support... sell one August 31 130 put (last $3.60). Either you pocket $360, or you eat the shares with a net basis of $126.40.
#3
If you think the shares return to the previous channel... sell one August 31 120 put (last $1.25). This poses, by far, the least risk among these three choices. You either pocket $125, or you own them at a net basis of $118.75, nearly 18 bucks below last night's close. I am pretty sure that I'll choose door number three. Just not sure if I choose more than one door.
Free White Paper: 7 Things All Investors Must Know in 2018. Start the second half off right with our free white paper on seven key things to watch this year. From how much cash to have on hand to the three reasons this bull market might die, our white paper features key takeaways from an all-star panel that TheStreet and Fisher Investments recently hosted in New York. Click here to register for your free online copy.
At the time of publication, Guilfolye had no positions in the stocks mentioned.