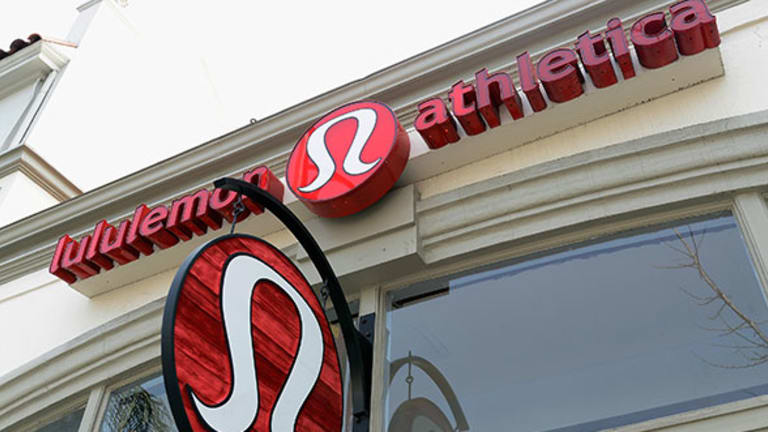 Lululemon Gets Ready to Answer Criticism From Founder Chip Wilson
As the athleisure company works to improve profitability, Chip Wilson is looking for a way to rejoin the company he started -- and criticized.
Dennis "Chip" Wilson, ousted founder of Lululemon Athletica (LULU) , sounded the alarm earlier this summer, declaring that the company has "lost its way" and saying a "call to action" was needed. Now, as the season starts to come to a close, the company that Wilson founded looks ready to respond.
In a June 1 open letter to shareholders, Wilson said the current board and management team must clearly articulate and execute a strategy with urgency toward regaining Lululemon's competitive advantage and profitable growth.
Wilson highlighted key data points, such as Lululemon's stock performance. "Three years ago our stock was double the value of Under Armour's (UA) . Now it's worth less than half," Wilson wrote.
But since the beginning of this year, Lululemon stock has gained 46%. That's significantly better than both Under Armour's 3% rise and Nike's (NKE)  7% decline. (Under Armour is a holding in TheStreet'sGrowth Seeker portfolio.)
"The key thing about Lulu is that they brought in a guy name Lee Holman from Nike, very respectable, and broadened the lineup to men's, too," Jim Cramer said during CNBC's "Stop Trading" segment Monday. "They also have a superior supply chain management vs. what they used to. They have a terrific CFO, a terrific CEO," Cramer added.
CEO Laurent Potdevin has been working to improve profitability for the past couple of years. He took the over the role in January 2014, according to his LinkedIn page, after Wilson resigned following controversial comments made about customers' body types. Potdevin told CNBC's Sara Eisen in July that the company is about 80% through profitability improvements, with margins expanding as investments in product innovation and quality are paying off.
The CEO's plan is to double revenue by 2020 and more than double profitability, and he believes Lululemon is on track to meet those targets.
Wilson has said since his letter that he is "very pleased" with the recent developments at Lululemon, from "its commitment to doubling its business and earnings to its decision to share details of that growth plan."
In fact, Wilson is apparently so pleased that he is interested in getting involved with the company again -- a thought that should give management and investors pause, considering that even when working completely separate of the company he felt the need to publicly attack its board and overall performance. Wilson suggested putting forth another director after longest-serving board member Rhoda Pitcher resigned.
"I believe appointing a Vancouver-based director would be an excellent way to balance the board and stay aligned with the West Coast culture that's so deeply embedded in Lulu," Wilson wrote via an email to Real Money. He is based in Vancouver, British Columbia. Furthermore, according to The Globe and Mail, the Lululemon founder now wants to be a "thought leader" to help the company continue to expand.
Lululemon did not immediately respond to our request for comment.
So as the $10 billion company prepares to report quarterly earnings Thursday morning, it's time for Lululemon to prove its turnaround plan is working.
Analysts are expecting the athleisure retailer to deliver strong gross margins. Analysts with Credit Suisse estimate gross margin to widen 125 basis points year to year, to about 48% of sales. They believe improving product margin, lowered Free On Board costs, reduced raw material costs and lower air freight have been "integral to Lululemon's supply chain improvements and should help drive a multiyear margin expansion story." The firm gives the stock an outperform rating with a $76 price target.
Investors should also have an eye on further expansion internationally. D.A. Davidson analyst Andrew Burns is looking for an "upbeat 2Q performance and outlook for Europe and Asia," which he says would further validate Lululemon's long-term potential as a global brand. The firm reiterated its neutral rating and $80 price target.
Wall Street is expecting earnings of 37 cents per share on revenue of $515.5 million.
The company seems to have found its way under the current management team's profitability plan, and without Wilson's direct involvement.
"LULU, I wouldn't want to be short it because I think the company is so much better run than it used to be. It's a joy to watch that company," Cramer said.
Editor's Note: This article was originally published on Real Money at 8 a.m. on Aug. 31.
Employees of TheStreet are restricted from trading individual securities.
Growth Seeker portfolio is long UA stock. 
D.A. Davidson & Co. expects to receive, or intends to seek, compensation for investment banking services from this company in the next three months. D.A. Davidson & Co. is a full service investment firm that provides both brokerage and investment banking services. Andrew Burns, CFA, the research analyst principally responsible for the preparation of this report, will receive compensation that is based upon (among other factors) D.A. Davidson & Co.'s investment banking revenue. D.A. Davidson & Co.'s analysts, however, are not directly compensated for involvement in specific investment banking transactions.
Credit Suisse does and seeks to do business with companies covered in its research reports. As a result, investors should be aware that the Firm may have a conflict of interest that could affect the objectivity of this report. Investors should consider this report as only a single factor in making their investment decision.