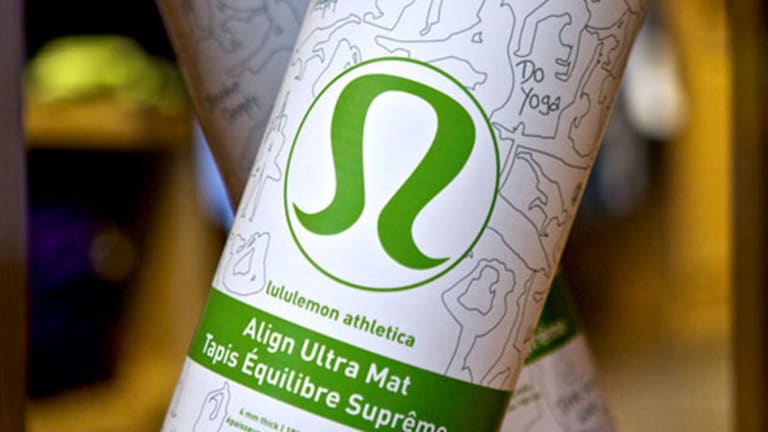 LULU, CCL, AVGO, AAPL: Jim Cramer's Views
Jim Cramer shares his views on what the shorts got wrong and Broadcom's potential. Lululemon, Carnival, Broadcom and Apple are among the stocks discussed here.
NEW YORK (Real Money) -- Jim Cramer shares his views every day on RealMoney.Click here for a real-time look at his insights and musings.
Lessons From 2 Stocks That Shorts Got Wrong
Posted at 6:12 a.m. EDT on Thursday, March 31, 2016
We think that there's nothing but long only money playing now that we have broken out to the upside for 2016. But there are plenty of places where the short base is in. You just don't see it until the trap is sprung. We saw that twice yesterday: first with Lululemon (LULU) - Get Lululemon Athletica Inc Report  and then with Carnival  (CCL) - Get Carnival Corporation Report .
The first was totally dazzling. There was a remarkable sell-through at pretty much every level at LULU, of which the two that were most surprising were men's, which was very strong, and direct to consumer, which has now leaped to the top of the list of omni-channel companies, surpassing Williams-Sonoma (WSM) - Get Williams-Sonoma, Inc. Report , which had been the real gem.
LULU seems to get it in a way that so few do, except Growth Seeker portfolio name UnderArmour (UA) - Get Under Armour, Inc. Class C Report  and Nike (NKE) - Get NIKE, Inc. Class B Report : they are a tech company that sells apparel. As Laurent Potdevin, the CEO, said on the call, one of the pillars of LuLu's success is product innovation: "it is central to how we continue to create transformational experiences for our guests who live and breathe the sweat life. Our products are rooted in function and our designers mandate it to be proud of every single product they create."
Lulu is really taking the men's category by storm, to the point where I have to believe that someone at Nike is kicking himself for not buying this company's stock when it was down: "With a focused stead vision we see continued disruptive innovation in products. Our focus will be on training, run and yoga and we elevate and diversify our staple offering."
On line is just a plain old homerun. "Our vision is to design and nurture a digital ecosystem that amplifies human experiences, relationships and connections." I know, this is online; no other company seems to have this command of online save Amazon.com (AMZN) - Get Amazon.com, Inc. Report . Get this: "digital is a critical platform for us to tap into the power of our collections both online and offline, allowing us to continue engaging with our guests in an authentic and personalized way." Personalized way online? Bring it on.
Because of online's success, LULU can gauge international demand and all I can say is that this company is early on in exploiting that channel.
The best of all? The company crowed that it had enough inventory on hand, even as it said the last few weeks were just okay, hence the muted guidance that was a turnoff to so many until the stock started ramping and people figured it was just conservatism. From a company that had been promotional to a fault, I welcome the tempering.
Carnival was extraordinary, much better than I thought possible, with pretty much every line item up and bookings very strong. I know I was shocked at how much interest there is in going to the Caribbean, having just re-entered the country in Houston, where there are signs everywhere about the malady. But judging by the raised prices and the incredible growth in numbers of people who want cruises, it seems to be, at least right now, not even a factor, certainly not one the analysts care to mention, as they were more focused on the Belgian tragedy.
Two communist positives: the Chinese and Cuba. The Chinese are nuts about cruising, and Carnival can't get enough ships over there. Cuba? Arnold Donald, the CEO, actually urged the analysts to book now before they are sold out on their first of many to that once extremely popular destination. President Obama really did these guys a solid.
There were no bad line items. None. Everything was better than expected. I still have a hard time not being skeptical about Zika. Given that I have kids, I sure wouldn't want to go to the Caribbean this winter.
I am now thinking that somehow I am just an over-protective parent. Because one thing is certain from these advanced bookings: far more people care about a nice stateroom than they care about a mosquito bite with some severe consequences.
Lulu and Carnival: two that people bet against. Two that the shorts got wrong. Two that cost a heck of a lot of people a lot of money.
At the time of publication, Action Alerts PLUS, which Cramer co-manages as a charitable trust, had no positions in the stocks mentioned.
No Quit in Broadcom Shares
Posted at 3:31 p.m. EDT on Wednesday, March 30, 2016
You have to wonder how much longer Broadcom Ltd. (AVGO) - Get Broadcom Inc. Report  is going to go up before people realize that NXP Semiconductors (NXPI) - Get NXP Semiconductors NV Report  and Skyworks (SWKS) - Get Skyworks Solutions, Inc. Report  should be higher.
I thought the Avago-Broadcom merger was sensational, but so was the NXP-Freescale deal. I was concerned that Skyworks wanted to pay too much for PMC-Sierra, which I didn't' think fit into the portfolio and made me feel that Skyworks itself didn't think it had as robust a future unless it made a deal.
At the same time, though, if Apple (AAPL) - Get Apple Inc. Report  is going higher and the Internet of Things stays hot, I would not quit on these stocks and I would still be buying Broadcom, which now has a much broader portfolio than just Apple. CEO Hock Tan is a miracle worker who has cobbled together the fastest-growing semi in the land -- the quietest $67 billion semi I know. It just passed Texas Instruments (TXN) - Get Texas Instruments Incorporated Report  in size.
Broadcom has all of this juicy communications equipment required to make your cellphone work so much better than it does now. It is well ahead of all other companies. It is the company that I wish Intel (INTC) - Get Intel Corporation Report  had bought instead of Altera.
Of all of the techies I follow, this one has the best chance of blowing numbers away when it reports. Yet, it sells for only 15x earnings. Broadcom's pretty much the poster child for why I believe tech is still cheap.
Just a great combination that was long suffering -- like the others mentioned here -- that is finally able to show the beauty of a telecommunications powerhouse that's no longer hostage to Apple.
The real tell about this combination is that when Jabil (JBL) - Get Jabil Inc. Report  announced that Apple cellphone orders had dropped off the face of the earth, Broadcom was barely hit. Can you imagine when the orders come back?
That's why you don't want to leave this now -- too much momentum ahead.
At the time of publication, Action Alerts PLUS, which Cramer co-manages as a charitable trust, was long AAPL.