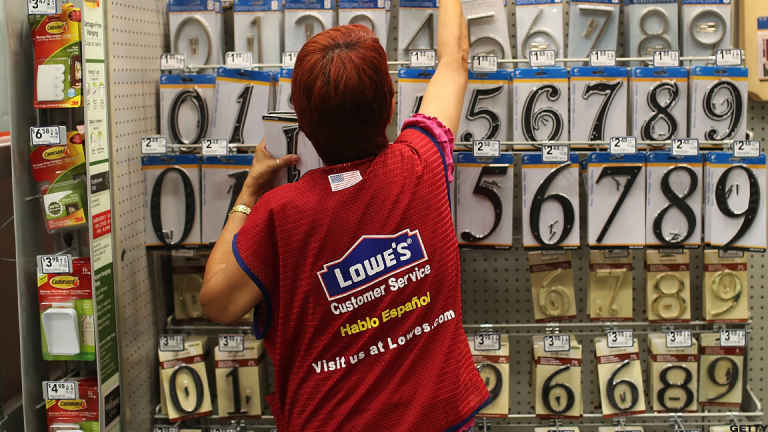 Ackman Targets Lowe's After Q1 Miss
The insurgent behind Pershing Square accumulated about $1 billion worth of shares. He also backs Marvin Ellison, a Home Depot veteran tapped to be the company's next CEO.
The insurgent behind Pershing Square accumulated about $1 billion worth of shares. He also backs Marvin Ellison, a Home Depot veteran tapped to be the company's next CEO.
Now we know why Lowe's Co. (LOW) - Get Report shares soared by 9% on Wednesday, May 23, even though they should have crashed and burned on a second consecutive quarterly earnings miss announced earlier in the day.
Bill Ackman's Pershing Square LP on Wednesday accumulated $1 billion worth of the home improvement retailer's shares. Ackman, who reportedly revealed the position at a conference in New York on Wednesday, suggested that he supports the company's incoming CEO, Home Depot Inc. (HD) - Get Report veteran Marvin Ellison, who was tapped by the retailer on Tuesday.
That make's Ackman the second insurgent manager involved in Lowe's, all of which suggests a wolf pack of activist hedge funds could be forming.
Driven by the lower-than-expected results, Lowe's shares dropped to $82.63, down 4% in pre-market trading before recovering to trade in mid-morning at $93.22 a share. The spike in value likely was driven by investors following Ackman's accumulations. Insurgent managers and those following their lead often buy shares when they believe the market is overreacting to a particular news event that appears to be what Ackman and those following him think happened here with the earnings announcement.
The lower-than-expected results emerged after Lowe's shares shot up temporarily on Tuesday to a high of $90.13 a share on news that the chain had snagged Ellison as its CEO, effective July 2.
Lowe's reported diluted earnings per share of $1.19, slightly below a consensus of analysts polled by FactSet Research Systems Inc. who said they expected Lowe's to have earnings per share of $1.21 for the first quarter of 2018.
Lowe's also reported that $17.4 billion in sales for the first quarter, also just below the $17.5 billion in sales for the quarter that analysts said they had anticipated for the retailer.
Lowe's also reported net income of $988 million in the first quarter, below a consensus estimate of about $1 billion. Lowe's expects earnings of $5.40 to $5.50 a share for the full year, ending Feb. 1, 2019.
The expected arrival of Ellison, the current CEO of J.C. Penney, as CEO was heralded as a transformative event for the home improvement giant that many observers hope will bring some of Home Depot's success to Lowe's.
A key reason Ellison was chosen for the job: His experience at Home Depot. Ellison spent about 12 years at Home Depot, in various senior roles, until 2014, including a stint as executive vice president.
Ellison's arrival can be directly connected to a settlement with activist investor D.E. Shaw & Co. in January, which resulted in the installation of three dissident directors. Ellison and one of the three dissident directors D.E. Shaw installed, David Batchelder, have a history of working together at Home Depot. According to relationship mapping service BoardEx, a service of TheStreet Inc., Ellison, and Batchelder both worked at Home Depot between 2008 and 2011. An activist himself as co-founder of the now-defunct Relational Investors, Batchelder in 2007 lead the charge that drove out Home Depot CEO Robert Nardelli, in a very public, fight.
And Batchelder had a crucial role in bringing Ellison to Lowe's, considering that the two worked together at Home Depot and that Batchelder led the retailer's board search committee for a new CEO. It is likely that D.E. Shaw insisted that Batchelder is installed as chief of the board subcommittee set up to find a new CEO as part of its settlement agreement.
Outgoing Lowe's CEO Robert Niblock told analysts that he blamed a "prolonged unfavorable" weather across geographies, including "the coldest April since 2007" and a delayed spring selling season for the poor results. However, he noted optimistically that Spring has now arrived, adding that "comps for May have achieved a double-digit positive."
"Lowe's has built a very strong seasonal business over the years," Niblock said. "With the coldest April since 2007, outdoor products were certainly impacted."
Neil Saunders, an analyst at GlobalData Retail, said in a report that there was some justification for Lowe's weather excuse "as the long winter did indeed deter many households from undertaking outdoor improvement projects." However, he added that Lowe's number one rival, Home Depot Inc (HD), was able to make up ground in sales of other categories while Lowe's struggled to drive its top-line forward. He suggested that the contrast between how Home Depot and Lowe's performed during the bad weather sends a message about why one big box retailer is in much better shape than the other.
"Our data consistently show that Home Depot is a destination for all sorts of home improvement activities," Saunders said. "Its compelling offer and good store locations also attract people at all stages of projects, from initial planning to finishing touches. By contrast, Lowe's is much more of an impulse destination and has much less success in attracting those planning projects or wanting to get ideas and advice."
The low results for Lowe's emerged after the home improvement retailer missed expectations in its previous quarter as well, reporting adjusted EPS of 74 cents in the fourth quarter of 2017, below a consensus estimate of analysts of 87 cents. It offered revenue of $15.5 billion for the quarter, slightly above a consensus estimate.
First published at 6:54 a.m.