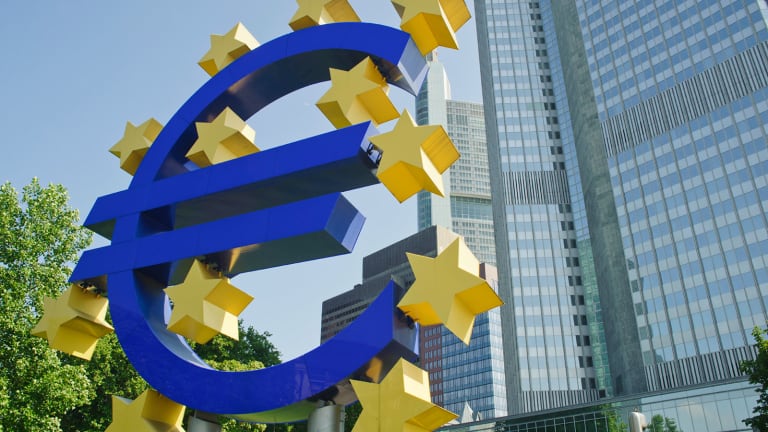 Look at U.K. Telecom, Utilities Stocks for Value in Europe, Analyst Says
Investors can still find good values in European stocks despite massive central bank stimulus. Look at U.K. telecoms, utilities and more.
NEW YORK (The Street) -- Even amid massive central bank stimulus in Europe, which tends to lift stock markets, investors can still find values in the region, one analyst said.
"The FTSE 250 mid-cap index keeps hitting record highs," said Michael Hewson, chief market analyst at London-based CMC Markets. "I would be looking for opportunities in France and Italy, simply because we are nowhere near the highs we saw in 2007."
The FTSE 250 has returned 13.3% since the start of the year, compared to the larger-cap FTSE 100's 9% gain.
Even though Germany is arguably the strongest economy in the eurozone, Hewson remains skeptical about finding value in German stocks.
"I would warn against the DAX," he said, referring to the Xetra DAX stock index that tracks 30 blue-chip German companies," he said, adding, "I think there is potential for a little bit of a reversal simply because of how far it has come higher over the last six to 12 months."
The DAX has risen almost 19% year-to-date.
Meanwhile, opportunity also exists in the United Kingdom.
"The UK 250 has outperformed the FTSE 100 pretty much consistently over the past three to four years, and it's still flirting with record highs," Hewson said. "The likelihood is that it will continue to push higher."
Within the U.K., Hewson is bullish on the telecom and utilities sectors.
"Companies that have been in focus this week are Vodafone (VOD) in the telecom space," he said.
"Utilities have also found that their values are artificially depressed, via companies like Centrica (CNA) and United Utilities."
These types of companies, he said, offer decent dividend yields and have seen their share prices inhibited over the last two years.
"With a new conservative government [in the UK], we could see a significant rebound in the utilities sectors." 
This article is commentary by an independent contributor. At the time of publication, the author held TK positions in the stocks mentioned.