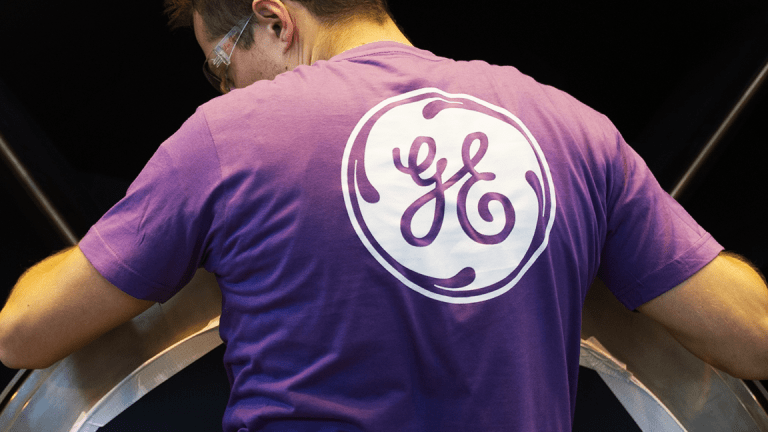 Longtime Supporter Argus Downgrades GE on 'Bleak' Outlook
The research firm believes the Boston-based industrial conglomerate will struggle to meet the low-end of its 2018 earnings guidance.
GE just can't catch a break.
The beleaguered General Electric Co. (GE) fell on Monday, July 23, after Argus Research downgraded the stock from Buy to Hold.
"We have been longtime GE supporters, but have been disappointed with the steady flow of bad news from the company, not to mention management's decision to cut the dividend late last year," Argus analyst John Eade wrote in a research note. "We also think that the tactical steps management is taking to reignite growth are unlikely to boost earnings for at least several quarters."
While Eade recognized management's "bold steps" to restructure the business, including the spin-off of its Healthcare business and the planned exit of its Baker Hughes undefined stake, the company's near-term outlook for two of its core businesses -- power and renewable energy -- is "bleak," he said.
The firm lowered its 2018 earnings guidance from $1.03 to 97 cents a share, which is below the low end of GE's guidance range of $1 to $1.07 a share.
GE fell 0.7% to $13.03 at 9:35 a.m. New York time. Investors fled the stock on Friday, sending shares down by about 4.5%, after the company trimmed its full-year cash flow expectations.
Some analysts, such as Deutsche Bank's Nicole DeBlase, were surprised at the magnitude of the sell-off on Friday, but acknowledged that "investors are still waiting for another shoe to drop with respect to [the second-half of 2018]."
DeBlase said she was further "disappointed with the fact that GE didn't just de-risk the outlook by lowering full-year guidance." Deutsche Bank maintained its Hold ratings and its $15 price target as there was "not enough upside to recommend the stock."
Still, Argus said it will look for "opportunities to return this U.S. industrial icon to the BUY list," noting that potential "triggers for an upgrade could be an improvement in orders in Power and Renewable Energy, or more than one or two quarters of financial progress."