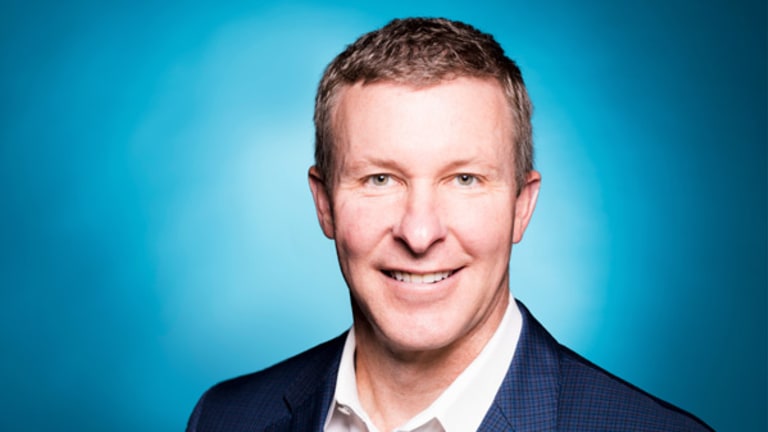 After 20 Years Beside American Airlines' CEO, Scott Kirby Moves to United
American Airlines President Scott Kirby stepped down Monday in order to move to United Airlines, a principal rival.
In a dramatic airline industry shift, Scott Kirby has left the job of president of American Airlines (AAL) - Get American Airlines Group, Inc. Report to become president of United Airlines (UAL) - Get United Airlines Holdings, Inc. Report , ending his 20-year partnership with American CEO Doug Parker.
Robert Isom replaced Kirby as American president. Both job changes took place immediately, the airlines said late Monday afternoon.
United described Kirby's departure as the result of CEO Oscar Munoz's effort to assemble a new leadership team, while American described it as the result of its board's consideration of succession planning.
Whatever the exact order of events, "it was mutually beneficial all the way around," said an airline industry source familiar with Monday's events.
In a letter to United employees, Munoz wrote that he appointed Kirby to the newly created position of United president.
"Scott will report to me and have overall responsibility for United's operations, marketing, sales, alliances, route planning and revenue management," wrote Munoz, who intends to focus on strategy, innovation and financial performance.
"What set Scott apart from the other impressive candidates I considered was his excitement at the passion and enthusiasm he is seeing from all of you over the past few months.," Munoz said.
"Scott's appointment is the culmination of the formation of my leadership team." he said.
Meanwhile, American said in a prepared statement that "today's management changes are the result of the company's board of directors' ongoing succession planning process.
"As part of that process, and subsequent conversations regarding career expectations and the marketability of its executives, the company concluded it would not be able to retain its existing executive team in their current roles for an extended period," the carrier said.
John Cahill, the airline's lead independent director, emphasized that Parker isn't going anywhere, suggesting a scenario in which Kirby, 49, was not going to move up at the carrier anytime soon, even though he was widely viewed as Parker's heir apparent. Parker is 54; Isom is 52.
American "continues to be led by an exemplary individual who embodies the leadership qualities necessary to lead a large, complex service organization," Cahill said in the prepared statement. "We look forward to Doug's continued leadership for many years to come, welcome Robert to his expanded role, and are extremely excited about the future of American Airlines."
In an SEC filing, American said Kirby had entered into a "transition and separation agreement" under which he will receive a $3.9 million lump sum payment, continued health coverage for himself and dependents for up to two years and accelerated vesting of 258,958 shares of stock, worth about $9.4 million at Monday's close.
In 1995, Parker and Kirby began working together at America West, a struggling Phoenix-based regional carrier that came close to bankruptcy and perhaps to a shutdown.
By the end of 2013, after engineering mergers with US Airways and American, they were running the largest airline in the world. Moreover, their vision of a more consolidated airline industry - they unsuccessfully pursued mergers with Delta and United before succeeding at American - became reality and was a key factor, along with falling oil prices, in the creation of the 21st century airline industry, which appears to be capable of sustained profits for the first time in its history.
The Parker and Kirby leadership style included a concentration of decision making in a small leadership team that expanded only slightly following the US Airways merger, although new executives were brought in after the American merger.
That team included Isom, who left once and then returned.
Like Parker, Isom joined America West in 1995. He came from GMAC, where he had been chief restructuring officer: he had previously worked for Northwest Airlines in a variety of management roles.
At America West, Isom held executive jobs in revenue management, operations and finance. He left in 2000, but then returned to US Airways in 2007 as executive vice president and chief operating officer.
Isom is widely credited for overseeing a commitment to on-time operations, which has vastly benefitted the airline. "Robert led the remarkable turnaround of US Airways' operating performance and reliability," Parker wrote in a letter to employees. "He is an engaging leader with a talent for growing and inspiring the colleagues around him."
In recent months, however, the Allied Pilots Association, which represents American pilots, has said that Isom has at times sought to supersede pilots' judgement on decisions regarding when to push off and flight planning.
In a note issued late Monday, Gimme Credit analyst Vicki Bryan wrote that United "netted an impressive and surprising win today by luring venerable airline veteran Scott Kirby away from American Airlines Group and his longtime boss Doug Parker.
"The loss of Mr. Kirby at American is disappointing but understandable since CEO Doug Parker is not likely to leave anytime soon," Bryan wrote.
In his letter, Parker called Kirby "both a great colleague and a good friend.
"We are going to miss him," Parker said. "We will be forever grateful to him for his leadership and his influence in making American what it is today."
This article is commentary by an independent contributor. At the time of publication, the author held no positions in the stocks mentioned.