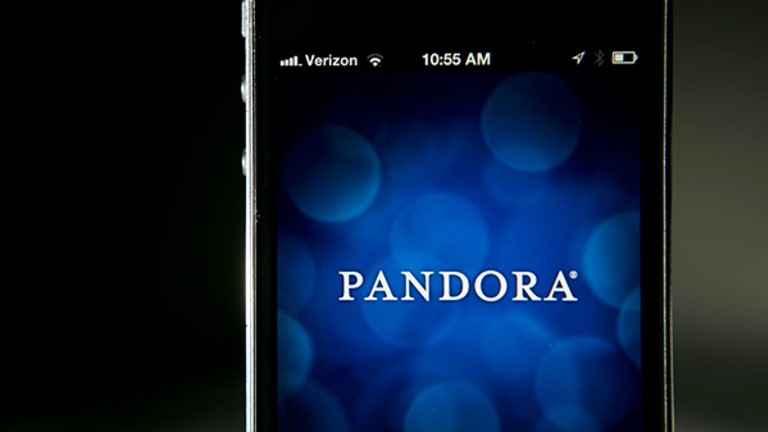 Long-Time Investor Is Dumping Pandora Shares
An early-stage, decade-longer investor in Pandora appears to be bailing out.
An early-stage, decade-longer investor in Pandora appears to be bailing out.
NEW YORK (TheStreet) -- Just a heads-up FYI from your friendly neighborhood columnist: Crosslink Capital has been unloading Pandora (P) stock for some reason.
Dig this SEC filing dated Aug. 25, 2014:
And the first one filed in 2014 on Feb. 9:
And this one filed at the beginning of 2013 (March 8):
Note the number in the "Amount of Securities Beneficially Owned Following Reported Transaction(s)" column. It's considerably lower, as of Aug. 22, 2014, than it was on March 8, 2013. And it's even lower than it was in 2012.
For a more readable and accessible rundown of Crosslink's Pandora activity, here's a link to Yahoo! Finance's insider transactions page. At that page, you can also see more insider selling of Pandora shares that have made many of the company's executives, officers and directors filthy rich at the same time as the company cries poor to singers and songwriters.
I contacted Pandora's VP of Finance and Investor Relations, Dominic Paschel, and asked him what we should make of the Crosslink selloff. Here's his unedited email response, which was copied to Pandora's VP of Communications Will Valentine, CFO Mike Herring (who sold $5.9 million worth of stock on Feb. 10) and co-founder and former Chief Strategy Officer Tim Westergren (who cashed out more than $1.9 million in P stock on Aug. 7):
I can only really say Crosslink has been and continues to be a valued strategic partner of Pandora Media's.  Since Pandora's first days of inception in 2005 the Crosslink team continues to champion our cause and our purpose to have a voice in the as a disruptive agent to broadcast radio.  Few investment firms in my personal career have I known to have as a long as a strategic view as their decade long investment continues to be.  Pandora thanks the Crosslink team for their ongoing investment, advisory position on Pandora's board of directors, and as a friend.  Crosslink will be noted historically as having a major role in the future of music in the digital era.
That's all he "can only really say."
Richard Tullo, who covers Pandora for Albert Fried, made sense of the situation in an email to TheStreet like this:
My guess is they are liquidating Pandora to launch a new fund.
That said they are selling and with the top [Pandora's 52-week high] roughly 30% higher than current levels I would say they think Pandora is fully valued.
I think [the constant takeover speculation on] Wall Street as Crosslink is selling shares is idiotic. All the bozos are doing is helping the insiders sell stock at speculation inflated prices [see above].
Think about it -- [Crosslink] own[s] a major block if a strategic [buyer] was serious about Pandora the probability is pretty good that the strategic [buyer] would buy an option on Crosslink's position in a swap and therefore they could not sell in the market.
Bingo. Which throws some cold water on my recent Pandora takeover speculation. Oh -- and you never have to worry about me quoting your Grandfather's Wall Street analyst.
Crosslink Capital could not be reached for comment. 
Rocco Pendola writes for
TheStreet
. He lives in Santa Monica. Disclosure: TheStreet's editorial policy prohibits staff editors, reporters and analysts from holding positions in any individual stocks.