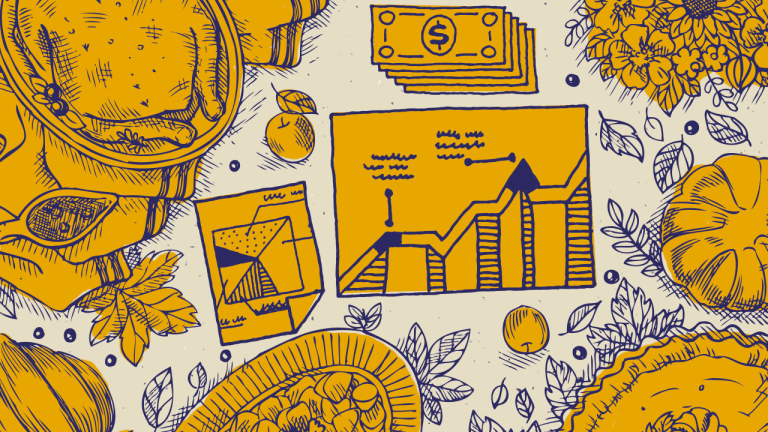 Coca-Cola's Stock Is One Part of This Tasty Thanksgiving-Themed Portfolio
These six food, beverage and confectionery purveyors deserve a place in your long-term portfolio.
In celebration Thanksgiving, we look at a variety of companies whose products may well appear on your holiday table. Several MoneyShow.com contributors also believe these food, beverage and confectionery purveyors deserve a place in your long-term portfolio.
Hormel Foods (HRL) - Get Hormel Foods Corporation Report , owner of Jennie-O Turkey, Applegate Organics, Muscle Milk, Skippy and many other food brands, is perhaps the perfect example of a great business trading at a fair price; this is a rarity in today's overvalued market.
Hormel's competitive advantage comes from its portfolio of well-known food brands; it owns over 35 brands that are either first or second in their category. Hormel supports its brands with large advertising expenditures. The company spent over $200 million on advertising in fiscal 2016.
Hormel's growth days are not over, however. Bolt-on acquisitions are a likely growth catalyst. Hormel has grown through intelligent acquisitions over the last several years, including Applegate Organics, Justin's Peanut Butter and Muscle Milk.
There's much to like about Hormel, and this usually means an overvalued price in today's market. That's not the case with Hormel. The company is currently going through temporary struggles due to low turkey prices. Hormel owns the turkey farms that produce Jennie-O Turkey.
When turkey prices fall, Hormel's margins decline, resulting in lower earnings. There is currently an oversupply of turkey. When the situation reverses, Hormel's earnings will likely rebound. This temporary decline has created a compelling entry point for long-term investors.
Hormel is a member of the exclusive "Dividend Kings" list, a select group of stocks with 50+ years of rising dividends. Hormel has increased its dividend for 51 consecutive years. This shows the company has a strong and durable competitive advantage in the food industry.
Tyson Foods (TSN) - Get Tyson Foods, Inc. Class A Report , which offers food products under the Tyson, Jimmy Dean, Hillshire Farm, Sara Lee, and Ball Park brands, continued its solid performance, following the protein producer's strong fiscal fourth quarter 2017 financial results.
For the three-month period, Tyson Foods generated revenue of $10.1 billion, versus consensus expectations of $9.9 billion. Additionally, adjusted EPS for the quarter was $1.43, compared to projections of $1.36.
Tyson CEO Tom Hayes says, "Fiscal 2017 was a year of great change ... We refined our strategy and put in place a new management team to implement it." Looking ahead, Hayes explained, "Fiscal 2018 is off to a great start, and we're currently expecting adjusted earnings growth of 7-10 percent to $5.70-5.85 per share."
We remain impressed with the operational momentum the company has been enjoying, and believe that continued expansion in prepared foods and increasing protein consumption around the globe, especially in emerging economies, provide a solid long-term footing for top-line growth.
And we like the continued right-sizing and cost-cutting to ensure that the bottom line continues to benefit. The stock currently trades at 13.5 times next 12-month adjusted EPS consensus estimates, and we have boosted our target price to $85.
Founded in 1894 in Hershey, Pa., The Hershey Company (HSY) - Get Hershey Company Report sells its products primarily under the Hershey's, Reese's, Kisses, Almond Joy, Brookside, Cadbury, Good & Plenty, Kit Kat, Twizzlers, Breathsavers, Bubble Yum and Heath brands, among others.
The Hershey Company also operates an entertainment complex in Hershey that includes Hersheypark theme park, Hersheypark Stadium, Hersheypark Arena, Hershey Museum and the Giant Center arena.
The traditional American confectioner manufacturer is not only offering tasty chocolates and candies but is rewarding its shareholders with a 2.4% dividend yield. This current yield is 8.4 percentage points above the Hershey 2.2% average yield over the past five years.
Additionally, the company's current yield excels in comparison to Hershey's industry peers. Hershey's yield is also 35.5 percentage points above the 1.76% average yield of the Consumer Products sector average yield.
The company has rewarded investors with eight consecutive years of dividend hikes. Over that period, the annual dividend amount rose at an average rate of 10.4%.
The result of these dividend hikes is a 121% total annual dividend boost since 2009. Over the extended period of 20 years, the company failed to raise the annual dividend payout only once.
The combined effect of the rising dividends and the strong asset appreciation rewarded the company's shareholders with a 19.15% total return over the last 12 months, 26.25% over the three years and almost 75% over the last five years.
For an income investor, it's always important to ask if a company's dividend is sustainable. One rough and ready way to assess this is a company's payout ratio. The Coca-Cola Company (KO) - Get Coca-Cola Company Report -- a holding in our income portfolio -- is a case in point. On the face of it, its current payout ratio at around 154% seems disturbingly high.
It's also a drastic change. In 2013, Coca-Cola paid out 53% of its earnings to shareholders in dividends. So what has happened over the past four years to account for such a big change in the company's numbers?
You don't have to look much further than many of the headlines for part of the answer. A rising awareness of the many downsides to sugar consumption has driven more consumers to choose beverages seen as healthier alternatives to Coca-Cola's flagship soft drink products.
These shifts in consumer preferences and government intervention have led Coca-Cola to undertake a massive change in its business strategy. Over the past few years, it has diversified into more low-sugar and no-sugar options like Coca-Cola Zero Sugar and expanded its offerings in other beverage categories like water, energy drinks, sports drinks, dairy, juice, ready-to-drink coffee and tea.
As a global company, it also is concentrating on developing a diversified array of products geared to the specific tastes of local markets. This transformation process, however, comes with a hefty price tag. For example, Coca-Cola will have invested $17 billion in Africa by 2020.
The company boasts 55 consecutive years of annual dividend increases. Between 2012 and 2016 it returned more than $40 billion in shareholder value in the form of dividends and share repurchases.
Its current dividend yield of 3.2% does not seem excessively high or beyond what the company can fund while it undergoes the expensive structural changes needed to remain competitive. The stock remains a Buy.
Nestle (NSRGY) - Get NSRGY Report -- based in Switzerland -- continues to see small improvements towards its somewhat modest goals. In particular, there has been an improvement in the margins, the result of efficiency programs.
Margins are all important to a company such as Nestle, particularly given the current pricing pressures. There has also been increased growth, particularly in China, though the company is not expecting further acceleration of growth in that market.
Nestle remains a global blue chip, with strong management and a solid balance sheet, with diversified assets and sales and innovative programs, though in the short term, it can be difficult to move the needle.
The problem is the valuation. Though not out of line among industry peers, it is trading at a high price-to-cash flow, a high P/E and the lowest yield since the beginning of 2008. So, for now, we consider the stock a strong holding. Buy on price pullbacks.
Over the past 12 months, many packaged food firms have seen their share prices wilt. But the one below has impressive financial traits, a strong balance sheet, prodigious cash flows and a generous payout to shareholders.
Strategically, it also has powerful brands, strong negotiating leverage with grocers, an impressive distribution network and an increasingly talented and fresh leadership team.
Best known for its jams and jellies, it might be surprising to know that more than 95% of the $7.4 billion in revenue at J.M. Smucker (SJM) - Get J.M. Smucker Company Report is generated from other foods: coffee (including Keurig compatible packages, Folgers and Dunkin' Donuts retail coffees), pet foods (Milk Bone), international food service (14%) and others including Jif peanut butter.
Smucker has become adept at operational excellence, reinvigorating older niche brands and launching new products -- reflected in its historically strong stock price. However, recent lackluster sales (down 4%) depressed operating profits by 17% and contributed to the share price decline in the past year.
Nevertheless, the company's brands are resilient: it is estimated that 93% of all U.S. households have at least one Smucker product, and 75% of its U.S. sales come from products that are #1 or #2 in their categories.
Its $1.1 billion of operating cash flow compared to $310 million of capital spending leaves plenty of room for dividends and acquisitions, plus the paydown of its $5.2 billion in debt.
With its family's name on every label and family members sitting in the chair and CEO seats, J.M. Smucker has a real incentive to return the stock to its former performance.
(This article originally appeared Nov. 22 on Real Money, our premium site for active traders. Click here to get great columns like this from Jim Cramer and other writers.)
More of What's Trending on TheStreet:
Editors' pick: Originally published Nov. 23.