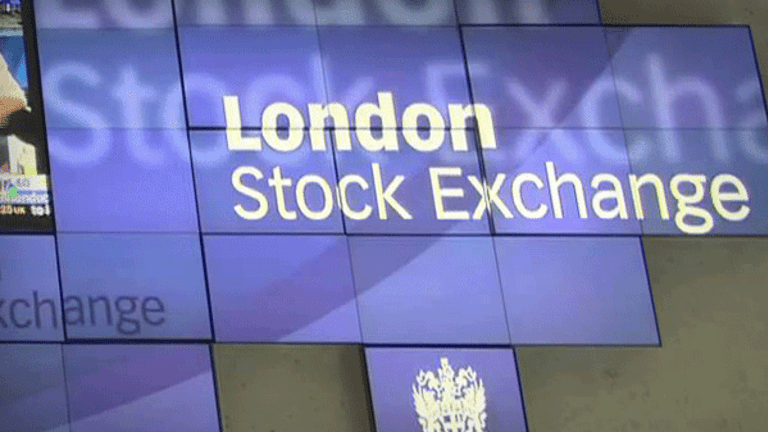 London Stock Exchange Buys Citigroup's Yield Book Business for $685 Million
London Stock Exchange rose Tuesday after it sealed a deal to buy two fixed income assets from Citigroup, barely two months after a tie up with Deutsche Boerse fell apart.
London Stock Exchange Group plc (LDNXF)  shares trade higher Tuesday after it said it will buy two fixed income trading and benchmarking assets from Citigroup (C) , barely two months after a tie up with Germany's Deutsche Boerse AG (DBOEY) fell apart at the seams.
The U.K. stock exchange operator will buy The Yield Book and Citi Fixed Income Indices from the U.S. bank for $685 million, funded by cash on hand and bank debt, the group said. The Yield Book is a fixed income analytics platform, covering mortgage, government, corporate and derivative securities. Citi Fixed Income Indices, owner of the World Government Bond Index, compiles benchmarks and provides other associated data to clients across the globe.
London Stock Exchange shares rose by 0.30% during early trading, to change hands at 3,397.0 pence, outpacing the 0.17% gain of the Stoxx Europe 600 Financial Services index.
Both assets will be folded into LSE's FTSE Russell Information Services division, which was picked up during the June 2014 acquisition of Russell Investments, and are expected to boost earnings from the first year onward.
"The acquisition represents a significant step for FTSE Russell to acquire a world-class fixed income analytics and index business, enhancing our ability to provide customers with broader multi-asset capabilities and a deeper data and analytics offering," said FTSE Russell CEO Mark Makepeace.
Citigroup will collaborate with LSE on the future development of both assets, but particularly the mortgage related models within The Yield Book, and will also remain a large customer of both services.
LSE said that it expects the deal will generate $30 million of revenue synergies over the first three years of ownership, alongside cost synergies of $18 million.
The deal comes less than two months after LSE's marriage to Germany's Deutsche Boerse fell apart over the former's refusal to sell off other prized fixed income assets in order to satisfy European competition regulators.
M&A is an important revenue driver for London Stock Exchange, and necessary given expectations embedded within the exchange operator's current valuation, with more than 30% of the 2016 top line being drawn from businesses acquired within the past four years.
"We view LSE as a best-in-class operator with a very good track record in M&A ... That said, these positive attributes are largely priced in at current valuation levels as the stock is trading at 23.6x forward earnings, its highest forward P/E multiple in over 10 years," said Michael Werner, an analyst at UBS.