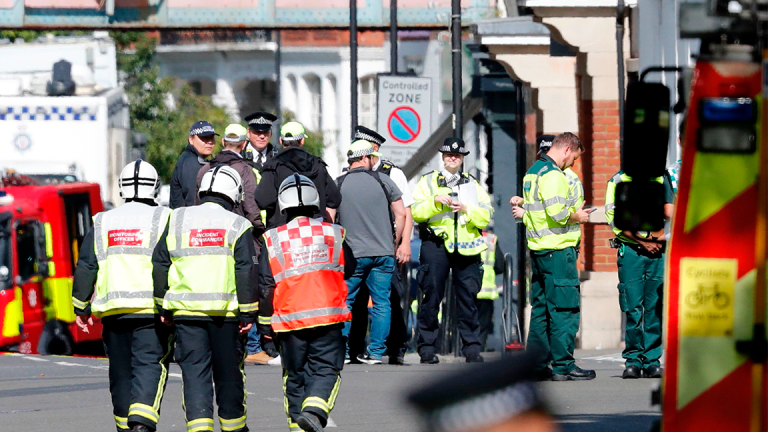 London Tube 'Terror' Attack: Police Arrest 18-Year-Old Man
Metropolitan Police say Friday morning's explosion on a tube line was caused by the detonation of an improvised explosive device.
Stay up to date on this developing story. 
The Latest
6:29 EST
According to London Metropolitan Police, an 18-year man was arrested Saturday morning in connection with the attack. 
Friday
10:28 EST.
U.K. Prime Minister Theresa May said the country's threat level will remain at "severe," meaning a terrorist attack is highly likely. May also rebuked President Donald Trump's comments. 
"I never think it's helpful for anyone to speculate on what is an ongoing investigation," she said.
9:34 am EST.
London Metropolitan police are still searching for clues as to who, and why, a home-made explosive device was planted on the District Line of the London Underground during the busy Friday morning commute into the city center and are conducting high-visibility patrols around the capital.
Area roads, however, have been re-opened and the broader transport system appears to be functioning normally, with minor delays and closures, following the incident. 
Metropolitan Police said they were evacuating the area around Parsons Green station while emergency services continued to work at the scene.
The evacuation has been necessary whilst officers secure the remnants of the improvised device & ensure it is stable #ParsonsGreen
London Ambulance service Assistant Director for Operations Natasha Wills has confirmed that at least 19 people were treated for minor injuries at local hospitals and that the Hazardous Area Response Team was sent to the site in suburban West London.
U.S. President Donald Trump Tweeted early this morning that the incident should trigger a "proactive" response in the fight against terrorism, a statement that Met Police later described as "unhelpful" during its ongoing investigation.
U.K. Prime Minister Theresa May has returned to London from her constituency in Maidenhead and will chair a meeting of the Cabinet Office briefing room, or COBRA, an emergency committee typically convened during incidents of national security, later Friday in Whitehall. 
7:34 am EST.
The number of injured has increased to 22. Britain's National Health Service said 22 people are being treated at four hospitals across London. London Ambulance Service picked up 18 people and four others self-presented. 
7:00 am EST.
The police have declared it a terrorist incident and the investigation is being led by the Met Police's counter terrorism command. The U.K.'s internal intelligence agency, MI5, is also helping with the investigation.
What Happened?  
London Metropolitan Police said that the explosion on one of the city's subway lines Friday morning at the height of rush hour was caused by the detonation of an improvised explosive device.
Met Police Assistant Commissioner Mark Rowley said police were called to Parsons Green tube station at 8:20 am local time on reports of an explosion. "We now assess that this was a detonation of an Improvised Explosive Device," he said.
The London Ambulance Service confirmed at 11:17 am local time that 18 people had been injured in the attack and confirmed that its hazardous area response team was on the scene. 
Early reports from various U.K. media suggest a small explosion occurred on the District Line of the London Underground system near Parsons Green, a station in the West London suburb of Fulham, at around 08:20 local time. Passengers were reported to be fleeing the station, some with smoke on their faces and others in distress, as result of the incident.
First responders, including the London Ambulance service, have arrived at Parsons Green, while other nearby stations, including Wimbledon and the busy junction of Earl's Court, have been closed.
"We have sent multiple resources to the scene including single responders in cars, ambulance crews, incident response officers and our hazardous area response team, with the first of our medics arriving in under five minutes," the London Ambulance service said. "Our initial priority is to assess the level and nature of injuries. More information will follow when we have it."
London's mayor, Sadiq Khan, said in a statement that he was in "close contact" with law enforcement and vowed the city would "never be defeated by terrorism".