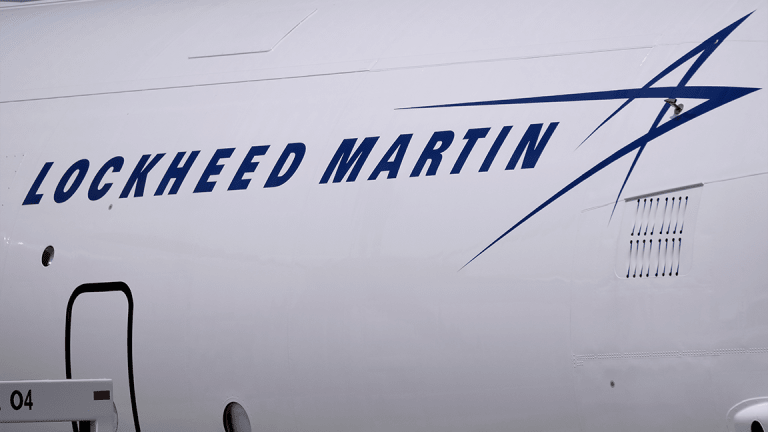 Lockheed Martin Soars on First-Quarter Earnings Beat, Raised Outlook
Lockheed Martin surges after beating first-quarter earnings and revenue estimates.
Shares of Lockheed Martin (LMT) - Get Free Report surged 4.7% to $330.04 Tuesday after the aerospace giant beat Wall Street's first-quarter earnings expectations and raised its full-year outlook.
The Bethesda, Maryland-based company reported earnings $1.7 billion, or $5.99 per share, compared to $1.2 billion, or $4.02 a share, a year ago. Analysts were forecasting earnings of $4.34 a share.
Net sales totaled $14.3 billion, up from $11.6 billion a year ago, and beat Wall Street's expectation of $12.6 billion.
Lockheed Martin also raised its outlook for the full year. The company said it now expects sales to range from $56.75 billion to $58.25 billion, up from an earlier forecast of $55.75 billion to $57.25 billion. Lockheed Martin also expects earnings of $20.05 to $20.35 a share, up from a prior forecast of $19.15 to $19.45.
During the quarter Lockheed Martin made capital expenditures of $284 million, compared with $216 million a year ago.
Sales increased in the company's four business segments: aeronautics, missiles and fire control, rotary and mission systems and space. 
"The corporation had strong performance in the first quarter which has allowed us to increase our full year financial guidance for sales, profit, earnings per share and cash," Chairman, President and CEO Marillyn Hewson said in a statement. "Our differentiated portfolio and record backlog position us well for continued growth, and we remain focused on delivering innovative technologies and solutions for our customers, and long-term value creation for stockholders."