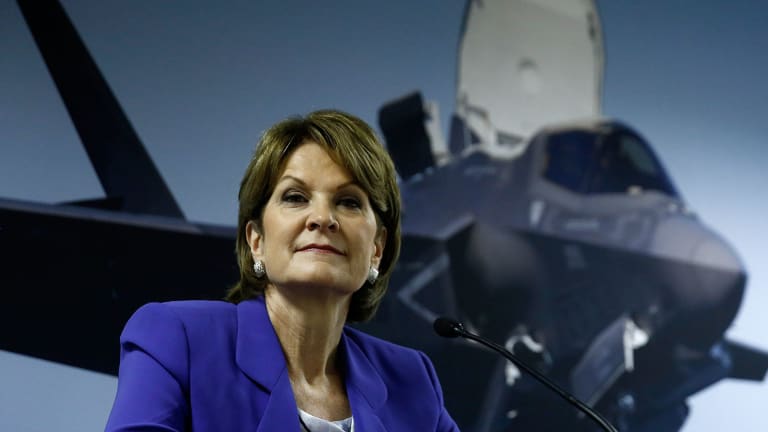 Lockheed Martin Flies Higher on Strong Second-Quarter Earnings, Raised Guidance
The Bethesda, Md.-based aerospace and defense company reported net earnings of $4.05 a share on revenue of $13.4 billion.
Lockheed keeps flying higher. 
Lockheed Martin Corp. (LMT) rose on Tuesday, July 24, after handily beating estimates and raising full-year guidance.
The Bethesda, Md.-based aerospace and defense company reported net earnings of $1.2 billion, or $4.05 a share, which topped analysts' estimates of $3.92. The net earnings included special charges for severance and restructuring activities of 26 cents a share. Revenue of $13.4 billion also beat forecasts calling for $12.73 billion. 
Lockheed raised its guidance for the full year, and now expects sales in the range of $51.6 billion to $53.1 billion, compared to its previous outlook of $50.35 billion to $51.85 billion. Earnings guidance was raised to a range of $16.75 to $17.05 a share, which represents a 95-cent raise on both ends of the range. The company also expects cash from operations to be greater than $3.3 billion, an increase from $3 billion. 

Shares of Lockheed rose 0.8% to $320.89 at 12:45 p.m. New York time.
"Investors should like LMT's [second-quarter operating] beat and second, healthy hike to 2018 guide," said Cowen analyst Cai von Rumohr.
Lockheed reported solid quarterly sales results in all four of its business segments. Aeronautics sales were up 8% to $339 million, driven largely by higher net sales of approximately $370 million for the F-35 program. Management said it is expecting "a large third quarter from an order perspective," and the most significant piece of that is the F-35, which would increase the backlog by about $11 billion dollars.
Rotary and Mission Systems revenue grew 4%, and even though the Space unit's sales decreased by 1% it was still above analyst forecasts, according to Jefferies. The strongest revenue growth was in the Missiles and Fire Control business, which saw sales jump 17% to $301 million. The increase was "primarily due to higher volumes on classified programs, THAAD, and Patriot," Jefferies analyst Sheila Kahyaoglu said.
-- This story has been updated to include analyst commentary and management remarks from the conference call.