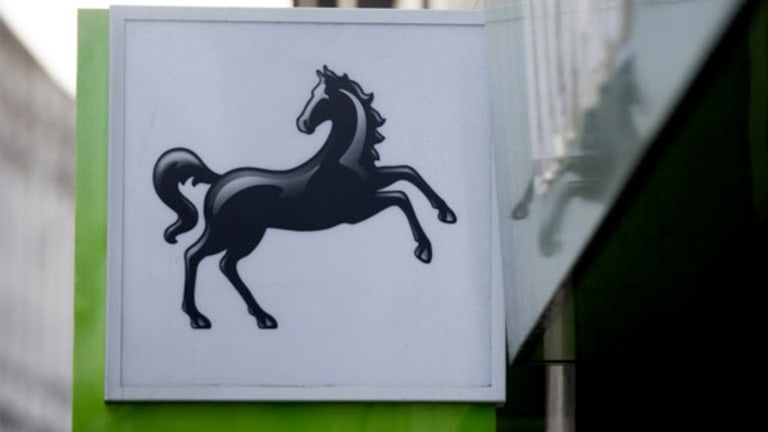 Lloyds Steps up Cost Cuts Amid Brexit Uncertainty
The company beats first-half expectations though offers a smaller-than-expected dividend.
The U.K.'s Lloyds Banking Group (LYG) - Get Report said on Thursday it would cut another 3,000 jobs by the end of next year and close 200 branches amid expectations of a Brexit-induced slowdown.
Britain's leading mortgage lender made the announcement as it announced a more-than-doubling of net profit to £1.86 billion ($2.6 billion) in the first half as so-called conduct provisions, reflecting Lloyds' bill for compensation due to customers for "mis-sold"payment protection insurance and other misdemeanors, plunged. On an underlying basis profit slipped 5% to £4.16 billion. Jefferies noted that profit came in about 4% above consensus expectations.
"Following the EU referendum the outlook for the U.K. economy is uncertain and, while the precise impact is dependent upon a number of factors, including EU negotiations and political and economic events, a deceleration of growth seems likely," said CEO Antonio Horta Osorio in a statement.
The company kept most of its forecasts intact but said capital generation "may be somewhat lower" in the future than previously anticipated because of economic uncertainty.
Lloyds also said it would lift its run-rate cost-savings target to £1.4 billion from £1 billion by the end of next year and slash its non-branch property portfolio by 30% by the end of 2018.
"We believe an incremental £200m cost reduction target was already embedded in investor expectations, so this is incrementally positive," noted Jefferies analyst Joseph Dickerson.
At the end of the first half, Lloyds said it had a core Tier One equity ratio of 13%.
The bank is still part-owned by the state after a credit-crisis-era bailout when the government brokered the purchase of the failing HBOS by Lloyds.
Lloyds said it would lift the first-half dividend by 13% to 0.85 pence, a level Jefferies' Dickerson said compared with consensus  expectations for a payout of 1 pence.
Lloyds shares closed up 3% on Wednesday at 55.75 pence. The bank, which has a market value of £39.8 billion, has shed almost 32% of its value in the past year, with most of the decline coming since the U.K. voted to leave the European Union.
Dickerson retained his buy recommendation on the stock.
"Much of the negatives are already reflected in the 23% fall in shares since 24 June," he noted.