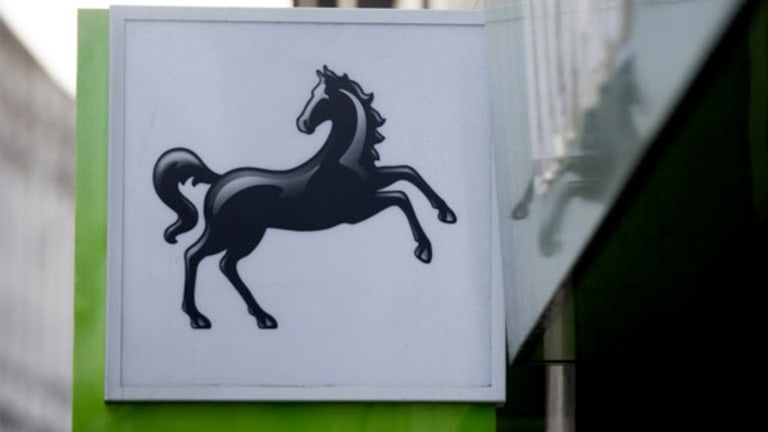 Publish date:
Lloyds Shares Fall as Provisions Eat into Quarterly Profit
But the U.K. lender stands by its financial targets and reports better-than-expected capital generation in the third quarter.
But the U.K. lender stands by its financial targets and reports better-than-expected capital generation in the third quarter.
Lloyds Banking Group (LYG) - Get Report  on Wednesday stood by its financial and savings goals after provisions pushed third-quarter profit below expectations.
The shares fell in early trading in response to the mixed report and were recently down 3% at 53.70 pence. 
Lloyds third-quarter statutory profit fell to £811 million ($988.2 million) from £958 million, below expectations for profit of £883 million after Lloyds took another £1 billion in provisions to cover consumer compensation for mis-sold payment protection insurance, a "legacy" misdemeanor that has cost British banks billions in recent years. Net interest income came in marginally below forecasts at £2.85 billion, down from £2.86 billion a year ago, while earnings per share of 2 pence met consensus expectations.
However, Lloyds said its common equity Tier One capital ratio - a key measure of banks' strength - rose to 13.4% as of Sept. 30, higher than the 12.9% forecast and up from disappointing 13.0% ratio as of June 30.  And Lloyds CEO António Horta-Osório said the bank will achieve a revised cost-savings goal of £1.4 billion by the end of 2017 and meet its various 2016 targets, including goals for the net interest margin and its common equity Tier One capital and cost to income ratios. He also said Lloyds, and the U.K. itself, was well-placed to survive Brexit.
"The outlook for the U.K. economy remains uncertain, however the strength of the recovery in recent years means the U.K. is well positioned," he said. "The group's transformation and successful execution of strategy, along with its competitive advantages in costs and risk, also position us well for the future and to achieve our goal of becoming the best bank for customers and shareholders."
Lloyds is 9.1% owned by the U.K. government after a 2009 bailout. On Oct. 7 the government's banking holding vehicle said Morgan Stanley would dribble the remaining shares out on the market, rather than offload its stake through an offering to retail investors.
Horta-Osório is transforming Lloyds into a "focused U.K. retail and commercial bank." Its statement made no mention of its potential interest in Bank of America's (BA) - Get Report MBNA U.K. credit card business, which would mark its first major acquisition since the bailout. The Sunday Times reported at the weekend that Lloyds wants the seller to shoulder the burden of billions of pounds in PPI compensation potentially due to MBNA card holders.
Lloyds three months ago lifted its cost savings goal to £1.4 billion from £1 billion, saying it would close another 200 branches and lay off a further 3,000 staff.
Before Wednesday, Lloyds stock had fallen 25% in the past year, though it has held up better than Royal Bank of Scotland (RBS) - Get Report , which was down more than 40%.