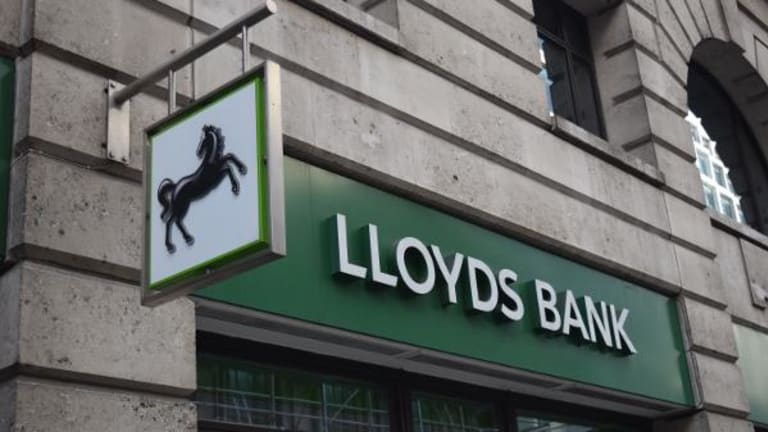 Lloyds Profit Up Despite Increased Impairment Charge
PPI charges hit £1 billion in the seond quarter
Lloyds Banking Group plc (LYG) - Get Lloyds Banking Group Plc Report saw profit in the first half increase by 4%, despite an increase in impairment charges.
Lloyds shares were down 2.24% on Thursday at 9:45 BST in London, changing hands at 67.53 pence, extending a three-month loss of 2.17%.
The U.K. lender Thursday reported statutory profit before tax came in at £2.5 billion ($3.28 billion) in the six months to end of June, despite an additional £1 billion impairment charge in the second quarter in respect of PPI.
Lloyds also reported an 8% increase in underlying profit to £4.5 billion, total income came in 4% higher year on year at £9.3 billion.
The U.K. lender raised full year guidance, forecasting that its net interest margin would be close to 2.85% up from the 2.8% previously forecast in the first quarter. The net interest margin is the difference the interest it receives from lending and the amount it pays out.
Asset quality ratio for the full year now expected to be less than 20 basis points, including the lender's purchase of credit card company MBNA and it continues to expect 2017 capital generation at the top end of the 170-200 basis points ongoing guidance range
In the first quarter Lloyds reported £1.3 billion of pre-tax earnings. The bank posted a 99% increase in pre-tax profit in the first three months of the year, up from £654 million in the same period a year ago.
The U.K. government wound down its stake in the Lloyds in May, making it fully re-privatized. The government recouped all of the £20.3 billion ($26.08 billion) it injected into the bank during the crisis.
"Following the successful transformation of the Group to become a simple, low risk, UK focused retail and commercial bank, we have delivered another strong set of results with increased underlying and statutory profit and strong capital generation, whilst completing the acquisition of MBNA and returning to full private ownership," CEO Antonio Horta-Osorio said in a statement.
The bank will announce its next strategy update in February 2018 and announced changes to its management.
"The changes are aimed at aligning and strengthening the Group's structure to ensure we meet evolving customer needs and deliver the continuous transformation required of the organization in the most effective way," said Horta-Osorio.
Watch More with TheStreet: