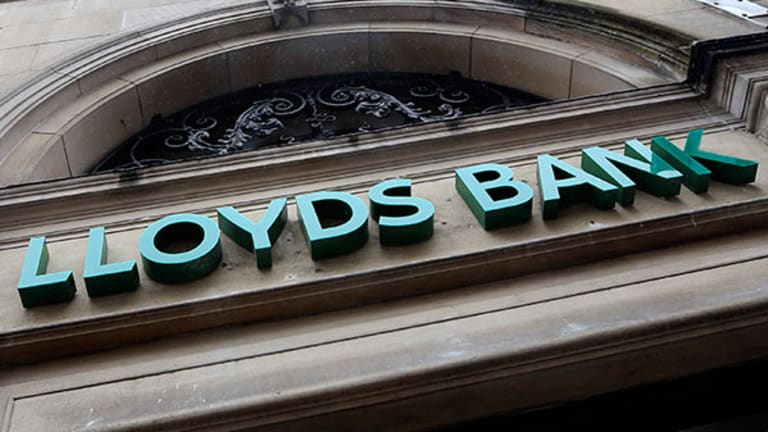 Lloyd's Bonds Recovering From Brexit Shock
Debt holders of the London bank appear more confident in Lloyd's recovery than fleeing shareholders.
Debt holders of the London bank appear more confident in Lloyd's recovery than fleeing shareholders.
Lloyd's Bank (LYG) - Get Report could represent a major buying opportunity following last week's Brexit referendum, especially as debt holders of the London bank and some analysts appear more confident in a Lloyd's recovery than fleeing shareholders.
Shares of Lloyd's, which fell more than 3% in morning trading Thursday, are down more than 32% since the U.K. voted last week to leave the European Union.
Meanwhile, Lloyd's debt has largely recovered from the Brexit shock, which at first prompted investors to dump assets exposed to U.K. and European joint operations.
For instance, Lloyd's $1.5 billion tranche of subordinated bonds maturing in March 2026 was last quoted at about $101.30 on the dollar, down only 1.5% from pre-Brexit levels last week. And the debt is still up more than 1% so far on the year, despite more than a third of Lloyd's market cap disappearing over the period. (Lloyd's 2026 bonds are rated BBB- by Standard & Poor's, just one notch above what's deemed sub-investment-grade.)
And it's not only bondholders who appear more confident in Lloyd's ability to pull in a steady free cash flow over the long haul. Analysts with Morgan Stanley reiterated in a Wednesday note their Overweight position on Lloyd's stock, citing its 6% expected dividend yield for 2017 and expected support from U.K. monetary and fiscal policy.
"We see potential for the Bank of England to relax capital requirements," the analysts added, noting, "the weaker sterling should also provide some cushion to British pound reported earnings, improve U.K. export competitiveness and encourage visitors to the U.K."
The analysts did, however, note that the U.K. banks could be at risk of losing direct access to serving EU clients, and highlighted the potential of a second independence referendum in Scotland in their Wednesday downgrade to Equal Weight for Royal Bank of Scotland (RBS) - Get Report stock.
While Lloyd's does not break out its specific revenue figures tethered to the European Union, it's clear that its commercial businesses will be most affected, Douglas Radcliffe, Lloyd's head of investor relations, said in a February fixed-income conference.
"If you look at Lloyd's as an entity, we're very much a U.K.-focused business," he said. "Over 95% of our assets are in the U.K. So for me ... there's probably going to be a limited impact across the base."
This article was published on Real Money at 12:45 p.m. ET on June 30.
This article is commentary by an independent contributor. At the time of publication, the author held no positions in the stocks mentioned.