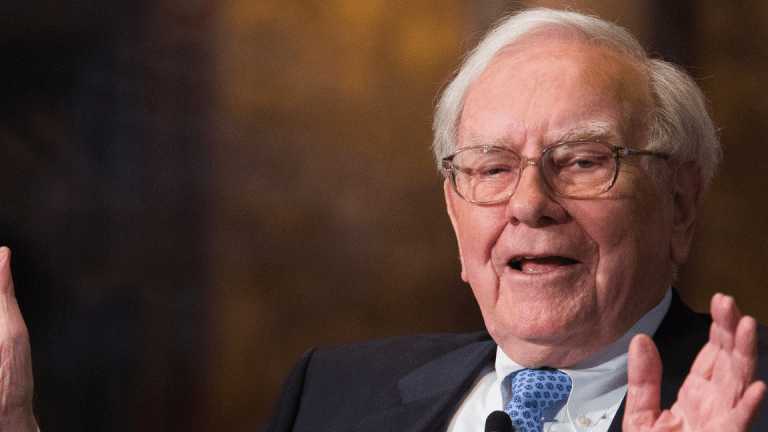 11 Things We Learned From Warren Buffett at Berkshire Hathaway's Annual Meeting
We were live from Berkshire Hathaway's annual meeting in Omaha, Neb. Here's what Warren Buffett and Charlie Munger had to say this year, ranging from cryptocurrencies to Apple's buyback plan.
On Saturday, May 5th, chairman and CEO Warren Buffett and vice chairman Charlie Munger will lead Berkshire Hathaway's (BRK.A) - Get Berkshire Hathaway Inc. Report (BRK.B) - Get Berkshire Hathaway Inc. Report annual meeting. The event takes place in Omaha, Neb. and draws an enormous crowd. This year, the company expects about 40,000 attendees.
Berkshire Earnings
Berkshire investors aren't used to seeing a net loss on the company's bottom line. But that's what they woke up to on Saturday morning when the conglomerate reported its quarterly results.
Buffett explained that he likes to release the quarterly earnings report and subsequent 10-Q filing on Saturday morning to give investors time to digest the results and look past the headline number. Because again, investors aren't used to seeing a net loss for the company. But due to an accounting change that forces Berkshire to recognize its equity holdings on a mark-to-market basis, the company seemingly lost $1.14 billion for the quarter. It was the first loss since 2009. 
This accounting impact wasn't completely unexpected, as Buffett previously warned about the change earlier this year.
The net loss isn't really representative of what's going on in the business, he said, adding that, "if you look at the figure of operating earnings, which is what we look at, we actually earned a record amount of any quarter we've ever had."
So all is actually quite well at Berkshire. 
Will Trade Wars End the World?
The simple answer is, no.
Buffett said he believes the current trade situation between the U.S. and China will work out to a win-win scenario.
The United States and China will be the superpowers of the world -- economically and "in other ways" -- for a long, long time, Buffett explained.
Between the two, there may be some frustrations that arise and suboptimal decisions that are made. This may result in some short-term bumps, but on the whole, China and the U.S. are "too intelligent" to do anything too damaging.
Plus, the two countries are not going to sacrifice the world's prosperity, which depends on free trade. By and large, the countries involved in free trade and even most Democrats and Republicans in the U.S., support free trade. Buffett did say the U.S. import/export gap based on a percentage of GDP has widened. It's not the worst problem in the world, but he doesn't want to see the gap widen too much.
On the other side of the table, Munger chimed in with some optimism. Despite the recent headlines, China and the U.S. are still getting along fine, he said. "I'm very optimistic" the two will continue to get along fine into the future, Munger reasoned.
The bottom line? Buffett and Munger aren't worried about China and the U.S. from a trade perspective. It should work out to a win-win. 
WATCH: Everything You Need to Know About Warren Buffett
Will Berkshire Sell Wells Fargo on Recent Scandals?
Wells Fargo & Co. (WFC) - Get Wells Fargo & Company Report hasn't had a shortage of scandals and embarrassment over the past few years. It's resulted in management changes, $1 billion fees and punishments from the Federal Reserve.
But that doesn't mean Buffett and Munger plan on selling their holdings in the banking giant in favor of other bank holdings.
Wells Fargo made a big mistake when it came to its errors. Every large company has employees that partake in bad behavior. But Wells Fargo's failure came by incentivizing that behavior. There's likely employees at Berkshire doing things wrong, Buffett acknowledged. But that doesn't mean the company endorses it or encourages that behavior.
Scandals aren't rare when it comes to large companies, he added, explaining that American Express (AXP) - Get American Express Company Report and Geico made big mistakes too, in 1964 and in 1976, respectively. "They cleaned it up," Buffett noted, and look at how well they went on to do.
In regards to Wells Fargo, Buffett says he likes it as an investment and likes CEO Tim Sloan as a manager. "I see no reason why Wells Fargo as a company, from both an investor standpoint and a moral standpoint going forward, is in any way inferior to the other big banks with which it competes," he reasoned.
Munger agrees, adding that Wells Fargo will be better off in the long run because it's addressing these problems. It wouldn't be surprising if Wells Fargo became the best behaving bank in the future, he said. 
Berkshire, Amazon and JPMorgan Healthcare Plans
In 1960, healthcare costs were approximately 5% of GDP. That was roughly in-line with a number of other countries almost six decades ago. Today though, healthcare costs compromise almost 18% of U.S. GDP, while those other countries topped out around 11%. 
There's clearly an issue with the current U.S. healthcare system and that's what the trio of Berkshire, JPMorgan Chase (JPM) - Get JP Morgan Chase & Co. Report and Amazon.com, Inc. (AMZN) - Get Amazon.com Inc. Report are aiming to improve for their employees. Between the three companies, there are more than 1 million employees and the goal is to improve the cost of healthcare while simultaneously improving the quality of medical services.
We certainly won't provide them with an inferior service, Buffett reasoned, adding that profit is not the primary motive behind the plan.
Current healthcare costs are "hugely noncompetitive" and act as a "tapeworm," Buffett reasoned, but he acknowledged that significant improvement could prove tough to implement. "If it was easy it would have already been done, but it should be tried," he reasoned. 
The companies are making good progress and hope to announce a CEO in the next few months. Although Buffett added that there's no deadline on the project. Upon announcing the concept, others called in to join forces, but for now it will remain with JPMorgan, Amazon and Berkshire. Perhaps in the future it will expand, if it gains traction.
Will Berkshire Hathaway Pay a Special Dividend?
The short answer is, probably not.
The longer answer is a bit more complicated (and very Buffett-like).
Buffett explained that Berkshire wouldn't completely remove the idea of paying a one-time special dividend to shareholders. However, he all but eliminated the idea at this year's annual meeting. He also didn't feel that shareholders would vote in favor of a special dividend, pointing to past polls as proof of that mindset. 
Through the year, Berkshire has made a net investment of about $15 billion, Buffett explained. Should the company get to a period where they no longer feel they can find value in the public and private markets, management would consider alternatives to returning value to shareholders.
While this could come in the form of a special dividend, it would more likely come in the form of a share repurchase. But that's only if management can buy Berkshire stock below its intrinsic value. In the words of Munger, "as long as the existing system continues to work as well as it has, why would we change it?" We can change our mind if the facts change, Munger said.
Buffett and Munger may approve one of these strategies if it makes sense, but that doesn't mean it's likely. As Buffett said, it's not as if they have do something just to do it.
Elon Musk vs. Warren Buffett
One of the more well-known stances that Warren Buffett has taken revolves around business moats. That's been part of his thesis behind the gigantic position Berkshire has taken in Apple Inc. (AAPL) - Get Apple Inc. Report .
However, on its most recent earnings report, Tesla Inc (TSLA) - Get Tesla Inc. Report CEO Elon Musk called moats "lame," saying, "if your only defense against invading armies is a moat, you will not last long. What matters is the pace of innovation."
The quieter Munger spoke first, joking that Buffett did not plan to build an actual moat. 
It's worth mentioning that Musk wasn't directly challenging Buffett's take on moats, but rather his view on car-charging infrastructure. Still, Buffett and Munger took his comments in stride.
Buffett conceded that the accelerating pace of innovation has made companies more susceptible to competition. He also said that companies with moats that continue to innovate will make their moats stronger. Like Munger, he was in a joking mood about the comments as well, saying he doesn't think Musk would want to take on Berkshire when it comes to the candy business.
Where Buffett Stands on Gun Stocks
Gun violence is a growing concern and becoming a big arguing point in the U.S. Given Buffett's political stance, some investors are surprised by the company's stance on gun stocks.
Buffett was pretty straight-forward on the topic, proposing a hypothetical situation: If he polled shareholders and the board on whether Berkshire should support the NRA and the votes said the company should, he would support their decision. Of course, they won't be doing that, but Buffett's point is all the same: his political views have no place in Berkshire.
He says he makes his political comments from the stance of a private citizen, not on behalf of Berkshire Hathaway. For that matter, he does not press his stance on the company, its employees, its suppliers or its customers. Nor does he think it would be right to stop doing business with those who support opposing views. 
"I do not believe in imposing my political opinions on the activities of our businesses," he reasoned. 
And that's that.
Why Warren Buffett Won't Buy Microsoft
Given Berkshire's massive position in Apple, one shareholder wanted to know why Buffett & Co. has stayed clear of Microsoft Corporation (MSFT) - Get Microsoft Corporation Report .
In the earlier years, the answer is clear, Buffett says: "Stupidity."
More recently though, it comes from a potentially bad publicity event. Given the friendship Warren Buffett has with Bill Gates and given that the latter sits on Berkshire's board, Buffett prefers not to take the risk of investing in Microsoft. 
To build a large position, it could take six months or more. Imagine if Microsoft announces stellar results or a transformative acquisition. Too many people will think that Buffett knew it ahead of time, even though that wouldn't be the truth, he argued.
"Bill and I would -- incorrectly -- be a target of suggestions and accusations." Because of that, Microsoft is off the list at Berkshire. "We just don't need it," Buffett said.
What Buffett Thinks Apple Should Do With Its Money
On Friday, Apple hit new 52-week highs and now sports a market cap north of $930 billion. That move came on the revelation that Buffett bought 75 million shares of the company during the first quarter of 2018.
Berkshire now owns about 215 million shares in Apple or roughly 5% of the outstanding shares. Buffett explained that, because of the company's intense buyback plan that just grew by another $100 billion, Berkshire's stake will grow to 6% or 7% of outstanding shares in the not-too-distant future.
"I love the idea" of going from a 5% stake to a 6%-to-7% stake without having to lay out another dime, Buffett explained. 
Given Apple's size, ecosystem and "incredible consumer product," it would be quite difficult for it to make an accretive and large acquisition at this stage of the game, Buffett said. Of course, he noted that Apple makes a large number of smaller acquisitions.
"[So] I'm delighted to see them repurchasing shares," Buffett reasoned.
Munger echoed confidence behind Apple's capital allocation strategy as well, saying that, "I think we know pretty damn well what's going to happen to Apple...[they're] smart enough to know that it's better for them than anything else."
Trading Cryptocurrencies Is Like 'Trading Turds'
One of the more entertaining exchanges came when Buffett and Munger were asked about cryptocurrencies like bitcoin. 
Buffett related cryptocurrencies to other non-productive assets, like gold or stamps. He reasoned that, "if you had bought gold at the time of Christ and you figure the compound rate on it, it's a couple tenths of a percent."
When working with a supply-limited non-productive asset, the buyer is banking on selling it for a higher price than what they paid for it. The next buyer is only looking to sell it at a higher price. These scenarios end badly and "cryptocurrencies will come to a bad ending," Buffett said.
Munger said he dislikes crypto even more than Buffett, relating it to "trading turds" and saying, "to me it's just dementia."
Will Berkshire Make a Large International Acquisition?
Buffett said he would love to do an international deal, citing how lucky Berkshire was to buy Israel-based IMC Group in 2006.
The company has seen some opportunities outside the U.S. for a substantial deal, but nothing worth biting on yet. Earlier in the Q&A session, Buffett reiterated that they would rather hold less cash and deploy it on attractive deals. 
Munger noted that the prices for many companies are still too high. There is a "craziness" in the prices right now and even the leveraged buyout acquirers who don't mind high valuations are getting a nosebleed at these valuations, he reasoned. 
For now, "we have to wait," Munger said.
However, for investors, Munger said they are missing out on China. The economy continues to boom in the Asian country and too many U.S. investors have ignored the area because it's far away and they aren't familiar with it. That's a mistake, he says, adding that, "it's where they should be looking." 
Buffett acknowledged that Munger has been pushing him to get more involved in China. However, it's much harder when it's on the scale of a $6 billion to $10 billion deal or more, which is what's needed to move the needle at Berkshire. 
This article is commentary by an independent contributor. At the time of publication, the author had no positions in the stocks mentioned.