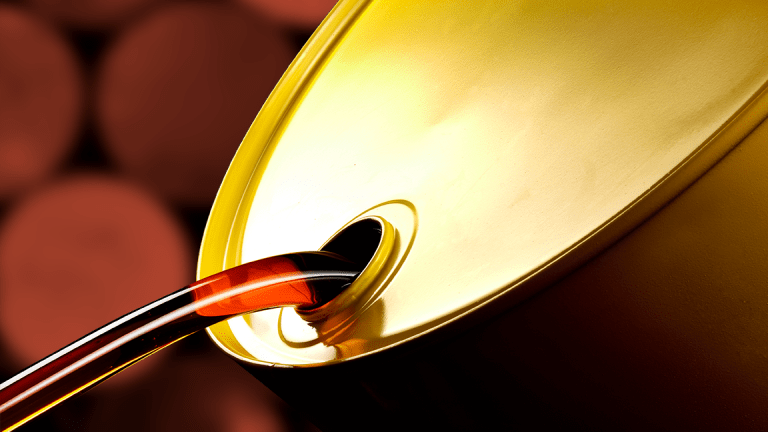 Live From NAPE: Oil and Gas Drillers Excited About $60 Oil
The atmosphere at the George R. Brown Convention Center in downtown Houston was ecstatic Thursday as oil prices are finally in a stable realm in which producers can increase profitability and begin to think about how to return cash to shareholders.
It was an altogether different atmosphere at the NAPE Summit oil and gas conference Thursday than it has been since oil plummeted to $26 per barrel in February 2016.
Crowds of jovial drilling professionals gathered in the George R. Brown Convention Center to network and scout out prospective deals. 
Folks gathered around the booths of vendors and top oil producers, with industry behemoths Chevron Corp. (CVX) - Get Chevron Corporation Report , ExxonMobil Corp.'s (XOM) - Get Exxon Mobil Corporation Report XTO Energy Inc., Royal Dutch Shell plc, BP plc (BP) - Get BP Plc Report , Pioneer Natural Resources Co. (PXD) - Get Pioneer Natural Resources Company Report , ConocoPhillips (COP) - Get ConocoPhillips Report and Occidental Petroleum Corp. (OXY) - Get Occidental Petroleum Corporation Report , all having a presence on the show floor. 
NAPE, now 25 years old, comes this year as oil prices have finally bubbled over the very significant mark of $60 per barrel. And despite concerns over a rapid U.S. output growth that threatens to outpace demand and put pressure on prices, industry watchers are not overly concerned. 
"We believe the convergence of the 3 Ds (favorable Demand, U.S. producer Discipline, and voluntary/involuntary production Disruptions) should keep oil prices above mid-cycle/consensus through 2019," Goldman, Sachs & Co. analysts including Brian Singer wrote in a Feb. 5 research note.
For SM Energy Co.'s (SM) - Get SM Energy Company Report senior engineer of the Rocky Mountain Region Jason Putnam, $60 oil is more than just a mark at which some drilling locations become more profitable. Instead, it is a signal to the entire country that the U.S. oil and gas industry's outlook is finally looking bright again.
"Folks around here are certainly more chipper this year than they have been in recent years," Putnam told TheStreet on Thursday. "I think oil coming above $60 is a big part of it. There is just something psychologically significant about that mark."
To be sure, $60 oil is not enough to spark new drilling everywhere. SM Energy, which recently sold its operated assets in the Powder River Basin, now focuses most of its efforts on west Texas' Permian Basin and south Texas' Eagle Ford Shale. 
The company does have about 18 drilled-but-uncompleted wells, or DUCs, for which it is currently searching for a joint venture partner to complete. 
Otherwise, in the Bakken, the last vestibules of SM Energy's portfolio outside of Texas, there won't be any drilling until oil gets closer to $100 per barrel, Putnam said. 
Still, the oil and gas professional wasn't counting the possibility of that out in the future. 
"One day," he opined. "Maybe not for long, but I think it will get there again at some point."
RSP Permian Inc.'s RSPP chief geophysicist Chris Krusz was similarly optimistic about the outlook for the industry Thursday but noted his company was going to focus on developing its current acreage, as opposed to grabbing up any additional major asset packages in 2018.
"If anything that comes up that fits with our current Permian position, we'll give it a look for sure, but right now we want to focus on what we've got," Krusz said. "We'll do some bolt-ons or acreage trades here or there, but we've got plenty of locations to work through now."
Indeed, RSP Permian has plenty of west Texas property -- 100,000 net acres -- that it is working to develop after it spent a whopping $2.4 billion, or around $47,000 per acre, in October to take Delaware Basin-focused Silver Hill Energy Partners LLC off the hands of Kayne Anderson Capital Advisors LP and Ridgemont Equity Partners. 
As for lining up deals at NAPE, Krusz said the larger producers mainly attend the conference nowadays simply to have a presence. 
"There are certainly smaller guys here putting deals together," the industry veteran said. "But for us and some of the larger players here, this is more of a networking exercise. We're here to have a presence and kind of highlight what we have in the portfolio."
And what they have, like many of this year's NAPE presenters, are assets that look a lot more valuable today than they were one or two years ago.