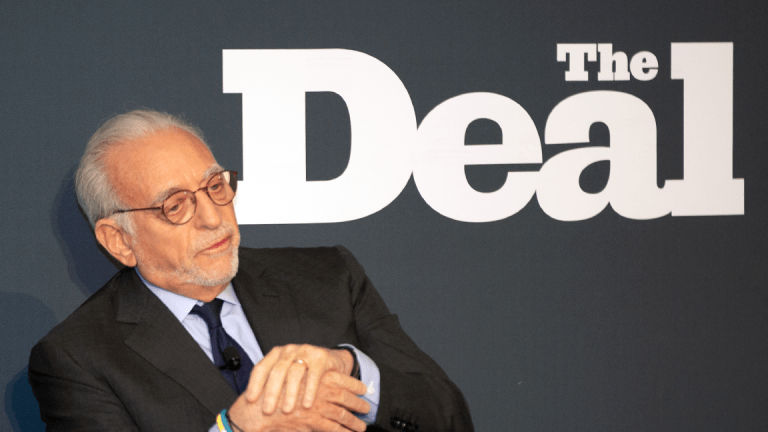 The Deal Conference Recap: Could GE and P&G Break Up? Macy's Doing Outlets?
TheStreet reports live from The Deal's annual corporate governance conference. Here is what you need to know from headliners such as Jim Cramer, Qualcomm's CEO and activist investors Nelson Peltz and Paul Singer.
It's game time. 
Some of the biggest names in finance take the stage at The Deal's annual corporate governance conference Thursday. TheStreet's founder Jim Cramer will talk exclusive with Qualcomm (QCOM) CEO, Macy's (M) CEO and activists Nelson Peltz and Paul Singer. 
Follow our live blog below for all the must-know insights from these market-movers. You can also watch a live stream below for instant breaking news. 
Macy's CEO Wants More Outlets
Macy's CEO Jeff Gennette hopped on stage riding the tailwinds of two comeback quarters.
"We see more value in retail," says Gennette, interesting seeing as Macy's is realizing nice chunks of change from real estate sales. Further, it has been working on monetizing the company's NYC flagship location. 
Gennette told TheStreet on the sidelines he wants to open a lot more outlet stores. 
TheStreet talked with Gennette when he first assumed the CEO position last year. Read more here.
Big Lots Gets Hit
Struggling Big Lots (BIG) may not see its struggles turnaround anytime soon. Board member Cynthia Jamison told Jim Cramer at The Deal's annual corporate governance conference the turnaround will be a "multi-year" one. 
Big Lots shares are down 23% year to date. 
All in All
There is a serious war brewing between Corporate America and the world of activist investors. Activists have been winning for more than two years, but public companies sure seem like they are ready to fight back. 
Panera Bread Founder Ron Shaich
Shaich takes activist investors to task at the conference. Read his comments here as well as his background. 
Sat down with Shaich earlier in the year to discuss the topic. Watch below. 
On the Sidelines
Just sat down with Wendy's (WEN) CEO Todd Penegor, who is fresh from listening to his chairman Nelson Peltz speak with Jim Cramer. Penegor was bullish on kiosks, delivery and the future of the fast food industry. Sorry, Jim Chanos. 
Watch our interview below. 
Paul Singer Talks With Jim Cramer
Elliott Management's Paul Singer is on the panel with Jim Cramer. Singer is one engaged guy, you get the sense why he has been so successful against bloated/struggling companies over his 40 year plus career. 
Singer tried to downplay his firm's reputation as an aggressive activist firm that uses the media to its advantage. But, he did say sometimes things get "nasty" between his company and major companies.  
Nelson Peltz Sits Down With Jim Cramer
Peltz said he reminded the P&G (PG) board he was there under different circumstances than them. Peltz said his white paper written months ago that detailed a reorganization of P&G was under "very serious consideration" by the board. Peltz said he hopes a breakup "doesn't have to happen."
Watch the full interview below.
Peltz told TheStreet he had "an idea" when P&G may reveal something, but declined to comment further. 
Shares popped 2.5% on the news. A P&G spokesman didn't immediately return a request for comment. 
Meanwhile, Peltz -- who has Trian's Ed Garden on the General Electric (GE) board --said GE is still struggling with regaining investor confidence. He think investors remain worried about undisclosed liabilities. 
Said Peltz on a possible GE breakup: "Well, when a man says everything is on the table, I mean you got to take him at his word and I would definitely take him [GE CEO John Flannery] at his word."
A spokeswoman for GE didn't immediately respond to an email request for comment. GE shares rose 1%.
Qualcomm CEO One-on-One With Jim Cramer
Qualcomm CEO said he was "happy" with the ZTE deal announced Thursday. It may open up the way for Qualcomm's NXP Semiconductors (NXPI) deal to close. "We still have things to get done on the regulatory front," Mollenkopf said on the NXP deal. He continues to be confident in the deal closing.
Despite his confidence, Mollenkopf refused to raise guidance to take into account NXP deal closing.  
"We think there is a big disconnect between the IP we have created, and the marketplace," Mollenkopf added when asked about rival Broadcom's (AVGO) bid. Broadcom offered $82 a share for Qualcomm -- Qualcomm's shares are at $59 a share currently. 
Meanwhile, Mollenkopf said discussions with Apple (AAPL) are continuing regarding its dispute. But, a call between himself and CEO Tim Cook won't be happening. 
All in all, fascinating discussion here. Mollenkopf remains firm in his belief that Qualcomm is undervalued given the long-term opportunities for the company. 
Qualcomm shares are up 4% in early trading. While you are here, listen to our recent podcast with former Cisco (CSCO) CEO John Chambers. He offers up some great thoughts on the future of tech. 
Game On
First up is Qualcomm CEO Steven Mollenkopf, who will talk with Jim Cramer at 8:50 a.m. 
TheStreet recently talked with Mollenkopf about 5G technology, read more here.
This has been updated to include additional comments.