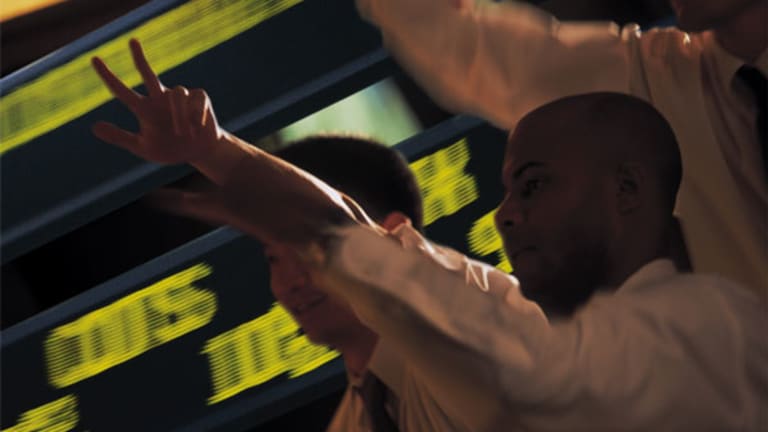 Publish date:
Link: A Boon for the Banks
Action Alerts PLUS has picked up more Goldman after encouraging words from the Fed.
Action Alerts PLUS has picked up more Goldman after encouraging words from the Fed.
This article originally appeared on RealMoney.com. To read more content like this AND see inside Jim Cramer's multi-million-dollar portfolio for FREE, Click Here NOW.
The markets fell Wednesday following comments from new Federal Reserve Chairperson Janet Yellen, and this morning we saw a bit of follow-through to the downside.
The Federal Reserve announced that it would pull another $10 billion per month from its quantitative easing program. Also, in response to a question on the timing of tightening interest rates, Yellen indicated that it could happen as early as six months from now. If the Fed does tighten in six months, this would be a little sooner than when most analysts had been expecting -- but it certainly isn't a surprise that higher rates are coming, if the economic data continue to show improvement.
The Fed will remain data-dependent, and so will we -- and, in the last few weeks, we've seen better macroeconomic data (and have written about it). This week, moreover, came a few company-specific data points confirming the better trends.
Over the last few weeks, the government data have shown that the Chicago purchasing managers index, the U.S. Markit PMI, the Institute for Supply Management surveys, industrial production and capacity utilization levels have all improved from the weakness seen in January. That month, of course, had been largely plagued by the weather.
On the companies front, we attended a Merrill Lynch industrial conference, and several presenting companies confirmed the improvement -- albeit slow -- in the U.S.; improvement in China, although most are expecting a modest China; and a sluggish Europe. These companies included such firms as General Electric (GE) - Get General Electric Company (GE) Report, 3M (MMM) - Get 3M Company Report, Parker-Hannifin (PH) - Get Parker-Hannifin Corporation Report and Ingersoll-Rand (IR) - Get Ingersoll-Rand Plc (IR) Report.
Interestingly, Ingersoll-Rand said the bad weather in January and February has caused a need to fix worn-down equipment -- which could translate into a positive lift for its shares. Several trucking companies, moreover, indicated the demand for Class 8 and Class 5-7 trucks continues to improve. Indeed, ACT Research industry data just showed that final sales for February Class 8 trucks rose 17% year over year and climbed 10% from the prior month. This is the fifth consecutive month of improvement.
Finally, the rental market remains very strong and tight, something that was confirmed by Oshkosh (OSK) - Get Oshkosh Corp Report and United Rentals (URI) - Get United Rentals, Inc. Report. So we'll watch interest rates and the speed at which they go higher -- but, for now, we remain positive on the financial and industrial sectors and are looking to add more technology and discretionary.
With that in mind, we're adding 25 shares to our Goldman Sachs (GS) - Get Goldman Sachs Group, Inc. (GS) Report position at $168.99. The stock is below our cost-basis, and it will be a key beneficiary of higher rates that are coming. We locked in some profits earlier in the week and have the cash to put to work.
After our trade, we'll own 650 shares of Goldman Sachs, or 3.4% of the portfolio.
Editor's Note: This Action Alerts PLUS Alert was originally published at 10:14 a.m. EDT on March 20.
At the time of publication, Action Alerts PLUS, which Link co-manages as a charitable trust, was long GS.
Chief Investment Officer, Co-Portfolio Manager of Jim Cramer's Charitable Trust, and Director of Research at The Street. Stephanie performs all portfolio management functions which includes developing a macro outlook and market strategy, thorough analysis and careful stock selection while managing the fund in a manner that allows subscribers to follow and emulate her thoughts and actions. She also writes a weekly summary report of the portfolio, highlighting strategy, latest analysis and ranking of each stock in the fund. Stephanie promotes the product through weekly videos, both independently and with Jim Cramer, which are featured on The Street's website. As Chief Investment Officer, she oversees all premium content which includes RealMoney, RealMoney Pro, OptionsProfits as well as other premium newsletters including Breakout Stocks and Stocks Under $10. Stephanie is a CNBC contributor and regularly appears on Fast Money Halftime, Closing Bell, Squawk Box and The Kudlow Report.