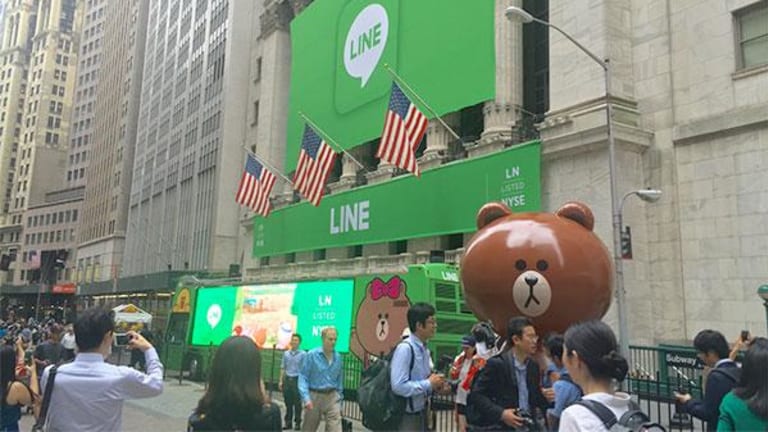 Line Opens Trading Up 29% in Encouraging Sign for Tech IPOs
The chat app company's debut is the largest global tech offering since Alibaba in 2014, but there are questions about its future growth potential.
Japan's most popular messaging app, Line (LN) , debuted on the New York Stock Exchange Thursday at $42 a share, 29% above its offering price. The opening price values the company at about $8.8 billion, including the value of shares that will be offered in Japan, andis a positive sign in what's been a weak market for tech IPOs.
The offering will raise as much as $1.3 billion for the company, making it the largest tech IPO this year -- and the largest global tech offering since Alibaba (BABA) raised over $20 billion in 2014. Line is launching its IPO in a dual listing in New York on Thursday and in Tokyo on Friday.
Line is only the fifth tech company to go public this year, compared to 12 at this point last year. Some tech firms have chosen to keep raising money from private investors instead of venturing into the turbulent public markets. But Line's positive debut, in addition to Twilio's (TWLO) in June, may convince more of them to consider going public. 
According to some analysts, however, Line's growth trajectory may be waning, and its expansion strategy going forward is unclear. Line is offering the majority of shares -- 22 million -- on the NYSE, versus just 13 million on the Tokyo Stock Exchange.
On Monday, Line priced its IPO at around $32.50 a share --a 16% bump above the top end of the initial range of $25 to $28 announced in June.
Mitsuo Shimizu, equity strategist at Japan Asia Securities Group, noted in a report that Line is well-known, and its IPO will be popular. "But as a company, it has passed its peak and is not going to grow fast from now."
Proceeds are expected to be used for financing expansion, but Line's long-term ambitions are unclear. Some speculate that Line plans to grow its user base in the Middle East, where there isn't -- yet -- a dominant messaging service.
Line is currently one of the 10 most popular instant messaging apps worldwide, claiming most of its market share in Japan, Taiwan, Thailand and Indonesia. Of its 675 million registered users, 218 million are monthly active users (MAUs).
Source: SimilarWeb.com
In the first quarter of 2015, LINE's MAUs spent on average of $1.50 on the company's products and services. Users can buy digital stickers; exchange texts, images, video and audio conversations; and also purchase a range of branded products from its popular retail outlets in Japan. Unlike companies such as Twitter (TWTR) and Facebook (FB) , Line draws a significant portion of revenue (70%) from sources outside advertising.
These multiple revenue streams create a unique niche for Line in the social-networking space. Two of its most significant competitors, Messenger and WhatsApp, are both owned by Facebook.
In February 2014, Facebook acquired WhatsApp for $21.8 billion, a few months after a funding round that valued the company at $1.5 billion. WhatsApp had around 460 million MAUs at the time and generated revenue of $10.2 million in 2013.
At the time, Facebook was looking to increase connectivity among its users, but the deal was perceived as an aggressive move by the company because it already had a chat app: Messenger. Mark Zuckerberg explained the purchase by saying that Messenger is a method of communication among Facebook friends whereas WhatsApp is more of a text messaging replacement.
Line is owned by South Korean internet search giant Naver, which will hold an 83% stake in the company after the IPO. Naver operates the nation's most-popular search portal and provides additional online services -- such as news, blogs, shopping, maps, e-books and e-mail services. Line's relationship with Naver has strengthened its popularity in certain Asian markets.
Facebook continues to dominate the U.S. social media and messenger landscape in the same way that Line dominates in Japan, but the two aren't expected to compete directly with each other any time soon.
"Line will have its market in Japan fairly fortified from the likes of WhatsApp or even Facebook Messenger," noted Amir Anvarzadeh, manager of Japanese equity sales at BGC Partners, in a report. "Outside of its core markets, it's going to be a massive challenge."
Facebook is a holding in Jim Cramer's Action Alerts PLUS Charitable Trust Portfolio. Want to be alerted before Cramer buys or sells FB? Learn more now.