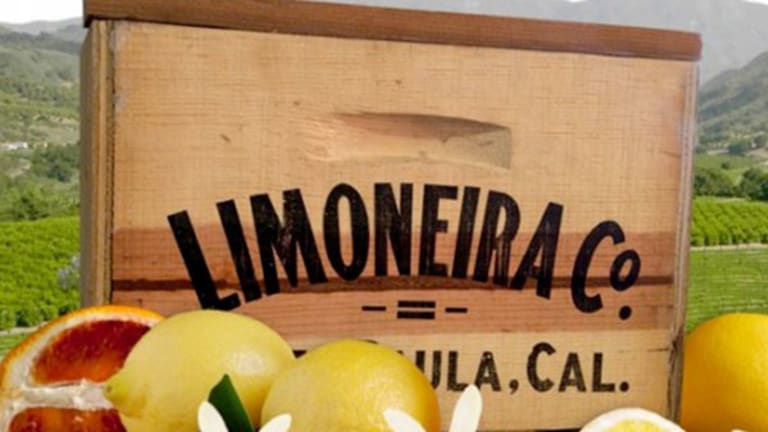 Limoneira CEO Sees Growth From Acquisitions, Strong Demand for Fruits
The executive projects a bright future after his company hit its internal 2014 sales target.
NEW YORK ( TheStreet) -- Limoneira (LMNR) - Get Report CEO Harold Edwards projects growth for his company on some acquisitions and continued strong demand for fresh fruits.
Limoneira produces citrus fruits and avocados, mostly from California and Arizona, and also develops real estate.
Edwards told TheStreet TV on Wednesday that Limoneira hit its 2014 target surpassing $100 million in sales. During the year, the company made its first international acquisition by purchasing a minority stake in a firm in Chile. That will allow Limoneira to ship fresher fruits to customers in Asia, Edwards said.
"We're able to supply that production from California and Arizona, but if you complement it with production from Chile or from Argentina, you're able to bring a fresher piece of fruit into your supply chain, which our customers really want," Edwards said, adding that the company will continue to look to buy land in Arizona and California.
"We're in talks on $300 million in potential add-on acquisitions, mostly in California and Arizona, and we're hopeful that in 2015 we're able to announce some exciting acquisitions," he said.
Edwards said demand and prices for fruits have been strong. He expects demand will remain strong but prices will "pull back" a bit. One wild card are avocados, he said, because more imports will come from Latin America.
Also, so far this year, the water situation has been better for Limoneira. That means more rain, which means less need for Limoneira to irrigate its land. More frequent irrigation drives up the company's electricity costs.
As for Limoneira's real estate, Edwards said the company is set to sell lots from land it has developed Santa Paula, Calif., which is where Limoneira is based.
Limoneira's shares closed at $21.92, up 38 cents, on Wednesday. They have lost 11% during the past year.