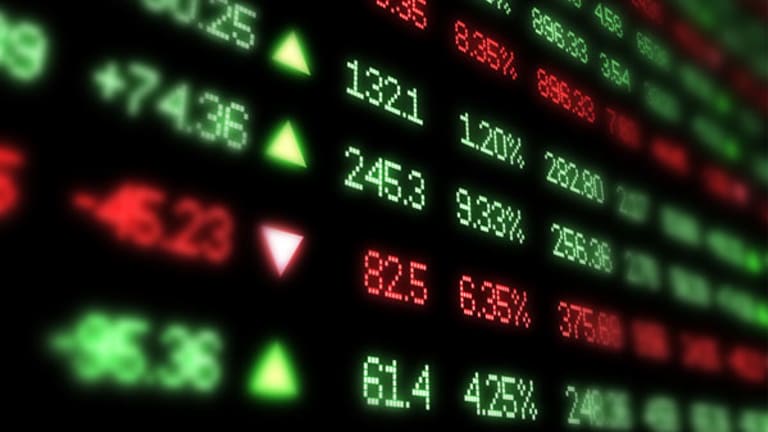 Publish date:
Likelihood Increases for a Rapid Rally
Chances are growing for a quick and dirty spike higher in both equities and Treasury yields.
Chances are growing for a quick and dirty spike higher in both equities and Treasury yields.
This column originally appeared on Real Money Pro at 9:23 a.m. EDT on June 1.
NEW YORK (
) --
"The time of maximum pessimism is the best time to buy, and the time of maximum optimism is the best time to sell." -- Sir John Templeton
This morning, under the pressure of
another weak Chinese economic release
, continued unsettling European economic and debt theatres and this morning's
, markets around the world are under pressure.
The accompanying build-up in fear and flight to safety have resulted in a continued crushing of commodities and in all-time low yields in German bunds and U.S. Treasuries. Indeed, the
on the 10-year U.S. Treasury note is far less than half the yield experienced in the 2008-2009 Great Recession and is well below the yield experienced in the Great Depression of the 1920s.
Ironically (though painful), these current conditions (and, importantly, the increased pressure and sense of urgency placed on policymakers particularly in light of this morning's data) are precisely the setting in which a rip-your-face-apart rally -- that is, a one- to two-day rally in which the
S&P 500
climbs 30 to 50 points and Treasury yields rise by 30 or more basis points -- appears.
Am I being a Pollyanna, especially in light of the message of the markets?
Perhaps -- indeed, the last half of May was a contrarian's nightmare.
But, last night on "
," Jim "El Capitan" Cramer expanded (and got me thinking) on the sometimes failure of the markets to deliver the accurate message to the markets.
I concur with Jim. Markets sometimes freak out (Jim's reference on "Mad Money"). Consider the market opportunities at the generational bottom in March, 2009 or the market opportunities in the summers of 2010 and 2011.
Then consider the market's backdrop (and setup) today.
With investor sentiment (individual and institutional) so downbeat, Wall Street strategists silenced and crestfallen (according to Merrill Lynch, sell-side strategists are now more bearish on equities than they were at any point during the collapse of the tech bubble or the recent financial crisis), expectations for worldwide economic growth and profits subdued, undemanding valuations, a five-decade high in risk premiums and a growing consensus view of "no way out" of Europe, the dour investment backdrop seems to have the potential for a meaningful surprise to the upside for the U.S. stock market.
A rip-your-face-apart rally could be the ultimate pain trade, as so many classes of investors have de-risked.
Let's go through a number of conditions that could (either single-handedly or in a combination) contribute to a rip-your-face-apart rally.
Europe: A more activist ECB surprisingly intervenes (before markets force them) in order to stabilize the growing debt crisis. The ECB lowers interest rates, reintroduces SMP to support the purchase of weak sovereign debt, endorses a bank-chartered ESM and introduces a FDIC-like deposit insurance program for European banks. The concept of eurobonds floated by a heretofore reluctant 17-country constituency could also be a rally catalyst.
Greece: Two weeks from now, the Greek election will bring forth a pro-troika coalition. The election is followed by a less demanding austerity edict by European authorities.
QE3: The Fed hints of more easing in the days leading up to the June Fed meeting. Job growth is anemic in the U.S., stock markets around the world are plummeting, commodities are weakening, and the situation in Europe is unsettling (raising the risks of a deflationary shock) -- all of which are conditions for an imminent move by the Fed. (Indeed, the odds now strongly favor a near-term and synchronized monetary easing in China, Europe and in the U.S.)
U.S.: Economic data show renewed strength following May's uneven results. (For example, in times like this, we ignore some of the positives such as the lower price of gasoline, which could fuel retail sales in the period ahead, improve consumer sentiment and buoy corporate profit margins.) Another catalyst to the upside could be if the Republican Party gains momentum in the polls. (On Intrade, the likelihood that Obama wins the Presidency is down to about 56% from 62% a month ago. Today's jobs report is likely to result in an increased likelihood of a Romney victory in November.)
Mergers and acquisitions: One or two large, high-profile takeovers emboldens investors. (Corporations sell at large discounts to private market value. As evidence, to date in 2012, there have been 40 deals at over $300 million in market cap. The average takeover premium was 35%.)
Individual investors: Retail investors cease redemption of domestic equity funds and begin to reallocate funds into stocks and out of bonds.
Out of the blue: One day, with no news or provocation, the market ignites to the upside because all of the negatives are known and discounted.
Back to Reality
That said, I fully recognize that, over the past two weeks, I have written optimistically about the markets only to be disappointed -- and I have the scars on my back to prove it.
This week, I continued the positive investment theme (though admittedly of more of an intermediate-term view than a short-term trading view). On Tuesday, I
a constructive view of the S&P 500 by citing the likely economic, profit and market outcomes in 2013. And on Wednesday, I
the relatively superior investment and economic standing of the U.S. vis-à-vis the rest of the world.
There is no shortage of naysayers -- indeed, with every downtick in equities (and with this morning's poor May jobs report), the ranks of pessimistic investors understandably grows.
And why not? Nearly $4.5 trillion has been lost in the world's stock markets.
An acquaintance of mine (someone I admire, who is very smart and enormously rich) said something to me last week that rings true and captures today's zeitgeist. He asked whether I can recall so many (economic, profit, political, geopolitical, etc.) uncertainties facing the world.
Stated simply, there is a genuine fear of the future, which should not be surprising considering the world's recent (2006-2012) financial and economic history.
He made a good point (especially of a European kind uncertainty) but so did Sir John Templeton in the quote that begins today's opening missive.
To state the obvious, the very need for immediate and extreme policy response underscores the severity of the problems in Europe, but it also represents potential investment opportunity. Contagion fears, previously ignored or rejected by many (including myself), have proven to be underestimated and have proven to be very real.
Over the past few years, we have moved from sovereign crisis to sovereign crisis in Europe -- the only good news is that this particular crisis and the contagion has been so wide that we are running out of countries that are on the brink of insolvency.
What I have missed in the last few weeks is that these issues have, to a large degree, trumped the strength of the U.S. economy (2% real GDP growth) and have served to further alienate the individual investor (who has continued to divest domestic equity funds and has continued to commit to fixed-income funds offering very little current yield).
Hopefully, our politicians are learning a lesson from the European experience and have learned from the harm they inflicted on the market in August 2011 during the debt/budget deliberations. Unless a divided and divisive Washington, D.C., changes its tune, market valuations will (again unfortunately) stay lower than perhaps is justified relative to corporate profits, interest rates, inflation, etc.
And risk premiums will remain high.
Nevertheless, I remain bullish (though wrong at this point in time), albeit chastened by the above realities -- those realities have led me to reduce my net long exposure to around only 35%.
And I remain hopeful for a rip-your-face-apart rally despite the seemingly long odds attached to this scenario.
Doug Kass is the president of Seabreeze Partners Management Inc. Under no circumstances does this information represent a recommendation to buy, sell or hold any security.