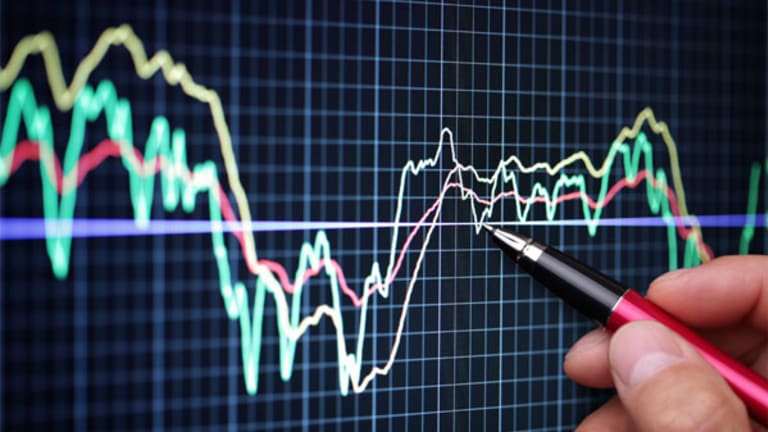 Lessons to Learn from JPM's Trade
The London Whale made two obvious mistakes that you could be making yourself.
Jamie Dimon didn't disclose much, but we do know JPMorgan's (JPM) - Get JPMorgan Chase & Co. Report losing trade involved the CDX IG 9 index. The CDX IG indices are a tradable basket of credit default swaps on 125 invest-grade companies.
The contract is typically five years until expiration, although other maturities trade in much smaller volume. Every six months a new IG index is created with some of the names changing to reflect the current market. Right now we are CDX IG 18, the 18th.
The old indices continue to exist, but, not surprisingly, volume is heavily concentrated in the current index. The CDX IG 18 trades many billions of dollars every day. The 17 still has reasonable volume, but after that, trading is sporadic at best.
JPMorgan trader Achilles Macris saw something he thought was tradable in the CDX IG 9 index, which would have been the current index about four years ago. What exactly he was trying to do isn't clear right now, but my understanding is that he was using options on a shorter-dated version of the index and trading that against a longer-dated version.
Media reports suggest his exposure was something like $100 billion, which I'd guess (without his involvement) would have constituted around a year's worth of volume on an old index like this.
I don't know what he thought was so sexy about the IG 9 index, but for our discussion here, it really doesn't matter. He made two obvious mistakes, and ones that you could be making yourself.
First, always remember that liquidity is part of any trade. Now, maybe you aren't swinging around $100 billion in credit derivative exposure. But that doesn't mean you might not have a trade go badly because liquidity turns against you. Have you ever bought an option contract that was way out of the money or very long dated or on an off-the-beaten-path stock? Essentially that is what London Whale, as he was known, did. He thought he saw something worth trading in a very low liquidity instrument. But because he dominated the instrument he started influencing the pricing.
The second thing we should learn is that correlations do not mean causation. Supposedly this was not designed to be a prop trade, but a hedge trade, trying to right the bank's Value at Risk (VAR). Piecing together media reports with what I'm hearing on the street, JPM thought they had overhedged themselves against a tail event and instructed traders like Macris to partially offset the hedges. Here is where banks, hedge funds and sometimes even individual traders can outsmart themselves. The risk management team at JPM figured this trade would have a negative correlation with the tail hedges they had on. But for one reason or another, it didn't.
Correlation is a dangerous calculation, precisely because of its precision. You can look at two sets of numbers and calculate their correlation down to the nth decimal. That precision can be alluring and cause otherwise intelligent people to make the leap from precision of a calculation to underlying truth. Yet time and time again, we find that correlation gets conflated with causation.
From ratings agencies assuming that house prices would be uncorrelated across geography to Long Term Capital assuming that Brazilian bonds would be uncorrelated with Russian bonds to Arthur Burns assuming that unemployment was correlated with inflation. In each case, the correlation (or lack thereof) was either coincidental or not robust to changing conditions. And yet despite these very highly publicized and very disastrous mistakes, people keep relying on correlation to make investment decisions.
Just last week I was pitched a software product that made projections on how the market would react to future events, like another 9/11 or a euro breakup, based on past correlations. If I hadn't been such a polite guy, I would have laughed the salesperson out of the building.
Think you won't make this mistake? Go back and consider all of your trading strategies. A great deal of technical analysis is quietly based on exactly this kind of correlation (causation thinking, essentially boiling down to "every time x happens, y happens at the same time.") I hear this logic all over financial television.
If you blindly follow that kind of thinking, you are trading exactly like the London Whale.
More chilling, perhaps, is that the Whale was 50, having made a career trading like this -- until he completely blew up. Now he is just going to get fired.
What happens to you if you blow up?
At the time of publication, Graff had no positions in any of the securities mentioned.
Tom Graff trades taxable fixed income for
Brown Advisory
, an independent investment advisory firm in Baltimore, Maryland.
Prior to joining Brown, Graff was a Managing Director and taxable fixed-income trader for Cavanaugh Capital Management in Baltimore. Graff earned a CFA charter in 2001.
The opinions expressed here are Graff's own and in no way the statements of Brown Advisory, and may or may not reflect the strategies being pursued for clients of Brown Advisory.
Tom welcomes your questions and can be reached at tomgraff@brownadvisory.com.