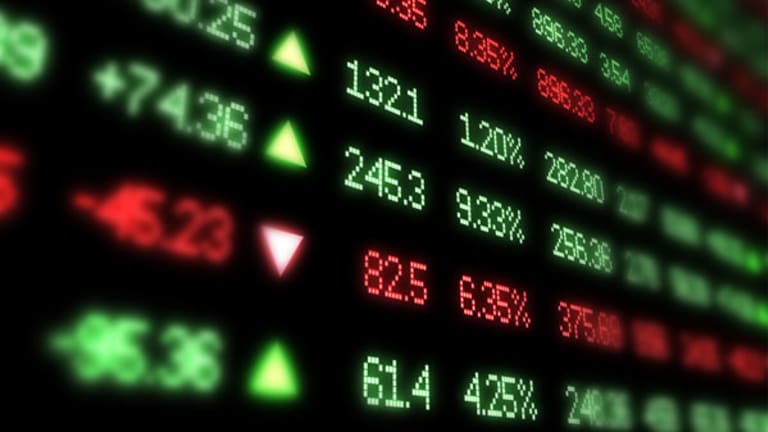 Lesson of Starbucks; Caring About the 10-Year: Jim Cramer's View
Cramer shares his views on Starbucks, and also discusses the 10-year.
Jim Cramer shares his views every day on RealMoney. Click here for a real-time look at his insights and musings.
Cramer: The Lesson of Starbucks

Originally published May 17 at 1:00 p.m. EST
Why did you sell that Amazon (AMZN) - Get Amazon.com Inc. Report ? Why did you get rid of one of the greatest performers in history?
Because of days like today, that's why. Because you looked at what you owned and you said, holy cow, I have a good gain on this one and I am not going to let it go away. Or because you said, oh no, Amazon's expensive as all get out. Maybe you even said, you know what, I am being really greedy.
It is true that I have often said bulls make money, bears make money and hogs get slaughtered. Nonetheless, that doesn't mean you have to throw away a stock entirely because you can't take the pain or you are worried about the implications of Trump's issues -- as if the business of Amazon has anything to do with Comey, Flynn and the rest of the grist of the White House mill.
If anything, you can always sell some and play with the house's money.
Let's use a real-life example that I talked about with club members of Action Alerts PLUS on my monthly conference call. Let's use the stock of Starbucks (SBUX) - Get Starbucks Corporation Report .
We were scanning stocks as we always do and saw that the stock of Starbucks was actually up on this hideous day. I said to myself, what an attractive opportunity to lock in a gain. Why not? It's up, isn't that exactly the opportunity you want?
But then I started thinking a couple of things. First, what kind of buying power is out there that this stock can buck the maelstrom of S&P 500 futures sellers? What does that say? It says there are motivated buyers.
Second, what did Starbucks do wrong that I would want to sell it other than the action in the market makes me nervous. If you think back to that last quarter, the company disappointed and missed the domestic same-store-sales number. But if you listened to my interview with Howard Schultz and Kevin Johnson, the executive chairman and CEO, you heard that things got better as the quarter went on and they are beginning to get their arms around the problems of too many customers coming in at once, including many on mobile pay. That's caused a jam-up and bad will at the register.
Panera (PNRA) had this problem, and when it was fixed, the stock zoomed. Ultimately Panera got a takeover bid. That's not going to happen at Starbucks. But the stock's resistance to falling does tell me you can't give it away here. If anything, you want to be a buyer.
I mention this because, like Amazon, Starbucks has been an incredible performer and yet very few people have been in it for the long run. Like Amazon, Starbucks has had its problems that have caused the stock to underperform. As my colleague David Faber from Squawk on the Street pointed out today, McDonald's (MCD) - Get McDonald's Corporation Report now has a much bigger market cap than Starbucks, $119 billion versus $86 billion, something I didn't think I would see happen.
But what matters to me is that I do not want to be shaken out by this period of underperformance any more than I wanted to be shaken out of Apple (AAPL) - Get Apple Inc. Report during its swan dive last year at this time. (Starbucks and Apple are part of TheStreet's Action Alerts PLUS portfolio.)
Days like today try your skills and your patience, if not your blood pressure. But I don't want to look back at Starbucks like so many look back at Amazon and ask, "Yeah, I sold that, but you know what, I forget why, maybe something with Trump?"
Believe me, that's going to happen. I just don't want it to happen to my trust. That's not how you invest. It's how you panic and, there we go, no one ever made a dime panicking.
Action Alerts PLUS, which Cramer co-manages as a charitable trust, is long SBUX and AAPL.
Cocktails & Cramer
Join Jim Cramer on May 23 for an exclusive party at Bar San Miguel, his Brooklyn tavern. You'll get to watch a screening of Mad Money, after which Jim will arrive fresh off of the CNBC set to mingle, pose for photos and answer your investing questions. Participants will enjoy dinner, drinks, an autographed copy of Jim's book, Get Rich Carefully, and a one-year membership to Action Alerts PLUS, Jim's club for investors. (Current AAP members will receive one extra year of membership for free.)
When: Tuesday, May 23, 6 p.m. - 9 p.m. ET
Where: Bar San Miguel, 307 Smith St., Brooklyn, N.Y.
Cost: $375 per person
Space is very limited, so click here to reserve your ticket to this exclusive event today.
Cramer: All I Care About Right Now Is the 10-Year

Originally published May 18 at 10:40 a.m. EST
They went right back to growth. Right back. The bonds stopped going up. The buyers came back.
Action Alerts PLUS, which Cramer co-manages, had no positions in the stocks mentioned.
The 10-year is calling the tune, and people are acting as if tech has more economic sensitivity than it really does.
The idea that tech can come right back seems a little glib. I know we are doing some trimming of a big win in tech to buy some down-and-outers, and I think the rally right back is a little glib.
All I care about right now, literally, is the 10-year, because the algos are totally in charge--and they say sell when rates go down and buy when rates go up. Rates going up even a smidge decked the defensives. Rather amazing.
When you get a down opening with rates going down and then rates go up, that's a perfect move for the bulls, especially when the world's largest retailer leads the way.
But I don't want to get ahead of myself, because of the headline risk--and because not having a little cash here seems a little reckless. Small buys, small sells seem right to me.
Action Alerts PLUS, which Cramer co-manages as a charitable trust, is long SBUX and AAPL.