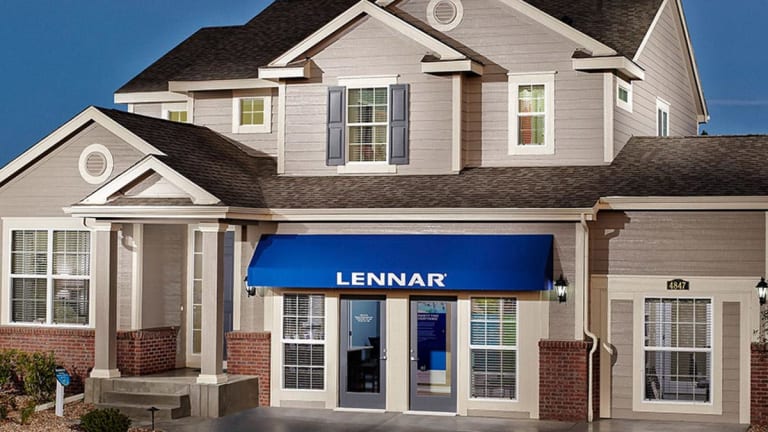 Lennar Sets a New Ceiling on Earnings Beat: How to Trade It
How to counter-trade homebuilder Lennar between $54.77 and $58.88.
Homebuilder Lennar (LEN) - Get Lennar Corporation Class A Report reported solid earnings before the opening bell on Wed., Oct. 2. Recent housing data has been showing an increase in demand for new homes and this is reflected in Lennar's report. The rise in home prices has stalled and mortgage rates have declined, setting the stage for strength in homebuilders.
Today I am showing the Fibonacci Retracement levels for the stock on its weekly chart. The all-time intraday high is $72.17 set on Jan. 22, 2018 and the subsequent low is $37.29 set on Dec. 26. This was a bear market decline of 48%; investors should buy weakness to the 50% retracement at $54.77 and sell strength to the 61.8% retracement at $58.88.
Recent housing data has been positive. The National Association of Home Builders Housing Market Index rose to 68 in September, the highest reading of the year; a neutral reading is 50. Single-family housing starts surged by 4.4% in August to a 919,000-annual pace, but this measure is down 2.7% year to date.
Last week we learned that the S&P CoreLogic Case-Shiller Index for July showed that the rise in home prices is stalling. The 20-City Composite showed a year over year gain of just 2% down from 2.2% in June. Home prices peaked in July 2006, declined by 35.1% to a cycle low in March 2012. Since then, the home-price bubble re-inflated by 62.6%. Now the slowdown in prices and lower mortgage rates has triggered a resurgence in home buying.
New Home Sales rose a solid 7.1% in August to a seasonally adjusted annual rate of 713,000 units. While this is a solid improvement, it's well below the July 2005 peak of around 1.5 million homes. Lennar traded to an all-time high of $72.17 on Jan. 22, 2018 above the July 2005 high of $67.68. Back then, the P/E ratio was around 7.00 and Wednesday it's 10.13, according to Macrotrends. The stock is thus not cheap.
Daily Chart for Lennar
Courtesy of Refinitiv XENITH
The daily chart for Lennar shows the 48% bear market decline from the Jan. 22, 2018 of $72.17 to the Dec. 26 low of $37.29. I liked Lennar as 2019 began because Dec. 26 was a "key reversal" where the close that day at $39.45 was above the Dec. 24 high of $38.92. This set the stage for a solid 2019. The close of $39.15 on Dec. 2018 was input to my proprietary analytics and my annual risky level remains at $64.25. The close of $48.46 on June 28 was the midyear input to my analytics and its semiannual pivot at $47.57 is now a value level. The close of $55.85 on Sept. 30 was an input to my analytics that results in a monthly value level for October at $52.49 and a monthly pivot at $54.24.
Weekly Chart for Lennar
Courtesy of Refinitiv XENITH
The weekly chart for Lennar is positive but overbought with the stock above its five-week modified moving average of $53.06. The stock is above its 200-week simple moving average or "reversion to the mean" at $49.46, which has been a magnet since the week of March 1. The 12x3x3 weekly slow stochastic reading is projected to rise to 80.33 this week up from 75.71 on Sept. 27. This is above the overbought threshold of 80.00.
The horizontal lines are the Fibonacci Retracement levels of the decline from January 2018 to the low in December 2018. The focus levels are the 50% retracement at $54.77 and the 61.8% retracement at $58.88.
Trading Strategy: Buy Lennar on weakness to the 50% retracement at $54.77 and add to the position on weakness to monthly and quarterly value levels at $54.24 and $52.49, respectively. Reduce holdings on strength to the 61.8% retracement at $58.88.
How to use my value levels and risky levels:
Value levels and risky levels are based upon the last nine monthly, quarterly, semiannual and annual closes. The first set of levels was based upon the closes on Dec. 31, 2018. The original annual level remains in play.
The close at the end of June 2019 established new monthly, quarterly and semiannual levels. The semiannual level for the second half of 2019 remains in play.
The quarterly level changes after the end of each quarter so the close on Sept. 30 established the level for the fourth quarter. The close on Sept. 30 also established the monthly level for October as monthly levels change at the end of each month.
My theory is that nine years of volatility between closes are enough to assume that all possible bullish or bearish events for the stock are factored in.
To capture share price volatility investors should buy on weakness to a value level and reduce holdings on strength to a risky level. A pivot is a value level or risky level that was violated within its time horizon. Pivots act as magnets that have a high probability of being tested again before its time horizon expires.
Save 57% During Our Fall Sale. Join Jim Cramer's Action Alerts PLUS investment club to become a smarter investor. Click here to sign up and save!
Disclosure: The author has no positions in any stocks mentioned and no plans to initiate any positions within the next 72 hours.