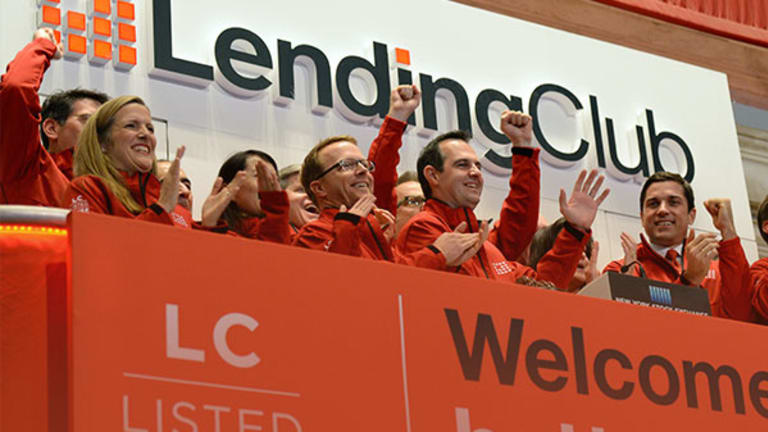 LendingClub Leaps as $1.3 Billion Investor Deal Signals Renewed Confidence
The deal was sparking optimism that the online lender could begin to reverse a dismal 2016, a period that has pared about 45% of the firm's market value.
In the lending business, there's no asset quite as valuable as trust. And after a bumpy 2016, it looks like San Francisco's online marketplace LendingClub (LC) - Get LendingClub Corp Report is beginning to win back just that.
Shares rose roughly 16% to $5.98 in midday trading Monday after LendingClub announced -- in tandem with its third-quarter earnings -- that Credigy, the U.S. consumer-finance arm of the National Bank of Canada, had agreed to buy as much as $1.3 billion of the fintech company's loans in the next 12 months.
At the same time, Lending Club posted a loss of only 4 cents per share in the three months through September, about 2 cents better than analysts projected, and revenue of $115 million topped estimates.
"As we take multiple strategic actions to enhance our marketplace, we see the Credigy program as a way we're further diversifying our investor base and adding the funding visibility and stability that can make us even more resilient in various market conditions," CEO Scott Sanborn said in a statement.
The National Bank of Canada deal is particularly crucial after a dismal year for shareholders of LendingClub, following the company's abrupt management shake-up in May amid irregularities with the sale of a small amount of loans to investors who provide capital for loans under its "marketplace" business model. The firm relies on algorithms to rapidly evaluate credit requests, and the loans it approves are funded by sources including individuals, hedge funds and banks.
Following the departure of co-founder Renaud Laplanche as CEO in May and the company's disclosure that a small portion of loans sold to one investor didn't meet the buyer's criteria, some investors, including Goldman Sachs (GS) - Get Goldman Sachs Group, Inc. (GS) Report pulled away. LendingClub extended as much as $14 million in inducements to retain or lure them back during the second quarter and $11 million more in the third quarter.
On Thursday's earnings call, Sanford indicated that the company has restored relationships with its banking partners; Bloomberg reported in July that LendingClub revived its relationship with Jefferies this summer through a cooperative bond sale.
Not all analysts are convinced the Canada deal marks a meaningful turnaround for the beleaguered company. In fact, the average 12-month price target among 14 of LendingClub's listed analysts is $5.94, about four cents below midday-trading levels Monday. LendingClub is one of the companies on Real Money's Stressed Out watch list.)
"The signing of a new investor partner to buy loans is a step in the right direction but does not address the short-term issue," Wedbush Securities analyst Henry J. Coffey Jr. said in a Monday investment note. "The company is still losing money, and the long-term challenges tied to building a business that can support the company's current share price and a reasonable valuation are still on the horizon." 
Coffey estimated the new deal will add about $325 million in loan-volume growth per quarter over the next year. 
Wedbush maintains an underperform rating on Lending Club, the equivalent of a sell, and a $3.75 price target. Despite Monday's surge, LendingClub shares have fallen roughly 45% so far this year.