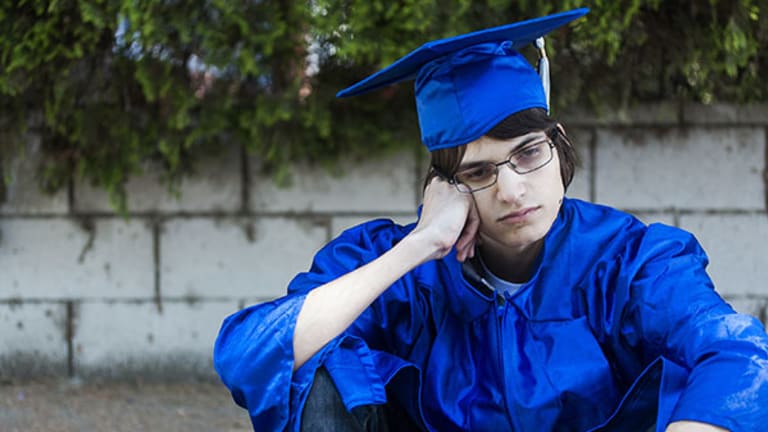 Laureate Education's (LAUR) Underwhelming IPO Hasn't Scared Away Wall Street
Analysts see the for-profit educator as an attractive company thanks to its scale in Latin America.
Put kindly, Laureate Education's (LAUR) IPO was a disappointment. Shares in the world's largest operator of for-profit colleges priced at $14, south of their expected $17-20 range. The stock's traded mostly sideways since it fell to $13.25 on its Feb. 1 debut; it closed at $13.02 Tuesday afternoon.
Despite Laureate's sputtering market debut Wall Street analysts remain confident in its business, which carries a different set of connotations around the globe than it does in the U.S.
"If they're able to show that this is an underlying good business and is really diversified relative to the U.S. peer group, I think you'll probably see the IPO successful over the long term," Macquarie analyst Hamzah Mazari said in an interview. "In the near-term, I think it's a show-me story."
Publicly traded for-profit educators like DeVry (DV) and Grand Canyon Education (LOPE) draw their students and revenue from the U.S. marketplace. Laureate prefers to operate in Latin America. Morgan Stanley estimates that 79% of students at Laureate schools are enrolled at one of its Latin American institutions and that operations in the region comprise 56% of the company's EBITDA.
Laureate has 29 institutions in Latin America: 13 in Brazil, five in Chile, four in Peru, two apiece in Mexico and Costa Rica and one each in Ecuador, Honduras and Panama.
The company tries to funnel its students into high-return career paths like business, medicine and engineering and the results suggest that its schools are a credible value proposition for its students. Third-party research from Millward Brown - commissioned at the behest of the company and conducted from 2010 to 2012 - showed that students at of 12 of 13 surveyed Laureate institutions achieved equal or higher employment rates within 12 months of graduation compared to similar schools in their respective countries, such as Chile and Peru.
"On average, [Laureate's] institutions generate above average salary benefits for their graduates," Credit Suisse analyst Trace Urdan wrote in a research note.
Laureate is classified as a public benefit corporation - a company whose board is required to balance the financial interests of its shareholders with its proclaimed social mission. It is the first of its kind to be traded publicly in the U.S.
By building private universities in Brazil, where the higher-education participation rate sits just north of 30% (according to UNESCO data gathered by Credit Suisse), Laureate can argue that it gets to have its cake and eat it, too. The shortage of public postsecondary institutions in Latin America to fit the needs of an ascendant middle class gives Laureate access to a significant revenue stream as it expands educational opportunities around the globe.
"We think they already have significant scale in Latin America," Mazari said.
One look at Laureate's U.S. operations, however, shows the holes in the narrative that for-profit educators have tried to build. Doctoral students at Walden University - a Laureate school in Minnesota - filed a suit seeking class action status against the company in December, alleging that the school dragged out the Ph.D. program for the sake of extracting more tuition checks from participants.
The Chilean government is also contemplating reforms that would effectively ban for-profit educators from operating in the country, but analysts consider them unlikely to pass.
"The proposal seems to have little political support to pass Congress," Urdan wrote.
Laureate also has problems on its balance sheet. The company is highly levered went public to help cut down its $4.2 billion debt load and admitted in Securities and Exchange Commission filings that it has weaknesses in its financial reporting processes.
"Post-IPO, we think that leverage is going to come out at slightly above 4.5x EBITDA," Mazari said. "Now we will say, that's considered relatively high in the education space. In general, I would say it's considered relatively high in the business services universe. We think there's a debt-for-equity exchange they're going to likely do with investors that's about $250 million, and that, we think, will bring leverage down by the end of 2017 to below 4x EBITDA."