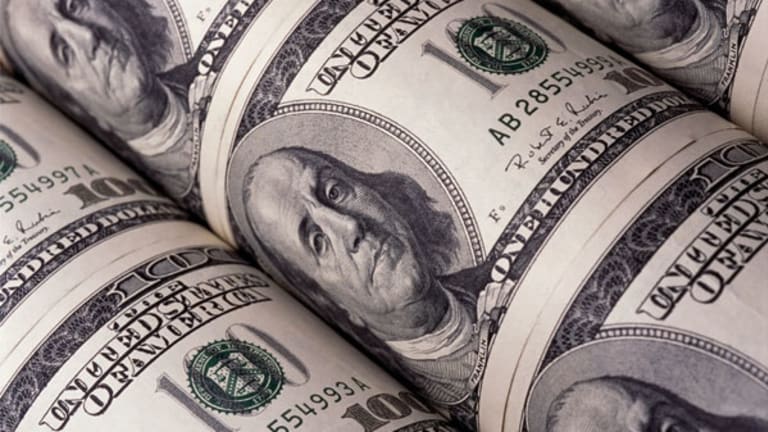 Laudani: Signet May Outshine Tiffany
Its planned merger with Zale seems to be a perfect deal
This article originally appeared on RealMoney.com. To read more content like this AND see inside Jim Cramer's multi-million-dollar portfolio for FREE, Click Here NOW.
Jewelry retailers Tiffany (TIF) - Get Report and Signet (SIG) - Get Report are expected to report fourth-quarter results on March 21 and March 27, respectively.
While many investors will talk about Tiffany's solid year and overseas prospects, Signet has significantly outperformed both the S&P 500 and Tiffany in the last five years. I think Signet will continue to outperform.
Investors expect Tiffany to report earnings per share of $1.56, an 8.6% increase. Revenue is expected to rise 5.7% to $1.31 billion.
If Tiffany can make the consensus estimate, it will be the ninth straight quarter of single digit gains. While that's great, I think the real opportunity in the jewelry industry is Signet.
Signet investors are expecting revenue of $1.55 billion and earnings per share of $2.15. In January, the company already revealed holiday sales were especially strong, with Kay and Jared ("He went to Jared!") both reporting that domestic same-store sales rose 5.6%.
On Feb. 19, Signet announced its intention to merge with Zale (ZLC) . Signet will acquire Zale for $21 a share in a deal valued at $1.4 billion. Zale rose 40% on the announcement.
In contrast to its competitors, in its most recent quarter Zale posted lackluster results. Comparable sales for the fiscal second quarter (ended January) were up just 1.9% on revenue of $656 million.
This is a perfect deal for Signet. Zale, the parent company of Zales, is one America's largest mall retailers of jewelry. The combined company will have 3,653 stores in the U.S., Canada and the U.K. On a pro forma basis, the combined companies would have sales over $6.2 billion.
With that many stores, there will be plenty of opportunities to close underperforming and duplicate locations. There is also the ability to combine manufacturing and product sourcing, and to gain additional economies of scale when buying commodities like gold and silver. Margins should improve as operating efficiencies kick in.
About 27% of Signet's brands, such as Neil Lane and Leo Diamonds, are exclusive. But only 11% of the Zales brands are exclusive. That represents a huge opportunity to expand the best-performing brands across the entire store base and drive additional sales.
If this merger is approved, the cost savings, the margin improvement and opportunity to drive additional revenue should keep the stock moving higher.
Editor's Note: This article was originally published at 11:30 a.m. EDT on Real Money on March 20.

At the time of publication, Laudani had no positions in the stocks mentioned. Christopher Laudani is the founder and president of
, a short-only equity research firm.