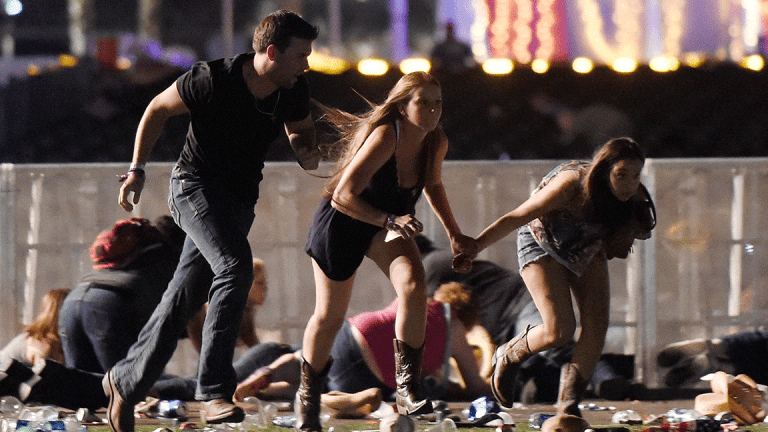 Las Vegas Attack Worst Mass Shooting in U.S. History: 59 Dead, 527 Injured
Donald Trump praises local authorities for their swift action and calls the shooting an 'act of pure evil.'
Donald Trump praises local authorities for their swift action and calls the shooting an 'act of pure evil.'
Here's the latest on the deadly shooting in Las Vegas:
The Aftermath
At least 59 people died and 527 were injured after a gunman opened fire on a music festival from the 32nd floor of the Mandalay Bay Hotel and Casino late Sunday, Oct. 1.
The massacre was the deadliest mass shooting in U.S. history. 
The suspect was identified as Stephen Craig Paddock, 64, of Mesquite, Nevada. Paddock killed himself in a hotel room after allegedly targeting concertgoers at the Route 91 Harvest Festival on the Las Vegas Strip during a performance by country-and-western artist Jason Aldean just after 10 p.m. local time. Paddock had as many as 23 firearms-- some with scopes -- in the room where he was found dead by officers. He had been staying in the hotel since Thursday. He knocked out two windows to create sniper's perches he used to rain torrents of bullets on the crowd of 22,000 some 500 yards away, authorities said, the Associated Press reported.
Police had first said they had taken down the suspected shooter and did not believe any others were involved. However, Sheriff Joseph Lombardo later said a 62-year-old woman named Marilou Danley might have been a person of interest and possible roommate of the shooter. After Danley was located, police said they didn't believe Danley was involved in the shooting.
"At approximately 10.08 pm we had calls coming of multiple shots being fired from the Mandalay Bay hotel towards the Route 91 concert, on the East side of Los Vegas Boulevard," Sheriff Lombardo said. "There was a shooter on 32nd floor of the Mandalay Bay. Officers engaged the suspect at that location. He is dead. He has been identified. He is a local resident. I will not release his name at this time."
"We do not know what his belief system was at this time," Lombardo continued. "We believe he is the sole aggressor at this point and the scene is static. We are attempting to locate the person of interest. Right now we believe it is sole actor, a lone wolf type actor and we have the place under control."
The FBI and Department of Homeland Security were working closely with local authorities to assist with the investigation. 
About 7 p.m. Pacific on Monday, Clark County law enforcement officials updated the number of weapons found in Paddock's Mesquite home and the hotel room. According to media reports, Assistant Clark County Sheriff Todd Fasulo said officers found 23 firearms in the Mandalay Bay hotel room and 19 firearms at the home.
Memorial and prayer services were held Monday, as faith leaders, elected officials and community members gathered throughout the area.
What Happened 
Videos and images circulating on social media suggested several dozen rounds were fired from what appeared to be an automatic weapon at the event, with hundreds fleeing the scene.
Lombardo said 58 people were killed with 59 deaths possible pending the outcome of a man being treated at a local hospital. The Sheriff added that 515 people were being treated in local hospitals from the more than 22,000 concertgoers. Two off-duty members of the Los Angeles Sheriff's Department were shot during the attack. One remains in critical condition while the other was stable. 
Two Las Vegas police officers were wounded in the shooting as well. One underwent surgery and is in stable condition at a local hospital and the other sustained minor injuries. An off-duty Las Vegas Police officer was among the 58 killed, but his name has not yet been released.
Paddock had no known connection to terrorism groups, the sheriff's department said, despite some reports that ISIS had taken responsibility. Police were searching Paddock's retirement community home about 80 miles north of Las Vegas on Monday.
The windows in either two adjoining rooms or one larger suite could be seen with curtains billowing through the 32nd floor of Mandalay Bay. Officials believe Paddock used a hammer-like device to break through the windows, shooting through both to either gain two different vantage points or avoid return fire. 
Paddock's brother, Eric Paddock, said he is "completely dumbfounded" by the shooting in a short interview with the Orlando Sentinel. Eric Paddock said he has given a statement to police. 
Paddock's brother said the shooter was a retired accountant who liked to play $100-a-hand poker and was "a wealthy guy." Eric Paddock added that their father was a well-known bank robber who was once on the FBI's most-wanted list.
Paddock said he had no idea why his brother would kill anyone.
"He was my brother and it's like an asteroid fell out of the sky," Paddock said.
Trump Responds
President Donald Trump offered condolences to victims and their families.
Trump praised local authorities for their swift action and called the shooting an "act of pure evil" in a statement Monday morning. He announced plans to visit Las Vegas on Wednesday, Oct. 4, to meet with law enforcement, first responders and families of the victims. 
The New York Stock Exchange observed a moment of silence Monday at 9:20 a.m. to honor those affected. 
This story has been updated with new death toll and injury estimates, and further information on the shooter.
More of What's Trending on TheStreet: