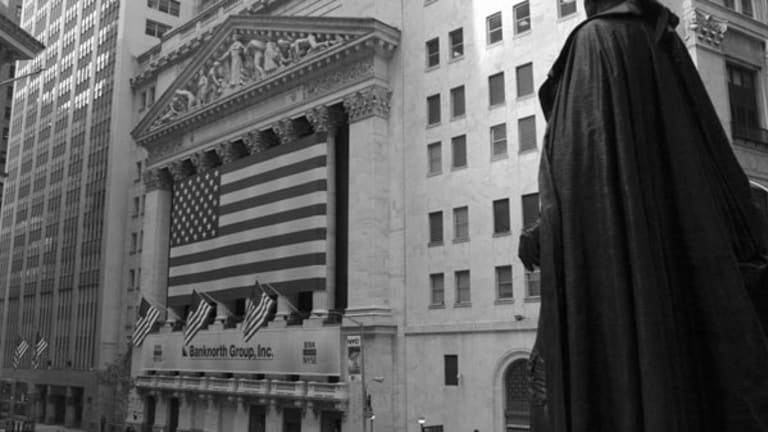 Largest S&Ls See Asset Quality Slide
Housing crisis continues to hammer many of the biggest mortgage specialists.
Savings and loan associations, or "thrifts," have been a major focus during the mortgage crisis, since most of them concentrate on home mortgage lending. Two of the largest players in the mortgage industry,
Washington Mutual
(WM)
and
Countrywide Financial
(CFC)
are thrift holding companies.
Over the past 20 years, the number of thrift charters has declined -- a result of hundreds of failures during the S&L crisis of the late 80s and early 90s, as well as industry consolidation and the conversion of some thrifts to commercial banks. While there were over 3,000 thrifts before the S&L crisis, there were 826 as of Dec. 31, 2007.
The following is a list of the 20 largest S&Ls, comparing their levels of problem assets as of Dec. 31, with the previous quarter and previous year. The highlighted institutions are the ones with major asset quality concerns.
IndyMac Bank, FSB (held by
IndyMac Bancorp, Inc.
undefined
), had the highest ratio of nonperforming loans to core capital and reserves for the group, at 57.32% as of year-end.
Please click
here
for a detailed discussion on IndyMac's asset quality and reserve coverage.
One of the institutions we have mentioned repeatedly over the past year was World Savings Bank of Oakland, Calif. This institution was acquired by
Wachovia
(WB)
in October 2006, as part of its purchase of Golden West Financial. During the fourth quarter of 2007, Wachovia changed the name of World Savings to Wachovia Mortgage, FSB, and shifted some of the institution's assets to other charters.
Of course, an institution's ratio of nonperforming assets to total assets can indicate problems, but it doesn't tell the whole story.
Looking at the ratio of nonperforming loans to core capital and loan loss reserves, it is clear that while the entire group remains well capitalized under regulatory guidelines, the seven highlighted institutions have a pretty high level of capital exposure.
An institution needs to maintain a leverage ratio of at least 5% and a risk-based capital ratio of 10% to be considered well-capitalized.
Washington Mutual Bank saw its level of nonperforming assets climb to 2.25% of total assets as of Dec. 31, from 1.72% the previous quarter and 0.92% at the end of 2006. Loan loss reserves covered 40.49% of nonperforming loans. As you can see on the second table, provisions for loan loss reserves during 2007 totaled $3.1 billion, keeping well ahead of net charge-offs, which totaled $2.3 billion.
While Washington Mutual expects higher charge-offs in 2008, it pointed out in its fourth quarter releases and conference call that 44% of its total 2007 charge-offs came from its subprime portfolio. The subprime portfolio totaled $18.6 billion, or 7.4% of total loans. Since the institution no longer originates subprime mortgages, this portfolio is running off, and shrank 7% in 2007. Washington Mutual also reported that prime home equity loans comprised 26% of 2007 charge-offs, but that home equity losses declined during the second half of the year.
Countrywide Bank, FSB also reported a sharp increase in problem loans during the fourth quarter. Nonperforming assets comprised 2.52% of total assets as of Dec. 31, up from 1.34% in September and 0.58% at the end of 2006. Countrywide's capital ratios have held up over the past year, with the raising of capital from its sale of preferred stock to
Bank of America
(BAC)
. Loan loss reserves covered 51.76% of nonperforming loans as of Dec. 31.
Assuming CEO Ken Lewis really means it when he assures the market that Bank of America will complete its planned acquisition, Countrywide is well positioned to operate until the merger is completed in the third quarter of 2008.
The institution reporting the worst asset quality on the list was Lehman Brothers Bank, FSB, a unit of
Lehman Brothers Holdings
undefined
, which reported nonperforming assets comprising 6.75% of total assets as of year-end, with hardly any loan loss reserves.
Nonperformers totaled $1.06 billion, of which $910 million was accounted for as "held for sale."
A Lehman Brothers spokesman stated that, unlike most banks and thrifts, Lehman Brothers Bank, FSB, marks loans to market each quarter. The institution will essentially not keep any loan loss reserves, since declines in collateral value for delinquent loans are already embedded in the carrying value.
We asked Lehman's spokesman if the company could provide an estimate of the percentage of the problem loans that had been written down. We're waiting for this information and will publish a follow-up if it becomes available.
Lehman Brothers Bank, FSB remained well capitalized as of Dec. 31, with the highest leverage ratio of the highlighted institutions, at 11.99%, and a risk-based capital ratio of 13.52%.
Philip W. van Doorn is senior bank analyst for TheStreet.com Ratings.