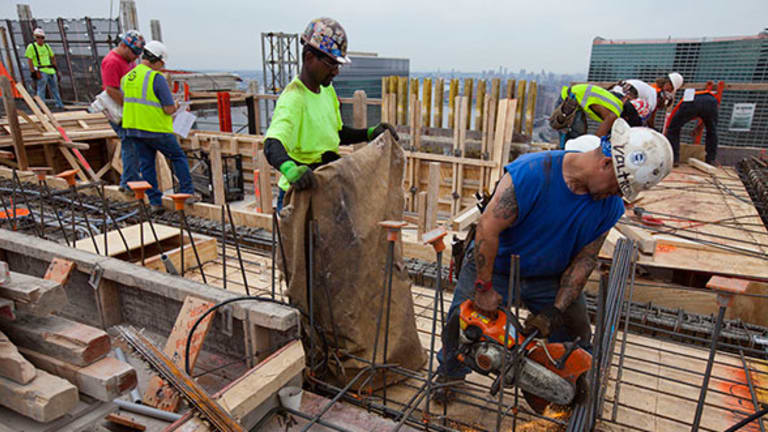 LafargeHolcim Taps Sika CEO Jan Jenisch to Lead World's Biggest Cement Maker
LafargeHolcim shares surged to the top of the market in Zurich Monday after it poached Swiss chemical maker Sika's CEO Jan Jenisch to lead the world's biggest cement maker
LafargeHolcim (HCMLY)  shares surged to the top of the market in Zurich Monday after it poached Swiss chemical maker Sika's CEO Jan Jenisch to lead the world's biggest cement maker  
Jenisch, 50, will join LafargeHolcim on October 16 after four months of gardening leave that will begin when he leaves Sika on July 1. He will replace LafargeHolcim's Eric Olsen who is stepping down down following a scandal linked to protection money paid by LafargeHolcim to Syrian militias.
Shares in the cement maker jumped 6.6% to Sfr58.10 each by 11:15 CET while Sika stock dipped 2% to Sfr6,195.
"Jan Jenisch is a CEO that is widely respected for consistently delivering strong business results and he comes with a deep understanding of the building materials sector," LafargeHolcim Chairman Beat Hess in a statement. "His agile leadership style and his personal skills will be a good fit with our company culture."
Olsen announced his intention to step down last month after an independent investigation found that measures taken to protect operations at LafargeHolcim's Jallabiya plant in northern Syria "were unacceptable, and significant errors of judgement were made that contravened the applicable code of conduct."
The company said the investigation had found no evidence that Olsen was either responsible or aware of the breaches, though the CEO said he would resign to draw a line under the affair, which is still the subject of an investigation by French prosecutors.   
Olsen's imminent departure will bring to an end his brief stint at the head parachuted into the top role after Holcim, in 2015, threatened to pull out of a merger with Lafarge if CEO Bruno Lafont was installed as the head of the combined group.
For Sika, the loss of its CEO comes amid a more than two years battle for independence from French building materials maker Cie. de Saint Gobain (CODGF) . Saint Gobain in 2014 agreed to buy Sika's founding family's minority stake, which is attached to a majority of the group's voting rights, sparking a series of legal challenges to the deal from both Sika's board and its other shareholders.
The battle against Saint Gobain has been led by Sika's chairman Paul Halg, but was supported by Jenisch whose strong performance as head of the Baar-based group did much to martial support for Sika's independence from minority shareholders.
Jenisch will be replaced by Paul Schuler, who will be promoted from his role as head of Europe, Middle East and Africa. Schuler has been a part of Sika's group management team for 10 years and has been with Sika for 26. His "contributions to Sika's success include high growth rates, significant improvements in efficiency and profitability as well as responsibility for major acquisitions," Sika said on Monday.
The Swiss group also reiterated its guidance for 2017, including sales growth of 6-8%, to more than Sfr 6 billion, and an even sharprer rise in EBIT and net profit.