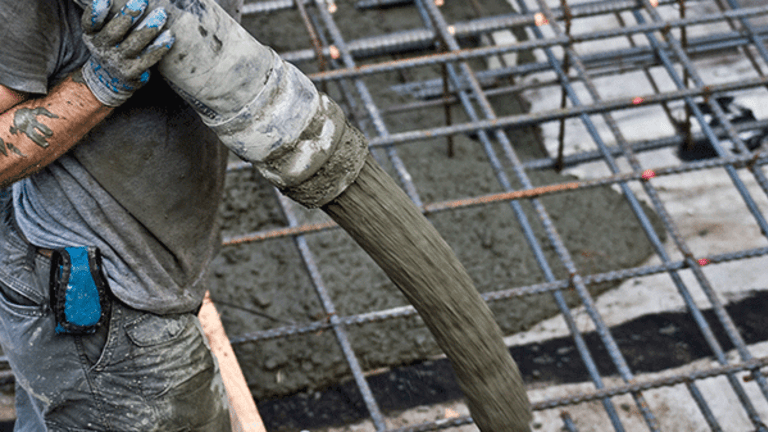 LafargeHolcim Shares Wobble On Lower Growth Outlook
The world's biggest cement maker cut sales growth forecasts by 1% but narrowly beat its earnings expectations for the second quarter.
The world's largest cement maker LafargeHolcim (HCMLY) had good and bad news for investors in its second quarter results after it narrowly beat profit expectations and but reported a dip in sales volumes that led it to cut its outlook for annual global cement sales growth.
Shares fell almost 2% in early trading before recovering later in the morning session to trade at 57.40 Swiss francs ($60), in line with their Tuesday close.
The Franco-Swiss group on Wednesday, July 26, posted operating profit of Sfr1.74 billion ($1.82 billion) for the three months to the end of June, up 10% on a like-for-like basis over the same quarter in 2016 and ahead of analyst consensus expectations of Sfr1.71 billion. Net sales rose 3.6% on a like-for-like basis to Sfr6.85 billion on improved margins but dipped 6% in real terms after cement and ready-mix concrete volumes declined 14.15% and 11.5% in part due to bad weather in the U.S. and operational problems in Belgium.
That fall in sales volumes led LafargeHolcim to cut its forecast for global cement demand growth to between 1% and 3%, down from the 2% to 4% growth it had predicted at the end of the first quarter.
"LafargeHolcim delivered positive earnings growth for the fifth consecutive quarter supported by favorable pricing, cost discipline and synergies," said Chairman and interim CEO Beat Hess. "Key countries such as the US, India, Nigeria and, notably this quarter, Mexico (made) significant contributions to earnings, more than offsetting headwinds in some of our markets."
Despite the lower sales growth expectations LafargeHolcim said it expected to deliver its targets for 2017, including double-digit growth in operating Ebitda on a like-for-like basis and an earnings per share increase of more than 20%.
The company also said that its incoming CEO Jens Jenisch will take up his role at the start of September, bringing forward his starting date from Oct. 16. Jenisch was appointed in May to replace Eric Olsen, who stepped down following a scandal linked to protection money paid by LafargeHolcim to Syrian militias.