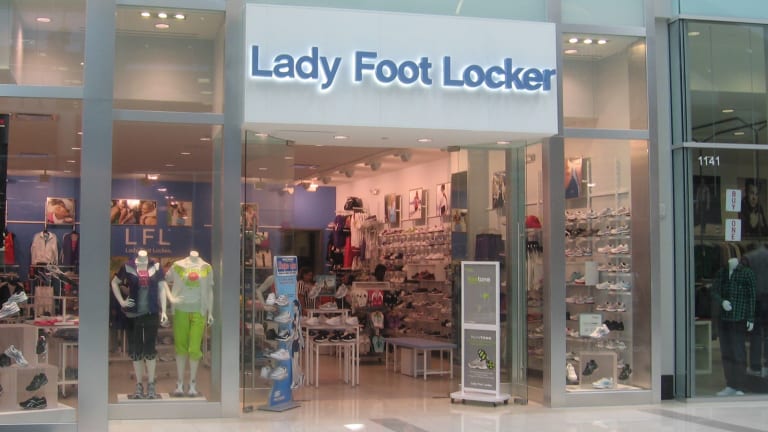 Lady Foot Locker Will Disappear Over the Next Few Years
Foot Locker announced it will "manage down" its Lady Foot Locker offshoot, but it won't be abandoning its female customers.
NEW YORK ( TheStreet) -- It's out with the old, and in with the new at footwear and apparel retailer Foot Locker (FL) - Get Report.
At an investor preservation in New York City Monday attended by TheStreet, Foot Locker announced that it was slowly going to exit its Lady Foot Locker business over the next several years as leases expire. "We are going to manage the portfolio down," said new CEO, and long-time Foot Locker exec Dick Johnson. The decision should come as little surprise to Wall Street.
Foot Locker has gradually been shuttering Lady Foot Locker locations over the past few years amid lagging performance. The chain numbered 567 locations in 2004, but was pruned to 213 by the end of 2014.
The reasons for Lady Foot Locker's struggles over the years were summed up nicely by Johnson, who noted there was an "awful lot of testosterone" injected into the chain's merchandising strategies. That meant a focus on making it more of a mini Foot Locker with an emphasis on general footwear styles, instead of catering it to female preferences for complete wardrobes, which includes apparel, that could be worn to a workout and then to happy hour.
Only recently have execs recalibrated how they approach the female consumer, re-merchandising many stores to offer a more inviting layout. Foot Locker has also sought to stock more premium footwear and apparel offerings from key vendor partners, such as Nike (NKE) - Get Report, Under Armour (UA) - Get Report and Adidas' Reebok brand.
The efforts have paid off, with same store sales increasing in recent quarters after years of slow growth. But apparently the progress has not been enough for the company to commit more  investment dollars to Lady Foot Locker longer term. This is due in large part to less-than-ideal store size for Lady Foot Locker, which ranges between 3,200 to 3,400 square feet--too large to be profitable. 
But Foot Locker won't be ignoring female consumers going forward, quite the opposite. Instead, the retailer will be expanding its new stand-alone store concept called SIX:02, in effect giving it a new growth mechanism.  SIX:02, named for the "minutes or hours we encourage each woman to take for herself," will sell yoga and training apparel and offer more intimate customer service, putting it in direct competition with fast-growing Lululemon (LULU) - Get Report and Gap's (GPS) - Get Report Athleta. Launched in Nov. 2012 at three locations, execs expect the SIX:02 chain to reach 35 total by the end of this year. By 2016, Foot Locker is seeking to ramp up the number of store openings even more. 
Executives declined to comment on the potential size of the store base by the year 2020.
Similar to Lululemon and Athleta, SIX:02 will seek to partner with local fitness influencers at gyms and exercise studios to get the word out about the brand. This grassroots social outreach and intimate customer service, along with more premium apparel and footwear offerings from top vendors, are some of the differences between SIX:02 and Lady Foot Locker.
Alongside the rollout of SIX:02, the company will be infusing more female products into its Foot Locker locations that have historically been destinations for athletic men and boys.
This article is commentary by an independent contributor. At the time of publication, the author held no positions in the stocks mentioned.