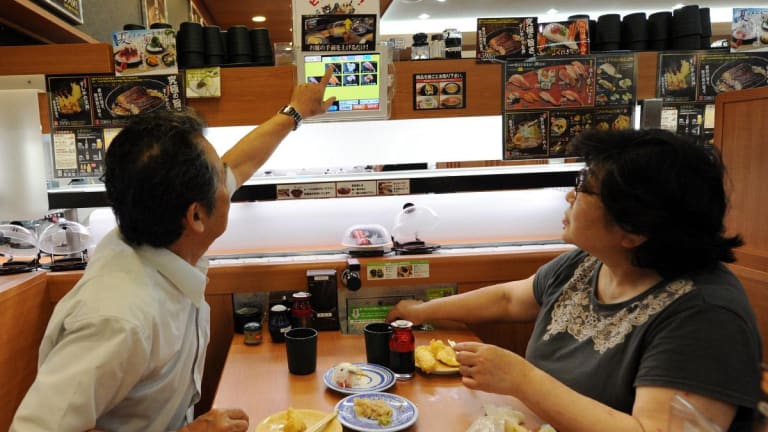 Kura Sushi Stock Soars on Its First Day of Trading
The Japanese restaurant chain specializing in omakase was trading up 28% Thursday, well above its initial public offering price of $14.
Kura Sushi USA (KRUS) , a Japanese restaurant chain with 22 locations specializing in omakase served on a revolving sushi bar, was trading up by more than a quarter following its initial public offering. 
The shares were recently trading up 28% at $17.92.
The IPO price was $14. Kura Sushi raised $40.6 million selling 2.9 million shares in the IPO late Wednesday. The projected range was $14 to $16.
In its IPO filing, Kura Sushi USA said it believed it had long-term potential for more than 290 U.S. restaurants.
Conveyor-belt use "allows us to minimize the number of servers in our restaurants," the company stated.
It also uses sushi robots and food-replenishment algorithms to reduce costs.
The Michelin dining guide says omakase is "a form of Japanese dining in which guests leave themselves in the hands of a chef and receive a meal which is seasonal, elegant, artistic and uses the finest ingredients available."
Summer Break Sale: Subscribe to Real Money and Save 76%
Join Real Money, our premium site for active investors, and enjoy exclusive access to real-time market analysis from Jim Cramer and more than 20 columnists hand-picked by him.