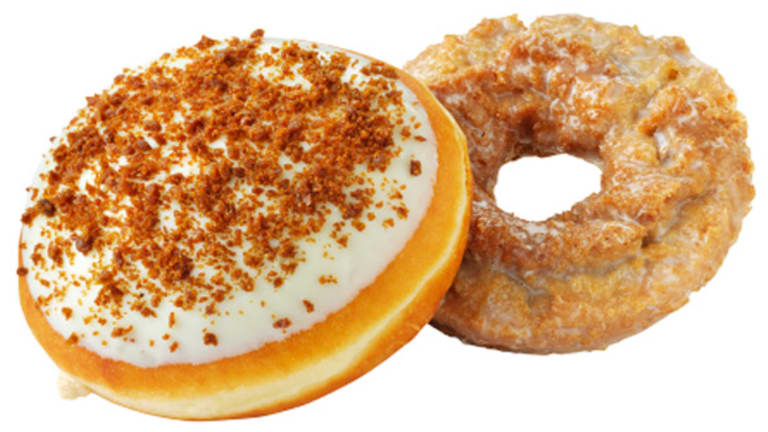 Krispy Kreme Has Something Delicious for Investors
Limited-time donuts, priced at a premium, are having a huge effect on the bottom line, says CEO Anthony Thompson.
Limited-time donuts, priced at a premium, are having a huge effect on the bottom line, says CEO Anthony Thompson.
Here's one for the bottom line as well as the waist line.
Krispy Kreme (KKD) said this week its third-quarter same-store sales at company-operated restaurants rose 2.8%. At franchise locations, sales gained 3.8%.
Why? The company attributed the solid sales to continued interest by customers in its limited-time donuts, which are priced at a premium to its well-known glazed donuts.
Investors cheered the sales performance and signs the company is having success in charging people more to satisfy their sweet tooth, sending shares higher by about 6.5% in the ensuing two sessions. Wall Street's enthusiasm came in spite of international same-store sales dropping by 3.7% and the pace of sales in the U.S. slowing down a bit in November.
"We had a lot of discounting out there, so some of that we trimmed back. We have been focusing on getting away from a lot of the everyday coupons and focusing more on special event days,' explained Anthony N. Thompson, Krispy Kreme's president and CEO in an interview with TheStreet regarding the moderation in sales in November.
While Krispy Kreme is finding success in selling more indulgent donuts, it's not taking its eye off the fact that beverages remain an area of opportunity. "Beverages are a big opportunity for us, coffee specifically. Overall, it's only about 5% of our sales," said Thompson, adding, 'it's always been a part of who are, but it has kind of passed us up.'
Recently, Krispy Kreme opened a test shop just outside Salem, N.C., that better highlights its beverage offerings on menu boards. The shop has a warmer, more contemporary feel that is designed to keep people in the restaurant eating donuts and drinking coffee as Krispy Kreme tries to carve out a niche in a sector dominated by Starbucks (SBUX) - Get Report , Dunkin Brands (DNKN) - Get Report and increasingly, McDonald's (MCD) - Get Report .
"We are really liking what we are seeing," said Thompson as to the initial customer response to the test location.
The question right now is are outside parties liking what they are seeing from Krispy Kreme enough so to consider a bid for the company. Over the past few years, there have been several notable buyouts in the restaurant industry, ones where the acquirer has sought to fill a need it wasn't addressing in the marketplace. Starbucks purchased upstart tea brand Teavana for $620 million in 2012. Restaurant Brands International's (QSR) - Get ReportBurger King gobbled up Canadian coffee king Tim Hortons for $11.4 billion in 2014.
With shares of Krispy Kreme down about 20% this year, a clean balance sheet, iconic name and mostly lucrative franchise model, it would seem logical the brand has attracted interest. However, Thompson downplayed the notion that the business was for sale.
"Right now we are focused on what we do, that's donuts, coffee and building shops - we are not looking to do something significantly outside of that -- I think Krispy Kreme is a unique, iconic brand and it could stand alone on its own two feet."