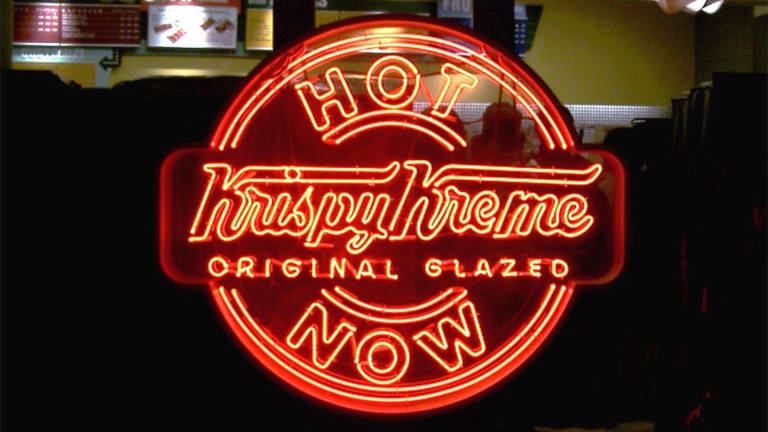 Jim Cramer fills his blog on RealMoney every day with his up-to-the-minute reactions to what's happening in the market and his legendary ahead-of-the-crowd ideas. This week he blogged on:
The latest McDonald's casualty
The death of Andy Grove
Biotech stocks
Click here for information on RealMoney, where you can see all the blogs, including Jim Cramer's -- and reader comments -- in real time.
Krispy Is the Latest to Get Kremed by McDonald's
Posted on March 23 at 11:21 a.m. ET
Here we go again with McDonald's (MCD) - Get McDonald's Corporation (MCD) Report . I haven't seen anything like this company's marauding nature since Walmart (WMT) - Get Walmart Inc. Report and Home Depot (HD) - Get Home Depot, Inc. (HD) Report stormed to the north to disrupt the pricing in the department and hardware stores.
The latest casualty?Krispy Kreme (KKD) . Oh, the company doesn't talk about McDonald's directly. They never seem to do so. But when Tony Thompson, Krispy Kreme's president and CEO, talked about challenges to margins and too much promotional activity, that's McDonald's. Steve Easterbrook, McDonald's CEO, has turned this industry upside down in the short time since he took over. Can you believe it is just one year ago this month? He has brought the rest of the fast-food business to its knees.
To me, Krispy Kreme's woes are synonymous with those of Dunkin' Donuts (DNKN) - Get Dunkin' Brands Group, Inc. Report -- heaven knows why that one keeps bouncing. They are morning coffee houses and McDonald's value coffee offering is meant to snare their customers. Starbucks (SBUX) - Get Starbucks Corporation Report is experiential, so the pressure's not on there, just in case you were thinking true spillover. (Starbucks is part of TheStreet'sAction Alerts PLUS portfolio.)
Take a look at the breakdown in Jack-in-the-Box (JACK) - Get Jack in the Box Inc. Report . That company's being crushed by the value burger meals that McDonald's is offering as well as its all-day breakfast. Management is suspect here. The company's Qdoba business couldn't take share from Chipotle (CMG) - Get Chipotle Mexican Grill, Inc. Report despite the latter's devastating E. coli and norovirus outbreaks. And its Jack flagship is right in the crosshairs of McDonald's.
We know DineEquity (DIN) - Get Dine Brands Global, Inc. Report and Popeye's (PLKI) have been wounded, too. The more diversified DineEquity with its IHOP brand is hanging in for certain, but the stock of Popeye's reflects directly the work of McDonald's and its chicken offerings.
Wendy's (WEN) - Get Wendy's Company Report and Restaurant Brands (QSR) - Get Restaurant Brands International Inc Report have so far held their own. But the relentlessness of McDonald's should keep them hopping and shareholders might keep one foot out the door. This industry seemed to have hit a safety zone as peace had broken out among almost all participants. Easterbrook broke the peace. He started the war.
He's winning.
Position: Long SBUX
How Andy Grove Changed the World
Posted on March 22 at 4:23 p.m. ET
The tech industry lost a titan yesterday, and we are all the worse for it. Andy Grove, one of the founders of Intel (INTC) - Get Intel Corporation (INTC) Report , was a man who understood business better than anyone else I have ever met.
The current generation is a generation that has grown up on the web -- and understands that a cellphone can pretty much put a man on the moon.

But there was another time, when you would have to pay millions of dollars for that same kind of computer power -- and that computer would take up an entire floor of a big office building.
Andy Grove, along with his Intel co-founders Gordon Moore and Robert Noyce, changed all that. They created a chip that made a small box -- a personal computer -- into something as powerful as any mainframe. And they did it at a price that was affordable to all. They democratized technology, making it so almost anyone could afford the same kind of computing that had only been available to superrich companies that could afford big iron.
I can remember a time when Robert Noyce, the most flamboyant of the three founders, held up a pen and said that Intel would be developing a computer chip the size of that pen that would have more power than an IBM (IBM) - Get International Business Machines (IBM) Report mainframe. A critic in the room scoffed, and said to Noyce that no one would ever pay $2 million for a device the size of a pen. Noyce's reaction pretty much explained it all: People wouldn't be paying $2 million for it. They would be paying a small fraction for it - less than $200.
Grove became CEO of Intel in 1987, and stayed in that role until 1998. During his tenure, Intel's market value went from $4 billion to $197 billion -- an astronomical 4500% gain. All during that time, Grove refined and refined and refined the chip, each time making it more powerful and yet reasonably priced, so that the phrase "Intel Inside" meant value for any personal computer buyer.
Grove was a very exacting business chief, insisting that Intel become the greatest manufacturer -- not just of technology, but also of any product ever made, and one could argue that he succeeded. He was constantly looking over his shoulder at what others were offering, spending fortunes in research and development and always trying to stay one step ahead of the posse. Perhaps this was a legacy of his escaping both the Holocaust and the Soviet tyranny of Hungary during the 1950s, before he emigrated to the U.S. as a young man.
Grove shared his thoughts about Intel, and business, in the single most important book I have ever read about how to run a company, Only the Paranoid Survive. I think anyone who ever wants to start or run a business or analyze a business from the stock perspective should buy this book tonight, because it is remarkable in its intensity and it is revealing of what it really takes to succeed.
Grove was no softy. When I met him, he had just used some of my writing for his annual report, and I went to thank him for doing so. He just shrugged his shoulders. I was kind of hoping he would sign the annual for me. Hey, I was a fan. He was my hero. He just looked away from me. I was crushed, but a mutual friend of ours apologized for him and just said, "That's Andy."
He had no time for small talk. He was all about running a business -- and was way to rigorous to waste his time on any sort of nicety, a point that comes across loud and clear in Only the Paranoid Survive. That said, when he took sick with prostate cancer, he made a study of it like he did everything else -- and he shared his work with everyone. He was a truly giving man when it mattered.
Thank you, Andy Grove, for all you did to change the world by making it so much of the population could afford a computer. Thank you for all you did to create so much wealth for so many. Thank you for just showing that raw intelligence, hard work and honesty can indeed pay off in this great, free country.
Position: None
The Biotech Stocks Are in No Man's Land Right Now
Posted on March 22 at 6:17 a.m. ET
Can biotech make a comeback? Is there any hope? I just put the finishing touches on an update of our much-loved Biotech Bible, and all I can tell you is without some takeovers and a big-time knock-out loss by Bernie Sanders, I just don't think I see one.

Here's the thing: This group rallied this week because Bill Ackman joined the board of Valeant (VRX) and Mike Pearson resigned from the CEO job. That allowed people to say: "Wait a second, this thing could earn $17 next year and it is selling at 2x times earnings? That's insane."
I don't know if it is insane. In fact, I do know that if I were running this company I would issue 100 million shares right here, right now, and take some of that debt load off the table. Now, it is entirely possible, given how the oil stocks have done after their big sales, that this one will be viewed as positively.
But make no mistake about it, judging by the way the cohort of companies that need higher drug prices to advance -- notably Action Alerts PLUS portfolio holdings Allergan (AGN) - Get Allergan plc Report and Biogen (BIIB) - Get Biogen Inc. Report , as well as Celgene (CELG) - Get Celgene Corporation Report -- traded with Valeant, at least you know that these stocks are hostage to the wayward Valeants, and without the erratic Pearson in there, maybe a grown up will step in and get the equity needed to help stave off the debt reaper.
I have been shocked that no government entity has gone to Valeant and said "we need a special master here to figure out what's going on." I saw it happen at Bristol-Myers (BMY) - Get Bristol-Myers Squibb Company Report for violations nowhere near as great as what seems to be happening here. It is a laugher that the government is so hands-off. The disclosure here is simply awful. Now we find out that the former CFO was to blame? But he won't resign from the board? Who is running this company? Bill Ackman, the hedge fund manager? What is this, Sears (SHLD) ?
Unfortunately, though, Valeant, a serial acquirer, has now made all serial acquirers or potential acquirers look terrible. The last thing you want to do is to even be in the category of an acquirer right now, lest someone relates you to Valeant, which has to be the poster boy for the worst governance of an "honest" company I have ever seen, which means one not being charged with fraud by any government entity.
Without acquisitions, the biotechs are extremely hard to value. For example, Johnson & Johnson (JNJ) - Get Johnson & Johnson (JNJ) Report has $18 billion out there in cash, ready to do a deal. But what's the hurry if the group keeps hurtling down? Eli Lilly (LLY) - Get Eli Lilly and Company (LLY) Report needs to do something if its Alzheimer's drug doesn't pan out. It's a likely buyer. But it doesn't have that much cash lying around.
Pfizer's (PFE) - Get Pfizer Inc. Report tied up with Allergan. Merck's (MRK) - Get Merck & Co., Inc. (MRK) Report too hidebound. Bristol already thinks it is a biotech company. Glaxo (GSK) - Get GlaxoSmithKline plc Sponsored ADR Report and AstraZeneca (AZN) - Get Astrazeneca PLC Sponsored ADR Report are so challenged I don't know if they can get their arms around anything. AbbVie (ABBV) - Get AbbVie, Inc. Report already spent the farm on Pharmacyclics -- $21 billion!
Sanofi (SNY) - Get Sanofi Sponsored ADR Report could buy the rest of Regeneron (REGN) - Get Regeneron Pharmaceuticals, Inc. Report . But I don't know why it needs to do that now. Gilead (GILD) - Get Gilead Sciences, Inc. (GILD) Report may be the most likely acquirer, just to get its multiple up and its reliance down on its Hepatitis C franchise.
Without a deal, I think the group stays on hold. However, given the declines that have occurred here already and the potential scarcity value soon, as there are no biotech IPOs and the possibilities of secondaries seem remote these days given the hatred for these companies, it's too late to sell.
Too early to buy; too late to sell. No man's land.
Position: Long AGN, BIIB.