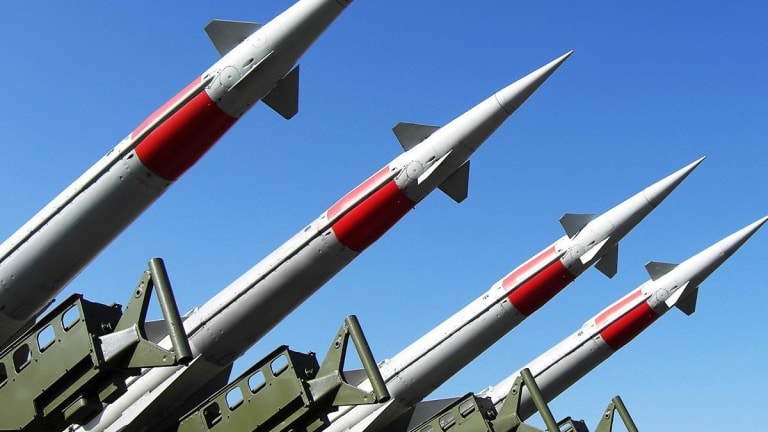 Kratos Defense Stock Finds Itself In a Sweet Spot
This firm is cheap enough in dollar terms for a bigger name to swallow.
United in Defense
Harris Corporation (HRS) put their numbers to the tape around midnight. The firm beat EPS expectations for their Q1 by six cents. The firm also saw revenue climb by 9.2% year-over-year, which was good enough to beat Wall Street's consensus by a rough $20M. I had not expected to see those results for a couple of weeks. The fact is that Harris had bigger fish to fry.
This firm, along with L3 Technologies (LLL) - Get L3 Technologies Inc Report  , has agreed to an all stock merger apparently of equals. The resultant firm will be known as L3 Harris Technologies, and will rank as the sixth largest defense contractor in the Untied States. This announced deal between a technology company that provides products, systems, and services with defense and civil governments applications in a tactical environment (HRS), and a communications company specializing in Intelligence, Surveillance, Reconnaissance, Simulation and Training systems (LLL) may just be what the doctor ordered. There is obviously more to both firms, and some significant overlap. The thought here is that once combined, the one firm can generate a rough $500M in reduced pre-tax savings while still generating $3B in free cash flow by year three post-merge. Hmm.
The Hot Spot
You have likely noticed that while equity markets have turned in a mixed morning in terms of performance, that within the Industrial space, the Aerospace and Defense Industry is outperforming the rest of the market. Northrop Grumman (NOC) - Get Northrop Grumman Corporation Report , Lockheed Martin (LMT) - Get Lockheed Martin Corporation (LMT) Report , General Dynamics (GD) - Get General Dynamics Corporation (GD) Report , and Raytheon (RTN) - Get Raytheon Company Report are all trading in the green this morning. That can be blamed perhaps as much on some tough rhetoric regarding the situation in Saudi Arabia as it might be in sanctions heading Iran's way. Then, there would be the real concern... the potential for a brewing "Cold War" with China that would undoubtedly also involve the Koreas.
While the trade war with China is a bit tricky as materials needed for the manufacture of high tech weaponry must to some degree be imported from China, that also becomes a reason to maintain the high level of investment in the space. Then, if there is an "urge to merge" sentiment enveloping defense, bigger fish will look at smaller fish. That puts one of my other names... Kratos Defense (KTOS) - Get Kratos Defense & Security Solutions, Inc. Report in a sweet spot for now. As a shareholder, this would be extremely welcome as the name has come hard off of highs that were made only two weeks ago. The point is that though, indebted, this firm, is cheap enough in dollar terms for a bigger name to swallow, and if that never happens, the firm lands enough high-tech contracts in order to stick around. I am long this stock (so I am talking my book), and will add this trade after the article is public. Yes, you are actually privy to what a real trader is thinking about doing in response to market forces. The rest of the financial media give you much of that? Will it work? All I guarantee is that I will be in the next foxhole, and we'll be facing the same direction. Kratos reports on October 31st. 
Retail Investor Style Defense Play (Minimal Lots)
-Purchase 100 shares of KTOS (Last: $13.40)
-Sale of one $12.50 KTOS November 16th put option (Last: $0.60)
-Sale of one $15 KTOS January 18th call option (Last $0.75)
Possible Results: The trader will be long 100 shares of KTOS at a net basis of $12.05 (That's a 10% discount, sport). If the stock goes higher, the trader may be committed to sell these shares at $15 in January, locking in a 24.5% profit. Should the shares drop below $12.50 by mid-November, the trader would have to buy an additional 100 shares at that price (increasing net basis to $12.28. However, the agile trader would at that point sell another call option covering the second lot of 100 shares, which would further reduce this basis from that point. Everyone getting this? 
(Raytheon is a holding in Jim Cramer's Action Alerts PLUS member club. Want to be alerted before Jim Cramer buys or sells RTN? Learn more now.)
At the time of publication, Stephen Guilfoyle was Long NOC, RTN, GD, LMT, KTOS equity.