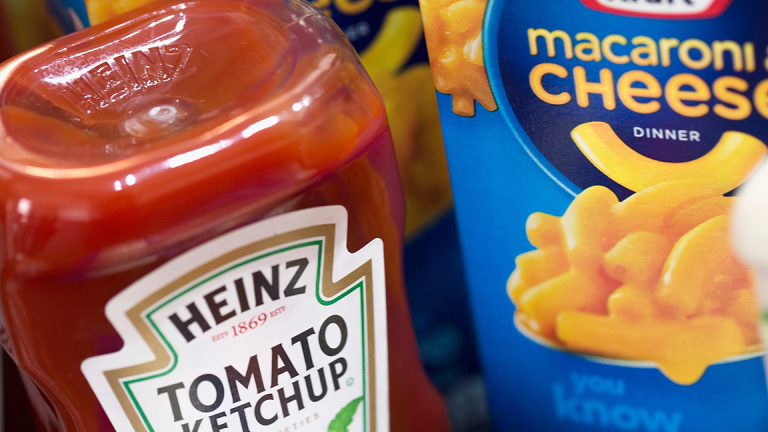 Will Kraft Heinz Buy Pepsico or Mondelez?
A big deal this year for Kraft Heinz is likely, says Stifel analyst, while a Morningstar analyst expresses skepticism
Kraft Heinz Co.   (KHC) - Get Free Report  is hungry for a big deal, but can it stomach a fight?
"Based on how quickly they walked away from Unilever last year," Morningstar analyst Erin Lash told TheStreet on Monday, June 18, "they don't seem to want to be involved in a hostile takeover." 
In Feb. 2017, Kraft Heinz approached Unilever NV (UN) - Get Free Report  with a $143 billion bid. Yet when Unilever's board and management team opposed it, Kraft Heinz promptly abandoned its plans.
A key difference now is that Warren Buffett is no longer on the Kraft Heinz board, having chosen to step down after his term ended in April. Buffett's Berkshire Hathaway Inc. (BRK.A) - Get Free Report owns more than a quarter of Kraft Heinz shares.
Michael S. Lavery of Piper Jaffray wrote in April ahead of Buffett's departure from the board that "While we assume that KHC still much prefers a friendly deal (if only for the simplicity), we wonder if its approach may change once Warren Buffett leaves the board on Monday [April 17, 2018], as he has publicly spoken out against any hostile bids." 
Stifel analyst Christoper Growe appears to be all in with Kraft Heinz and its takeover designs. He wrote in a note Monday that PepsiCo Inc. (PEP) - Get Free Report  or Mondelez International Inc (MDLZ) - Get Free Report  could be possible targets for Kraft Heinz.
"We believe Kraft Heinz will lead the industry in consolidation," Growe wrote in a note on Monday, June 18, "and while this opportunity has come and gone in some investors' eyes, we still see the opportunity for a large-scale, transformational acquisition with a focus on buying growing categories, brands that can travel around the world and one capable of creating significant cost savings."
Others are less certain. Lash said the pool for Kraft Heinz acquisitions may be limited and potential targets unwilling to be taken over. 
Since Mondelez's new CEO Dirk Van de Put assumed his role in November, she said, the company has been energized by efforts to improve operating margins and roll out new lines, among other initiatives. "Our take is that they are looking to allow those efforts to play out, rather than join up with another industry player," she added. 
For PepsiCo's part, it's now turning around its underperforming beverage business and is committed to returning cash to investors, "while balancing ongoing investments in research and development and advertising and market," wrote Wells Fargo analyst Bonnie Herzog in a note on April 30. She added that the bank had seen improvements in the snacks sector, and suggested that long-term investors may see an entry point, due to slips in beverages and modest headwind risk.
Yet, Kraft Heinz is nothing if not eager to get bigger. Kraft Heinz and 3G Capital partner Bernardo Hees told TheStreet in April: "We dream big, and that's not going to go away. We like solid brands, we like businesses that could travel internationally and be global and we like businesses with synergies that you can capture and then reinvest."
In 2013, Berkshire Hathaway and 3G acquired the H. J. Heinz Company in a leveraged buyout, in which each contributed $4.25 billion in equity, and Berkshire took another $8 billion of the preferred stock in the new Heinz company.
Two years later, they joined forced again to combine Heinz with Kraft and create the Kraft Heinz Company, the third-largest food and beverage company in North America and the fifth-largest food and beverage company in the world, by paying shareholders $10 billion in cash, which left Berkshire and 3G with a combined 51% stake and shareholders with the remaining 49%. 
The global packaged food brand Kraft Heinz, which makes Oscar Mayer cold cuts, Heinz ketchup and Kraft macaroni and cheese, is dealing with sluggish growth, fresh rivalry from young brands, shrinkage in developed markets and consumers who demand healthier food choices.
Kraft Heinz had no comment. Mondelez responded by saying it does not comment on rumors or speculation. PepsiCo did not immediately respond to a request for comment from TheStreet.
Kraft Heinz was trading slightly down at $60.80 on Monday afternoon; PepsiCo was down nearly 2% at $105.43, and Mondelez was down nearly 2% at $40.09.
PepsiCo is a holding in Jim Cramer's Action Alerts PLUS member club. Want to be alerted before Jim Cramer buys or sells the stock? Learn more now.