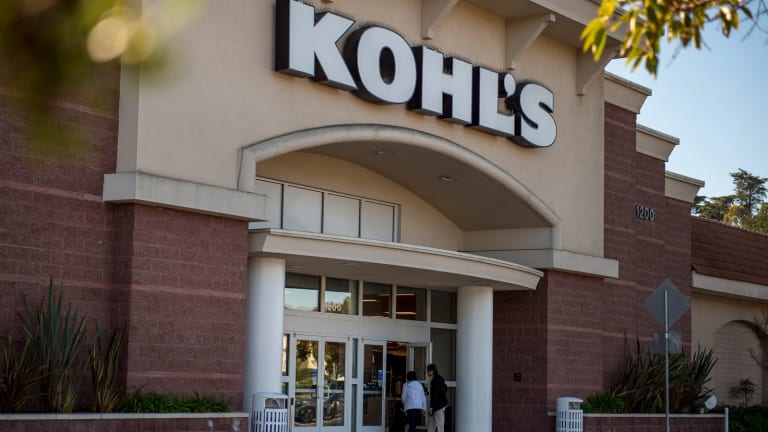 Kohl's Has Been a Sneaky Good Name: Market Recon
My moderate stock price target for Kohl's is $51.
I have long pounded the table on behalf of two retailers: Walmart (WMT) - Get Walmart Inc. Report and Kohl's (KSS) - Get Kohl's Corporation (KSS) Report . My Walmart call, of course given the name and where I made the call, gained much more attention. However, Kohl's has been a sneaky good name, and pays an awesome 4.4% dividend yield. It has long been my premise that if you do not have the resources and the backing to confront Amazon (AMZN) - Get Amazon.com, Inc. Report the way Walmart can, then you have to cozy up to the e-tailing giant, the way KSS has.
First thing you notice on this six-month daily chart of the name is the bloated Relative Strength of 78. This reminds you that falling in love is dangerous, and you better have a plan in place. Yes, prepare, despite a rosy picture for tax reform. Here you see a moving average convergence divergence (MACD) that suddenly has the 12-day exponential moving average (EMA) reaching for the heavens, as both that 12-day and the 26-day violently cross over the nine-day. Then there is money flow, which obviously has had a fantastic November.
Where and When
Now, my moderate target for this name is $51. That level was reached at Monday's highs. I trimmed just a small slice. My secondary target is $58. That's where I really want to go. I left those models off this chart, as they made the chart too crowded, and I am trying to show you one way to identify panic points, when my standard models just don't look right to me.
One method I use at times (definitely not always) like this is known as the Fibonacci Fan. Can be used in an upward trend, or a downward trend, but you pretty much need a trend. Tracking that trend from low to high and extending the chart into the future, one can lay out fanned levels simulating 38%, 50% and 62% re-tracements based on a trend that adjusts for time consumption. In other words, based on this model, I would start to worry about KSS round $44.50 if the stock were to get smoked today. However, in a month's time, I would likely either bail out, or re-load somewhere around $46.75. Understand? Keep in mind that this tool is a hand grenade, not a sniper rifle.
The stock will not be stagnant. I have often told you that you can change price targets once. That's my own time-tested discipline. Changing targets more often allows me to get sloppy, which if left unguarded even once, and heavens forbid, being allowed to succeed, would ultimately lead to failure on bigger, more important battlefields. That's my opinion. Panic points? I allow for myself unlimited change.
(This is an excerpt from Stephen "Sarge" Guilfoyle's Morning Recon, which now appears exclusively on Real Money, our premium site for active traders. Click here for a free 14-day trial and receive Morning Recon every day, along with exclusive columns from Jim Cramer, James "RevShark" DePorre, technical analyst Bruce Kamich and more.)
More of What's Trending on TheStreet:
CBOE Just Tossed Gas on Bitcoin's Red-Hot Run
At the time of publication, Stephen Guilfoyle was long WMT, KSS, AMZN, although positions may change at any time.