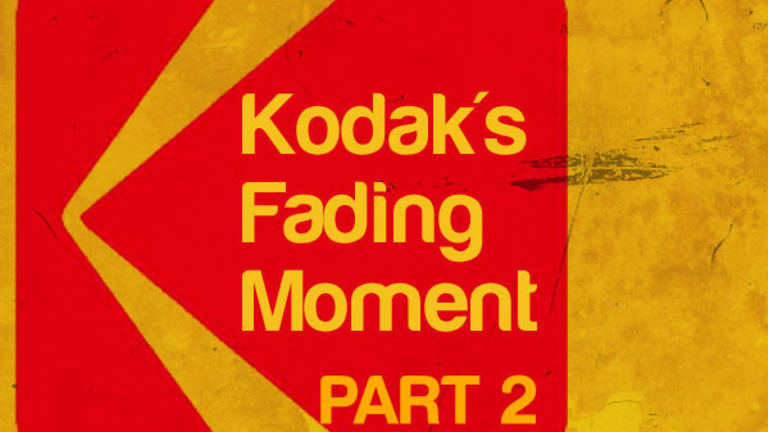 Kodak's Bankruptcy: Manufacturing a 21st Century Rebirth
Kodak's survival could underscore a U.S. manufacturing renaissance.
Part 2 in a series about Eastman Kodak.
ROCHESTER, N.Y. (TheStreet) -- The George Eastman House, a museum dedicated to the life of Eastman Kodak's founder, is so steeped in the company's mighty past it isn't presenting a future.
Curator Kathy Connor and the Eastman House have collected a century's worth of Kodak's camera breakthroughs, blueprints of factories that no longer exist, and photos of what used to be called Kodak Park, once the world's largest industrial complex. It is a museum that captures Kodak's best memories and the personality of its founder, George Eastman, but says little about what lies ahead for the 133 year-old company.
Kodak fell into Chapter 11 bankruptcy on Jan. 19, 2012, after a 30-year collapse of its dominant film business and a failure to identify a next big idea to replace it. The company has since sold many of its most recognized businesses and inventions.
As Kodak prepares for a second-life outside of bankruptcy, the company is likely unrecognizable to a historian like Connor. The hope, however, is that Kodak can give Eastman House one more story to present to visitors.
Eighteen months ago, many assumed Kodak's restructuring would result in a liquidation of the American corporate icon. Instead, the company appears to have found a toehold in businesses that are at a crossroads of technology and manufacturing and are squarely of the 21st century.
Kodak now positions itself as a maker of printers with up to 90% of revenue coming in the form of recurring digital printing plate, services and ink sales. More importantly, investors feel the company has the capability to use its printing assets to manufacture semiconductors, holographics, batteries, biomedical devices and circuitry.
Overall, Kodak optimistically forecasts its printers, ink, plates and toner will serve a $720 billion commercial printing and packaging market that could grow at near double-digit rates globally in coming years. Kodak will also retain its famous motion picture film business, a fixture on Hollywood silver screens up until a few years ago.
Kodak is currently conducting a $406 million rights offering, which will allow creditors to exchange billions in claims against the company for shares. Unsecured creditors are poised to see a minimal recovery on their claims, while Kodak recently said in an amendment to the offering second-lien holders will get a full recovery.
The company is scheduled to present a reorganization plan in a New York court on August 20, with the prospect it exits bankruptcy shortly thereafter.
Sources familiar with Kodak's bankruptcy process say the company will be re-listed on the New York Stock Exchange shortly after it exits bankruptcy.
Even so, the company will be a shade of its former self.
In the late 1980s Kodak swelled to 145,300 worldwide employees, and in the 1990s the company hit a revenue peak of over $16 billion and a market capitalization of about $30 billion.
Kodak's total capitalization will now be about $1.2 billion, the company said in a July 15 presentation to lenders. It forecasts 2013 revenue to be around $2.5 billion, a drop from the previous year. Kodak may also end the year with fewer employees than it shed in 2012 alone.
Those projections, however, may position the company for its first growth spurt in decades.
By 2017, the company expects annual revenue growth of over 6%, buoyed by 20% compound annual growth from its Digital Printing & Enterprise business. The company's margins are forecast to nearly triple to 15.4% in that time horizon.
Kodak spokesperson Christopher Veronda expects that after the company exits bankruptcy, it will restart recruiting programs at college campuses and eventually begin hiring again.
Sources also say Kodak will look to reengage with the Rochester community, after the company froze its once-generous charitable contributions during bankruptcy.
If there is anything positive about the fall of a former manufacturing titan, the near-wipeout of billions in non-pension benefits to the company's more than 50,000 retirees, and steep losses by most investors, it is that Kodak's bankruptcy doesn't appear to be its end.
Kodak's Bankruptcy
Up until its bankruptcy filing, Kodak pressed what it thought was a winning strategy to stay afloat by litigating to protect the company's trove of digital imaging and camera patents. A day before its Chapter 11, Kodak alleged patent infringement claims against Korean electronics giant Samsung. A week earlier, the company had sued competitor Fujifilm and that January it also took smartphone makers Apple and HTC to court.
In total, Kodak said it could raise almost $3 billion dollars by litigating its intellectual property and selling a portfolio of about 1,100 highly valuable digital imaging patents. That cash, Kodak said, would help the company reinvest in its digital businesses and further its strategy to move into consumer and commercial printing markets.
After its day in court, Kodak came away with virtually no money from infringement claims. In bankruptcy, the company also sold its portfolio of patents to tech firms such as Apple (AAPL) - Get Apple Inc. Report, Facebook (FB) - Get Meta Platforms Inc. Report and Google (GOOG) - Get Alphabet Inc. Report for $530 million, about 20% of previous forecasts.
In retrospect, the company's survival strategy was a disappointment.
Many had assumed an inevitable failure and in the background of Kodak's filing, some parties were preparing a different solution to the company's woes.
Bankruptcy created an opportunity for Kodak to try new strategies. In particular, investors and management honed in on the company's commercial printing technologies, while giving Kodak's pensioners ownership of the company's doomed but cash flow positive businesses.
Instead of focusing on winning consumer inkjet market share from Hewlett-Packard (HPQ) - Get HP Inc. Report, as CEO Antonio Perez had attempted to do prior to bankruptcy, the company now markets itself as having re-positioned around far more technologically advanced commercial printers.
Kodak's SONORA and PROSPER printers and its FLEXCEL system for flexographic package printing stand out as pieces of the company that could be attached to growing end-markets. They also appear to be a part of the printing business where Kodak could have a fighting chance, a contrast to the company's previous efforts to win inkjet users from HP.
When Kodak filed for bankruptcy, the company initially listed its consumer printing kiosks, document scanners and digital printing plates as a "core business" and characterized consumer inkjet, digital printing and packaging technologies as "growth businesses."
Kodak's most recognizable products such as film, digital cameras, motion picture film and its online photo-sharing platform, Kodak Gallery, were listed as assets to either be sold or managed for cash. What Kodak decided to keep and sell changed during bankruptcy, however, the company retains virtually no consumer-facing businesses.
Commercial printing, and particularly Kodak's high-end functional printing capabilities, are the company's future.
Equity holders will have a 100-day plan upon the company's exit from bankruptcy, which involves re-positioning and marketing the company by using printing assets to manufacture technological products such as semiconductors.
Continued operational changes such as more targeted research and development spending could also help with Kodak's financial and technological footing. This contrasts to the years when Kodak patented breakthroughs but did not commercialize them."If R&D doesn't have an end use it doesn't matter, no matter how cool it is," one source said.
That source said an ambitious benchmark for Kodak in public markets would be 3M (MMM) - Get 3M Company Report and not Xerox (XRX) - Get Xerox Holdings Corporation Report. A technology firm should trade at eight-or-nine-times earnings before interest, taxes, depreciation and amortization (EBITDA), whereas a printing company would trade at a lower multiple.
According to public filings, Kodak projects it will earn nearly $500 million in operational EBITDA by 2017 on about $3.2 billion in revenue.
Kodak's revival can be a boon to other Rochester-based firms at the confluence of manufacturing and technology.
Kingsbury, a manufacturer recently acquired by former Kodak employee Bill Pollock's Optimation, is opening a plant in Kodak's Eastman Business Park to produce sensors that utilize the company's silver halide technologies. Kodak will also supply chemicals and technical support, and assist with Kingsbury's marketing.
Eastman Business Park, once the world's largest manufacturing facility, stands out as yet another piece of Kodak that could emerge from a bankruptcy freeze.
In June, Kodak and the State of New York reached an agreement to establish a $49 million environmental trust for Eastman Business Park that will settle the industrial park's environmental liability and help to bring in new businesses to make use of scores of idled factories.
It Could Have Been Worse
Kodak received sub-par demand for its patent portfolio and it sold Kodak Gallery to Shutterfly (SFLY) - Get Shutterfly, Inc. Report for a paltry $23.2 million. But a turning point in Kodak's bankruptcy process came when the company sold its personalized camera film and document imaging businesses to its U.K. pensioners.
The deal was announced in late April and resolved $2.8 billion in pension liability, Kodak's largest creditor claim. Kodak received about $325 million of cash and other benefits worth about another $325 million from the U.K. pension and ceded full control of what was once the company's pre-eminent cash cow.
"That was a real bright spot in the reorganization process," said a source involved with Kodak's bankruptcy. The Wall Street Journal reported that the deal was being negotiated prior to Kodak's bankruptcy filing, and throughout the Chapter 11 process.
Those $2.8 billion in pension claims had threatened to keep Kodak in a prolonged bankruptcy, potentially creating a roadblock for the company's re-emergence.
Within a few months of the deal's approval in bankruptcy court, Kodak set up a rights offering backstopped by its second-lien creditors GSO Capital Partners, a subsidiary of The Blackstone Group (BX) - Get Blackstone Inc. Report, BlueMountain Capital Management, George Karfunkel, United Equities , and Contrarian Capital. The company also arranged a $895 million exit financing commitment from JPMorgan (JPM) - Get JP Morgan Chase & Co. Report, Bank of America (BAC) - Get Bank of America Corporation Report and Barclays (BCS) - Get Barclays PLC Report.
Many, especially Kodak's over 50,000 U.S.-based retirees, have faced stiff losses through the company's bankruptcy.
About a month after Kodak filed for Chapter 11, for example, the company said it would terminate its non-pension retiree benefits. Those benefits, made when the company was renowned for its generosity to employees, included health and dental insurance, survivor income benefits and life insurance. They represented a total of about $1.2 billion in liability on Kodak's balance sheet.
"Bankruptcy can have a particularly painful effect on retirees," U.S. Bankruptcy Court Judge Allan Gropper said in court.
The company shifted course when it formed a committee to represent retirees through the bankruptcy process.
A Kodak retiree committee was able to get $7.5 million from the company, a commitment of $15 million in cash upon its exit from bankruptcy and an unsecured bankruptcy claim amounting to about $635 million, which it sold to undisclosed parties for about $70 million.
All told, the committee was able to get about 10-cents for every $1 in benefits Kodak owed its retirees, and was able to subsidize some COBRA benefits for retirees who were not yet eligible for Medicare. Kodak also set up a voluntary employee benefit program to cover a small portion of previously guaranteed survivor income benefits.
At a series of December town hall meetings to explain the committee's recovery, R. Scott Williams, an attorney at Birmingham, Alabama-based Haskell Slaughter Young & Rediker, faced many tales of hardship and loss from retirees.
Retired employees spoke of colleagues who were forced to sell their homes to help pay for lost benefits, or the loss of thousands of dollars in life insurance payments.
"I hate the result," Williams said of the recovery, in a telephone interview. "The company simply wasn't able to meet its promises and obligations," he added. Still, Williams said the retiree committee gave workers a voice in Kodak's bankruptcy process and garnered a recovery that was the best possible result, given the circumstances.
"Retirees took a big hit, there was no question," Arthur Roberts, President of the Kodak Retired Employees Beneficiary Association, said in a telephone interview.
Roberts advocated on behalf of pensioners and helped to create the retiree committee. He says that while retirees' recovery of non-pension benefits was small, the expectation in Rochester is that a healthy Kodak will be able to maintain the entirety of over $4 billion in pension commitments.
While Roberts says Kodak's retirees got taken advantage of in bankruptcy given their small recovery compared with note holders, he adds "the general mood is we understand what happened. We are sucking it up and live with it. We want Kodak to be successful."
Read Part 3 of Kodak's Fading Moment: "Rochester's Rise Amid Kodak's Demise"
Read Part 1 of Kodak's Fading Moment: "Kodak: The End of an American Moment"
-- Written by Antoine Gara, with Joe Deaux in Rochester, N.Y.
>Contact by Email.