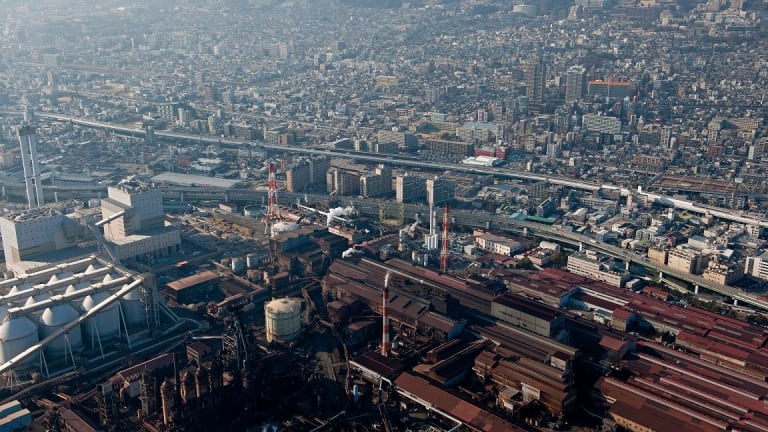 Kobe Steel Scandal Yet Another Hit to Japan's Corporate Reputation
Japanese products have long held a quality stamp that has been invaluable in attracting manufacturing away from cheaper alternatives but this is now under threat.
Kobe Steel Co.  (KBSTY) shares took another hit Wednesday after it confirmed that it had also falsified data for its steel powder products, deepening the latest corporate scandal to plague Japan's embattled manufacturing industry.
Shares closed more than 17% down Wednesday in Tokyo, to ¥878 each, extending yesterday's 20% plunge after the group revealed it had falsified data on the strength and durability of copper and aluminium shipments to customers for as much as a decade.
The company on Wednesday said inspection results may have been falsified in a steel powder product supplied to one customer and that it was investigating the issue.
This could have could have implications for automakers and aerospace firms, including Toyota (TM) - Get Toyota Motor Corp. Sponsored ADR Report , which is Japan's biggest buyer of steel, Honda (HMC) - Get Honda Motor Co., Ltd. Sponsored ADR Report and Boeing (BA) - Get Boeing Company Report . The companies trying to determine if the substandard materials were used in their products and if they pose a safety hazard.
The revelation is yet another blow to Japanese corporate culture and especially its manufacturing industry.
Japanese products have long held a quality stamp that has been invaluable in attracting manufacturing away from cheaper alternatives such as China. But this is now under threat.
Just last week, Nissan Motors (NSANY) recalled around 1.2 million vehicles after discovering that they were signed-off during final safety inspections by non-qualified employees.
The worst scandal to come to light has been Takata Corp., which filed for bankruptcy protection earlier this year after misleading statements related to the quality of its airbag inflators led to the recall of 42 million vehicles, the largest in U.S. history and at least 18 people died.
This is all against a backdrop of huge outperformance for the Nikkei. Tokyo's benchmark index closed a two-decade high Wednesday, rising 57.76 points to close at 20881.27, the highest close since 20943.90 on Dec. 5, 1996.
The rise has been driven by stronger earnings, an improved economy and a better environment for shareholders.
When Prime Minister Shinzo Abe took power in 2012, he made an effort to improve corporate governance but that has mainly focused on increasing profitability and not looking out for bad behavior. Under these competitive pressures cheating may be difficult to avoid.
However, some see the fact that more scandals are coming to light as a good thing and a sign that corporate Japan is doing better at uncovering issues.
"I find it hard to believe that the system is falling apart any more than it always has," WidomTress Japan CEO Jesper Koll told Bloomberg. "The Japanese take this stuff extremely seriously. They're sticklers for rules and precision. I'm more scared of the fact that at U.S. industrial companies, we haven't heard about any of these errors coming through."
More of What's Trending on TheStreet: