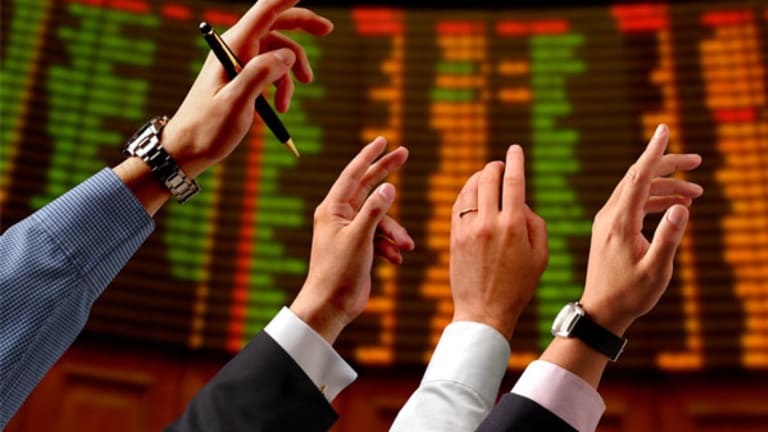 Publish date:
Kicking Responsys; Post-FOMC Strategy: Best of Kass
In these highlights from his trading diary this week, Doug Kass writes about being too selective and the FOMC strategy.
In these highlights from his trading diary this week, Doug Kass writes about being too selective and the FOMC strategy.
NEW YORK (TheStreet) -- Doug Kass of Seabreeze Partners is known for his accurate stock market calls and keen insights into the economy, which he shares with RealMoney Pro readers in his daily trading diary.
Among the posts this past week were entries about being too selective and the FOMC strategy.
Please click here for information about subscribing to RealMoney Pro.

Paradise Lost
Originally published on Friday, Dec. 20 at 10:05 a.m. EDT.
I am kicking the tires on Responsys.
One of the many problems of being cautious on the market is that one becomes too selective in initiating long positions.
One of the companies I have been doing research on this month is Responsys (MKTG)
After doing all my fundamental work, I concluded that my buy level was $16-$18 -- it was trading at $19-$20.
Today Oracle (ORCL) - Get Report
What a rotten way to end the week, to be honest.
At the time of original publication, Kass had no positions in the stocks mentioned.

Post-FOMC Strategy
Originally published on Thursday, Dec. 19 at 8:21 a.m. EDT.
The FOMC decision didn't surprise much, but the market surprised many.
"So come with me, where dreams are born, and time is never planned. Just think of happy things, and your heart will fly on wings, forever, in Never Never Land!"
-- J. M. Barrie, Peter Pan
Yesterday's tapering didn't surprise investors (who were almost evenly distributed in expectations), but the market's reaction (up dramatically) surprised many.
Before the FOMC decision, I was positioned market-neutral because I not only didn't have a strong view of whether tapering would be implemented -- albeit, I did not expect a tapering -- but I also didn't know how the market would react to the two likely Fed scenarios.
Would a tapering with the expected dovish forward guidance be seen as reducing the uncertainty and be cheered by the market? Or would investors be concerned that tapering would cause an unwanted rise in interest rates (consensus) and whack the markets?
Or would no tapering be viewed positively (interest rate stability) or negatively by the markets because of the uncertainty going forward (consensus)?
Read: Enough About Bernanke; Mastering Supply and Demand: Jim Cramer's Best Blogs
The FOMC Decision
The FOMC delivered a dovish statement on Wednesday. The stock market responded in a dramatic fashion, though bonds, the U.S. dollar and gold did not move all that much.
In my view, the S&P 500's rise was too strong given the FOMC statement and the response of other markets.
The Fed reduced its purchases of securities by $10 billion a month, to $75 billion a month; $5 billion less in Treasuries, to $40 billion; and $5 billon less in mortgage-backed securities, to $35 billion. I am a bit surprised that the FOMC did this in December (though economic data over the last week or so lifted my expectation of a tapering a bit) -- I thought January or March were more likely.
However, as I previously expected, the tapering announcement was accompanied by dovish forward guidance.
The dovish forward interest rate guidance was "the committee now anticipates that it will likely be appropriate to maintain the current target range for the federal funds rate well past the time that the unemployment rate declines well below 6.5%, especially if projected inflation continues to run below the committee's 2% longer-run goal." This statement was dovish from two vantage points:
1) The FOMC had been saying that a 6.5% unemployment rate was a rate at which it would consider lifting the fed funds rate -- the current statement says "well below 6.5%" before FOMC will consider lifting the fed funds rate.
2) The statement today elevates the inflation rate, and this rate is expected to stay below the 2% target through 2016.
Read: Will Amazon Be This Year's Holiday Shopping Winner?

In offering up a dovish statement, the FOMC intends to keep short rates low and limit any rise in bond yields.
Twelve of the 17 participating members believe 2015 is the appropriate time to tighten, and the consensus fed funds rate at the end of 2015 from the committee is 75 basis points, 25 basis points lower than in the September report.
I would add that the question and answer session with Bernanke seemed a bit more hawkish than the Fed's statement in that the Chairman did not suggest that moving back into aggressive quantitative-easing mode was an option.

My Analysis
Throughout 2013, quantitative easing , regardless of whether the economic data were strong or weak, was, similar to how New York Yankees ballplayer Reggie Jackson described himself -- that is, the straw that stirred the drink of equities.
QE, for the fifth consecutive year, has provided a stock market put and has also prevented the natural discovery of prices in both the stock and bond markets.
On Wednesday, the message was that the U.S. stock market will be able to overcome the reduction in bond buying in 2014 and that the inevitable rise in interest rates is already discounted by market participants.
The critical questions for 2014 are whether the domestic economy can handle a climb in interest rates that will be the byproduct of slowing quantitative easing and whether stocks can rally in the face of a lessened pace of bond purchases.
I continue to be of the view that the addiction to low interest rates runs deep with consumers, corporations in the private sector and our government in terms of financing the U.S. deficit, and it will weigh on optimistic growth expectations and the consensus view that stocks will rise further.
The domestic economy is heavily doped up by abnormally low interest rates and monetary accommodation.
Because of our inept and divided leaders in Washington, D.C., the shoulders of monetary policy (the Fed) have been needed to support growth in our domestic economy. With that monetary support moderating coupled with the lack of fiscal responsibility and the inability of Democrats and Republicans to come together, more uncertainty than less certainty of policy lies ahead.
This should be valuation-deflating.
I strongly suspect that a withdrawal from the interest rate addiction and a seamless transition ("Goldilocks") toward more normalized long-term interest rates will result in renewed pressures on economic and corporate profit growth and lower equity prices.

In the end, let's not lose sight of the fact that we are nearly five years into an economic recovery, and we are still very much on monetary life support. This underscores the secular challenges that have produced and will continue to produce subpar growth despite short-term interest rates anchored at zero.
Yesterday's tapering move brings us ever closer to the aforementioned discovery of natural prices for stocks and bonds.
Read: Top 5 No-Cash Ways to Give Back
My view is that markets will begin to take note.
My Tactical Response
"In the business world, the rearview mirror is always clearer than the windshield."
-- Warren Buffett
To a person, the talking heads in the media who provided instant analysis of the Fed's tapering decision were bullish late yesterday afternoon. Not surprisingly, many of the same commentators who were bullish after a 300-point rise in the DJIA had previously cautioned about the market's likely adverse response to a tapering.
It is for the reasons listed above (and others) that I shorted yesterday's market rip and moved from a market-neutral stance to a net 10% short position. (Note: Yesterday I expanded my SPDR S&P 500 ETF Trust (SPY) - Get Report
What keeps me from moving more aggressively short is that I have learned to be respectful of the market's unbelievable price momentum, and frankly, I don't know the timing of a downturn/correction with any degree of certainty or precision.
What I am certain of is, as The Oracle wrote, it might shortly "be time to be fearful when others are greedy."
At the time of original publication, Kass was long TZA and short SPY and QQQ
Doug Kass is the president of Seabreeze Partners Management Inc. Under no circumstances does this information represent a recommendation to buy, sell or hold any security.