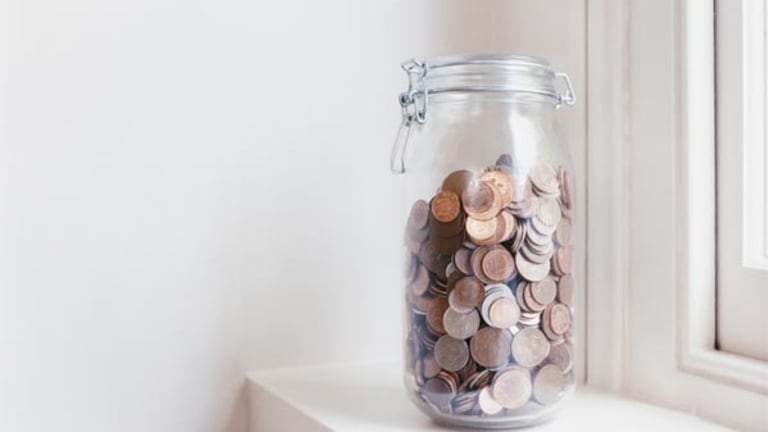 KeyCorp Leads Banks Higher
Bank stocks rounded off the week with another day of gains, while shares of Fannie Mae and Freddie Mac cooled off.
NEW YORK (TheStreet) -- KeyCorp (KEY) - Get Free Report was the winner among large-cap U.S. banks on Friday, with shares rising 1.7% to close at $13.17.
The broad indices ended mixed after the Commerce Department revised its gross domestic product growth estimate for the fourth quarter to 2.4% from the initial estimate of 3.4%. Economists polled by Thomson Reuters had on average estimated the revised fourth-quarter GDP to come in at 2.6%.
The flow of softening housing market reports continued on Friday, with the National Association of Realtors saying its Pending Home Sales Index -- which gauges contract signings -- rose 0.1% during January to a reading of 95.0, but that the index was down 9.0% from the January 2013 reading of 104.4.  The December figure of 94.9 was the lowest reading for the index since November 2011.
NAR chief economist Lawrence Yun said continued bad weather in many areas of the U.S. had "inhibited home shopping" for a second straight month, and that a limited supply of homes on the market was a contributing factor, "especially in the West, while credit remains tight and affordability isn't as favorable as it was a year ago."
The KBW Bank Indexundefined was up 0.4%, with all but six of the 24 index components ending with gains.
Fannie and Freddie Simmer
Following gains of 42% apiece over the previous three sessions, shares of Fannie Mae (FNMA) and Freddie Mac (FMCC) settled down on Friday.  Fannie Mae rounded off the week with shares rising 2.8% to $4.80, while Freddie's shares were up 0.4% to $4.64.
It was an intense week Fannie and Freddie, the government sponsored mortgage enterprises (GSEs), which were both taken under conservatorship by the federal government at the height of the credit crisis in September 2008.
Fannie Mae on Monday reported fourth-quarter earnings of $6.5 billion and said it would pay dividends totaling $7.2 billion to the government in March.  That dividend payment will bring the total amount paid by Fannie to the U.S. Treasury to $117.2 billion, exceeding the government's senior preferred stake in the company of $117.1 billion.
Then investors cheered an important ruling on Wednesday by Judge Margaret Sweeney in the U.S. Court of Federal Claims that the lawsuit against the government by private shareholders of the government sponsored enterprises -- including Bruce Berkowitz's Fairholme Funds -- could proceed to the discovery phase.
Freddie Mac on Thursday announced a fourth-quarter profit of $8.6 billion and said it would pay a dividend to the Treasury of $10.4 billion. That will bring the total amount paid by Freddie to the Treasury to $81.8 billion, well above the government's investment of $72.3 billion.
Fannie and Freddie have returned to strong profitability, thanks to the government's intervention that saved the mortgage giants from bankruptcy in 2008.  But private shareholders have initiated at least 20 lawsuits against the government, because of an amendment to the bailout agreements made in August 2012 -- after the GSEs had stopped increasing their borrowings from the government and had comfortably covered their 10% dividends to Uncle Sam during the second quarter of 2012.  Under the "third amendment" to the bailout agreements, both GSEs must pay all of their earnings as dividends to the government, in excess of minimal capital buffers.
This means the GSEs aren't allowed to repurchase any government-held senior preferred shares, and that private investors holding stock in the companies are out in the cold, indefinitely.
But institutional investors holding common and junior preferred shares of the GSEs think they will eventually win in court.  For much more on this very important story about the epic battle over two important companies with balance sheets totaling $5.3 trillion, please see TheStreet's extensive continuing coverage:
Fannie and Freddie Plaintiffs Eye FDIC Share Sales
Were Fannie, Freddie Negotiations Done in Good Faith?
KeyCorp
Shares of KeyCorp of Cleveland have pulled back 2% this year, following a return of 62.5% during 2013.  The shares trade for 1.3 times their reported Dec. 31 tangible book value of $10.11, and for 11.7 times the consensus 2015 earnings estimate of $1.13 a share, among analysts polled by Thomson Reuters.  The consensus 2014 EPS estimate is $1.02.
CLSA analyst Mike Mayo rates KeyCorp "outperform," with a 12-month price target of $14, and believes the company has plenty of room to improve its efficiency, which could "strengthen a favorable capital return story" for shareholders.
In a note to clients on Thursday, Mayo wrote that KeyCorp's ratio of expenses to revenue trailed peers last year, but that the bank "returned more earnings to investors via dividends and buybacks than its peers (3/4 vs. 1/2), aiding stock performance."
But with a price-to-book value trailing peers, which together trade for roughly 1.6 times tangible book value for peers, the analyst believes "buybacks could go farther," to boost the valuation of KeyCorp's stock.
Mayo expects KeyCorp to make progress in "getting back to average" expenses, by continuing to "close branches, eliminate hobbies (new sale of European leasing business), and reduce occupancy and staff expenses."  But he also believes the bank "has not articulated the benefits in a way that investors can hold management accountable."
Citigroup Burned by Mexico Fraud
Philip W. van Doorn is a member of TheStreet's banking and finance team, commenting on industry and regulatory trends. He previously served as the senior analyst for TheStreet.com Ratings, responsible for assigning financial strength ratings to banks and savings and loan institutions. Mr. van Doorn previously served as a loan operations officer at Riverside National Bank in Fort Pierce, Fla., and as a credit analyst at the Federal Home Loan Bank of New York, where he monitored banks in New York, New Jersey and Puerto Rico. Mr. van Doorn has additional experience in the mutual fund and computer software industries. He holds a bachelor of science in business administration from Long Island University.