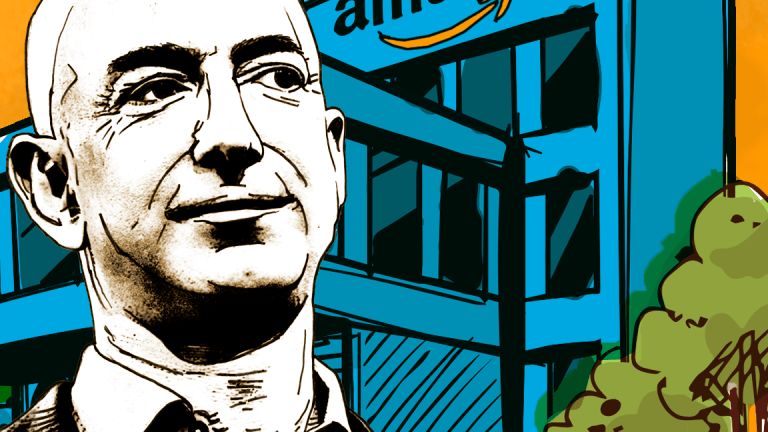 Key Numbers for Investors to Watch as Amazon, Microsoft and Intel Report Results
In addition to revenue and EPS figures, keep an eye on the growth rates turned in by various businesses.
Amazon.com (AMZN) - Get Amazon.com, Inc. Report , Microsoft (MSFT) - Get Microsoft Corporation (MSFT) Report and Intel (INTC) - Get Intel Corporation (INTC) Report will all be reporting after the close on an earnings-filled Thursday. Here a look at analyst sales and EPS expectations, as well as some other key numbers for investors to pay attention to.
Amazon
On average, analysts polled by FactSet expect Jeff Bezos' company to report Q1 revenue of $49.92 billion (up 40% annually) and GAAP EPS of $1.24. Amazon also provides quarterly revenue operating income guidance within its report; Q2 revenue and op. income consensus estimates are respectively at $52.22 billion (up 38%) and $1.13 billion. Revenue growth for both quarters will get a moderate boost from the Whole Foods acquisition, which closed last August.
Key numbers:
North American segment revenue - Thanks to share gains, Whole Foods and the U.S. e-commerce market's growth, the consensus is for Amazon's North American segment revenue to rise 43% annually to $30.05 billion.
International segment revenue - The consensus is for International segment revenue to rise 32% to $14.61 billion. Strong European and Indian momentum have been driving much of this segment's growth. A weak dollar has also been acting as a tailwind in recent quarters.
AWS - Following Q4's 45% growth, AWS revenue is expected to rise 44% in Q1 to $5.26 billion. Big enterprise migrations and the steady rollout of new features have helped AWS defy the law of large numbers.
Subscription revenue - Amazon's subscription services revenue -- dominated by Prime membership fees, but also covering the Music Unlimited service and other content subscriptions -- grew 49% annually in Q4. For Q1, the consensus is for subscription revenue to rise 45% to $2.81 billion. Amazon is about a week removed from disclosing it now has over 100 million global Prime members.
"Other" revenue - This segment, which is dominated by Amazon's burgeoning ad business, saw revenue rise 62% in Q4 (a seasonally big quarter for ads) to $1.74 billion. For Q1, the consensus is for Other revenue to rise 58% to $1.35 billion.
Merkle, an online ad firm catering heavily to retailers, reported it clients respectively grew their spending on Amazon's Sponsored Product Ads and Headline Search Ads by 96% and 90% in Q1. Large ad price increases drove much of the growth.
Gross margin (GM) - It has been steadily rising due to a mix shift towards higher-margin revenue streams such as AWS, Prime subscription fees and third-party seller services. But rising depreciation expenses (the result of heavy capital spending) are a headwind. In Q4 (a seasonally weak quarter for margins), GM rose by 2.5 percentage points to 36.3%. For Q1, the consensus is for GM to rise by only 1 percentage point to 38.2%.
Microsoft
For the March quarter, the FactSet consensus is for Microsoft to report revenue of $25.77 billion (up 9% annually) and GAAP EPS of $0.85. The software giant provides quarterly sales guidance (it's usually conservative) on its earnings call; the June quarter revenue consensus is at $28.07 billion (14% growth). A strong IT spending environment should provide a lift.
Key numbers:
Office revenue growth and metrics - With Office 365's momentum remaining strong, Microsoft's Office commercial revenue grew 10% last quarter, and its Office consumer revenue grew 12% (as usual, no revenue figures were given). The company also reported its Office 365 commercial seats grew 30% annually, and that Office 365 consumer subscriptions rose by 1.2 million sequentially to 29.2 million.
Azure revenue growth - Revenue growth for Microsoft's cloud infrastructure and app platform accelerated to 98% in the December quarter from the September quarter's 90%. Microsoft still isn't sharing Azure's revenue, perhaps out of a fear of giving Amazon a talking point.
Windows revenue growth - Windows sales were mixed in the December quarter: OEM revenue rose 4%, but commercial products and cloud services revenue fell 4%, thanks in part to a big year-ago deal. Industry research suggests the PC market was flat to slightly down in Q1, with business PCs, which account for a relatively high percentage of Microsoft's Windows revenue, a strong point.
LinkedIn revenue - Microsoft reported a better-than-expected $1.3 billion in LinkedIn revenue for the seasonally strong December quarter. For the March quarter, the consensus is for revenue to rise 26% to $1.22 billion.
Intel
The chip giant's Q1 FactSet consensus is for revenue of $15.07 billion (up 2% annually) and adjusted EPS of $0.72. Q2 and full-year guidance should be provided within the Q1 report; consensus is for Q2 revenue of $15.59 billion and EPS of $0.81, and for full-year revenue of $65.11 billion and EPS of $3.57.
Key numbers:
Data Center Group (DCG) revenue and metrics - With the help of a strong Xeon CPU upgrade cycle, DCG revenue -- it covers server CPUs as well as other data center products -- rose 20% in Q4. For Q1, consensus is for DCG sales to rise 15% to $4.86 billion.
Intel also breaks out the revenue growth rates seen for DCG sales to enterprise/government, cloud service provider and telecom service provider clients. Enterprise/government sales, which have been pressured by cloud adoption, rose a stronger-than-expected 11% in Q4, but Intel cautioned this growth wouldn't last. Cloud and telecom sales, benefiting from strong secular trends, respectively rose 35% and 16%.
Client Computing Group (CCG) revenue and metrics - CCG revenue, which covers PC and mobile chip sales, fell 2% in Q4. Likewise, it's expected to drop by 2% in Q1 to $7.81 billion.
Q4 sales were hurt by an 8% drop in desktop revenue, which in turn stemmed partly from AMD's (AMD) - Get Advanced Micro Devices, Inc. Report share gains. Notebook revenue was flat, and modem/adjacencies revenue (benefiting from iPhone modem sales) rose 15%. AMD was probably a headwind again in Q1, and iPhone order cuts may have also weighed. On the other hand, improving demand within the business PC market, where AMD's share is relatively low, likely provided a boost.
Flash memory revenue - Intel's Non-Volatile Memory Solutions Group saw revenue rise 9% in Q4. For Q1, consensus is for revenue to rise 10% to $953 million. A recent slide in NAND flash memory prices may have weighed on Q1 sales. But Intel has forecast its flash segment growth will improve over the course of 2018 as production of high-density 3D NAND flash chips ramps, and expects to get $2 billion worth of prepayments from memory clients this year.
The capex budget - In January, Intel set a 2018 capital spending budget of $13.5 billion to $14.5 billion, which was easily above 2017 capex of $11.8 billion. Will the budget be tweaked? Last week, Taiwan Semiconductor (TSM) - Get Taiwan Semiconductor Manufacturing Co., Ltd. Sponsored ADR Report , the world's biggest chip foundry, upped its 2018 capex budget by $1 billion to a range of $11.5 billion to $12 billion.
Jim Cramer and the AAP team hold positions in Amazon and Microsoft for their Action Alerts PLUS Charitable Trust Portfolio. Want to be alerted before Cramer buys or sells AMZN or MSFT? Learn more now.
This column originally appeared on Real Money, our premium site for active traders. Click here to get more great columns like this.