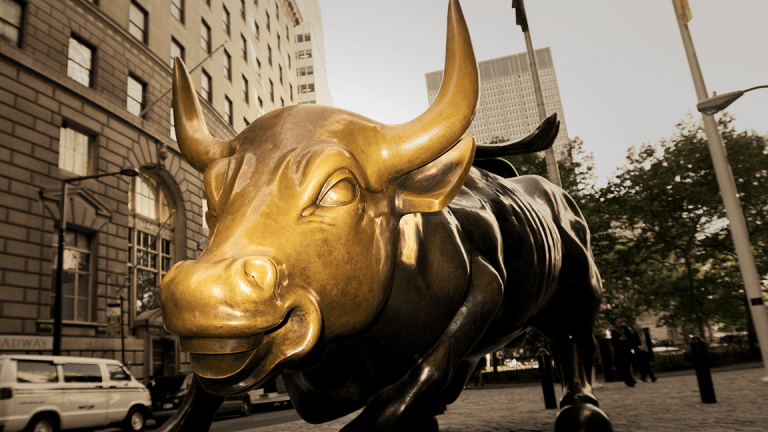 A Key Driver of the Bull Market Is Fading Away
This July 4, brush up on your investing knowledge with one key lesson. Meanwhile, trade war fears are starting to be priced into corporate profit estimates.
Wall Street is growing worried about Trump's trade war.
The S&P 500
undefined

three-month earnings revision ratio (ERR) fell for the fourth straight month in June to 1.37 from 1.52, according to Bank of America Merrill Lynch. In February, the ERR was a record 2.64 as Wall Street priced in profit boosts from the Trump administration's tax reform plan. Meanwhile, the one-month ERR fell to 0.97 in June from 2.05.

Subsequently, the S&P 500's price to earnings multiple -- or what investors are willing to pay to own a piece of a company's future profit potential -- has compressed to about 16 times from 18 times earlier in the year. A key driver of the bull market of the past year has been Wall Street pushing up their profit forecasts on the biggest companies in Corporate America. But with trade war fears dominating, Wall Street may be making early moves to price in any impact to corporate bottom lines. Should the trend continue, equities could slip further.
Around the Horn 
Food for thought at the backyard BBQ today.
(1) Nick Caporella, the 82-year-old billionaire CEO of National Beverage Corp. (FIZZ) - Get National Beverage Corp. Report and pilot, has been accused of sexual harassment by two pilots who say Caporella touched them inappropriately while they were flying with him in his business jet on multiple trips. Caporella and National Beverage Corp. were named as defendants in lawsuits filed by the two former employees in the past two years in Florida, according to published media reports on Tuesday. To be sure, a strange story surrounding a company that is far from your typical company.
But if you own shares in National Beverage, this is a sideshow to a bigger issue facing the owner of LaCroix: the insane amount of new competitors to the very drink that has powered the company's bottom line and stock price in recent years. With seltzer sales pegged to grow to a $6.0 billion business in the U.S. by 2021 according to Statista, up from $4.5 billion currently, companies such as PepsiCo (PEP) - Get PepsiCo Inc. Report and Coca-Cola (KO) - Get Coca-Cola Company (The) Report are moving quickly into the seltzer market. The growth is also breeding a host of upstarts with eye-catching packaging (a LaCroix staple) and clever new flavors. Just venture down the seltzer aisle this week to see it playing out in real-time.
(2) It's unlikely that the chip sale ban just imposed by a Chinese court will do sustained damage to Micron's (MU) - Get Micron Technology Inc. Report memory sales within China, writes TheStreet's Eric Jhonsa.
Lesson of the Day
Respect weird moves in the market. That is one of the first lessons I learned when starting out as a rookie stock analyst (that was also overseeing a stock trading platform).
For instance, if shares of Lebron James Inc. are up 10% in a session on seemingly no news, when the broader market is getting taken sharply lower, chances are some form of key news is coming soon. As is always the case, someone knows something. I bring this up in light of the news of Barnes & Noble's (BKS) - Get Barnes & Noble, Inc. Report CEO getting the boot for unspecified violations of the company's policies on Tuesday evening. Shares of Barnes & Noble rallied about 12% from June 13 to June 28 while the broader market was under pressure and in light of another terrible earnings report on June 21. No positive news from Barnes & Noble, just shares of a company that has posted nine straight quarters of same-store sales declines moving aggressively higher. I wrote it down on a piece of paper as one to watch.
Whatever drove the odd move (guess we know now...) it was likely a bet that the ouster of the CEO would put the company in play for a buyout. Or at the very least, a better CEO that offered more hope to investors would be brought into the company. Interested in gaining more knowledge on the markets? Snag Jim Cramer's '25 Rules for Investing', they are a great read by the pool this July 4.