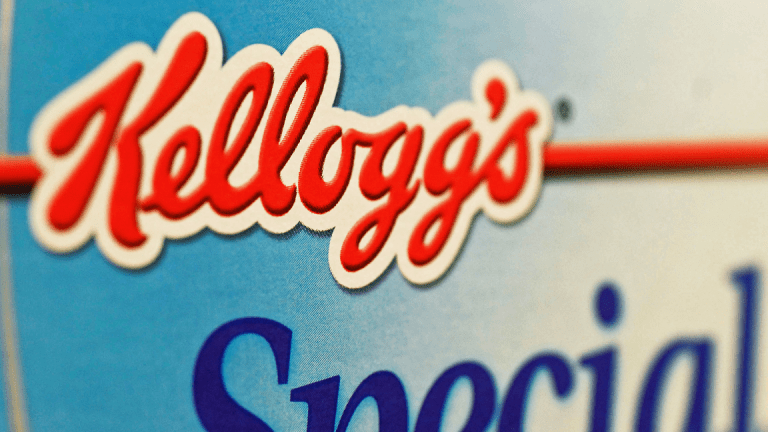 Kellogg Issues Recall of Honey Smacks Cereal Amid Salmonella Outbreak
Kellogg issues a recall for its Honey Smacks cereal.
Fans of Honey Smacks aren't going to be happy about this one.
Shares of Kellogg Co. (K) - Get Kellogg Company Report  fell slightly to 66.56 on Friday, June 15, after the company voluntarily recalled about 1.1 million cases of the sweetened puffed cereal in the wake of a multi-state Salmonella outbreak.
The U.S. Food and Drug Administration and the Centers for Disease Control and Prevention discovered that Honey Smacks were the likely source of the outbreak after they interviewed affected people. Of the 39 people who officials spoke with, 30 said they ate cold cereal and 14 identified Honey Smacks specifically by name, according to the investigation report. As of Thursday, 73 cases of Salmonella were reported across 31 states, and 24 people have been hospitalized. 
The company recalled the 15.3 and 23 oz. boxes of the cereal that have a "best if used by" date of June 14, 2018, through June 14, 2019. The 15.3 oz. size boxes come eight boxes to a case while the 23 oz. cases contain 12 boxes, so Kellogg officials don't have an accurate number of how many boxes need to be recalled and don't have a way to know how many boxes are still on shelves or in homes, a Kellogg representative said in an emailed statement.
The company and the third-party manufacturer that makes Honey Smacks plan on launching an investigation into the facility where the cereal was made, according to a press release from Kellogg.
Kellogg officials are still working through how the recall will affect the company financially, but they "expect the recall cost to be covered by the third-party manufacturer," a company representative said.
Timothy Ramey, an analyst with Pivotal Research Group, said investors can look at the recall as a one-time event and shouldn't worry about it too much based on the isolated nature of the incident -- no other Kellogg products were affected by the outbreak. Ramey has a "Buy" rating on Kellogg's stock and is optimistic of the company's growth potential in international markets. He raised his per share target price to $90 at the beginning of May.
"It's not the worst thing that can happen to Kellogg," Ramey said about the recall. "The financial impact is too early to tell. The brand is not fundamental to their business."
Most analysts don't share his sentiments as they have lowered their target prices on the stock to between $60 and $73 with nine out of the 14 analysts recommending a "Hold" rating, according to FactSet. 
Ramey acknowledged that recalls don't inspire much excitement among investors, but said people should not categorize Kellogg as just a cereal company based on its other breakfast and snack product lines.
That could be good news for Kellogg, which has seen its cereal sales decline year after year since 2011. The company reported first-quarter cereal sales of $691 million in 2018, a 2.4% drop from the same time a year ago when sales were at $708 million.
The market for cereal has shrunk dramatically in past years as consumers have moved toward more healthy and convenient breakfast options. Cold cereal sales overall have declined by 11% over the past five years, according to Mintel, a market research firm.