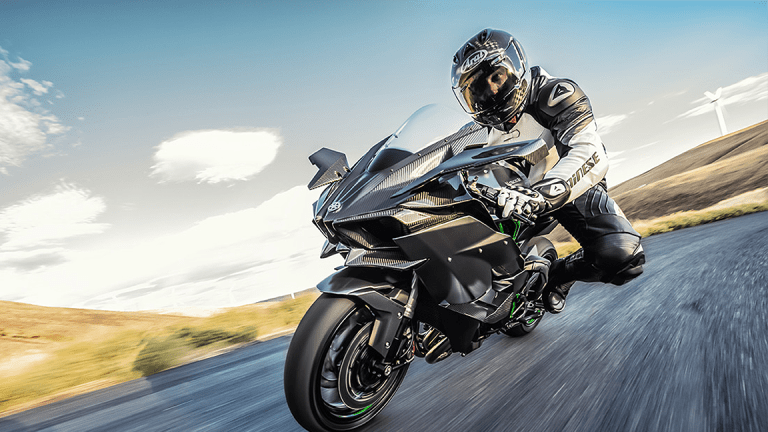 Kawasaki Ninja H2R: Is it Enough to Excite Die-Hard Enthusiasts?
Even if you're not a motorcycle rider, you're gonna love the new Kawasaki Ninja H2R. And while there is a lot of hype about this $55,000 mean machine... Keep in mind, it's not meant for mainstream riders (video).
The motorcycle industry is in need of a lighting bolt to fuel sales, as baby boomers, once the bread and butter of the industry, continue to be aged out.
The loss of this key demographic has sparked a nosedive in the industry and left some manufacturers seeking new products to entice younger audiences. 
Enter Kawasaki.
At the AIMExpo 2017, held last week in Cleveland, the Japanese power sport company offered up some shining rays of hope, not to mention a bike that should, by all accounts, should have Ducati, BMW (BMWYY) and Indian (owned by Polaris (PII) - Get Free Report ) shaking in their boots.
Among the reveals was the $55,000 Ninja H2R.
This new limited edition bad boy is not meant for commuting to your cushy Wall Street job, nor is it for moseying on weekends to Trader Joe's.
Rather, this sport bike has so much horsepower that it's not even street legal. Yes, you read right. This Japanese-made motorcycle is as close to hand built as you can get.
Just how fast does it go? This demon hits 206-249 mph.
Though not street legal, Kawasaki and others hope that such dazzling displays of power will help entice a younger audience and a new crowd of gear heads.
Kawasaki logged 333.5 billion yen (roughly $2.9 billion) in net sales for its motorcycle and engine division in fiscal 2016, down 4.3 billion yen year-over-year.
Meanwhile, Harley Davidson (HOG) - Get Free Reportclocked $6 billion in sales in 2016, the same as the prior year. Harley shipped 262,221 motorcycle in 2016, a drop of 1.6% year-over-year.
More of What's Trending on TheStreet: