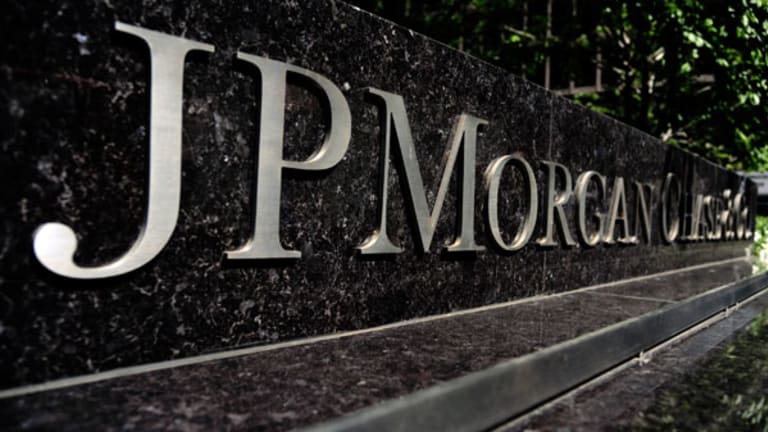 Katz: Wells Fargo and JPMorgan Are Buys
Both stocks trade at nice values, and JPMorgan is a bargain after a one-off earnings miss.
On Friday, Wells Fargo (WFC) and JPMorgan Chase (JPM) kicked off first-quarter reports from major banks. Wells Fargo hit, reporting better-than-expected earnings of $1.05 per share vs. the consensus of $0.96. JPMorgan disappointed: Profit totaled $1.28 per share against the $1.40 average target. JPMorgan's miss was particularly surprising given that the bank had beaten EPS consensus in 11 out of the past 13 quarters.
The Wells Fargo beat was due to the quarter's steady revenue growth to $20.8 billion. As a broader-based commercial and retail bank, Wells Fargo was able to grind out top-line growth from its large consumer and corporate banks through loan growth, deposit fees, investment-banking transactions and brokerage services. This combined with falling expenses and credit ratios, and all of it allowed the bank beat the Street's view. Wells Fargo was also able to navigate the difficult current mortgage environment better than JPMorgan, as it is more exposed to purchasing money mortgages, and has less exposure to refinancing.
JPMorgan, on the other hand, missed the consensus number due to its more cyclical investment-banking and mortgage-origination businesses, which disappointed. The steep declines in those units led to an overall revenue decline to $23.9 billion, missing the $24.5 billion consensus estimate.
This revenue shortfall directly led to the missed earnings amid a deleveraged the expense base. The retail, commercial and asset-management sides of the bank all reported good numbers, and JPMorgan continued to gain market share outside of its mortgage business. We don't expect the numbers to get worse from here, and this is a rare miss for JPMorgan, which has consistently beaten estimates over the past four years.
We believe both of these banks should report improving results as we cycle through 2014. In the case of Wells Fargo, we expect analysts will now proceed to boost estimates thanks to the $0.09 earnings beat. Coming into the quarter, Wells Fargo had been expected to earn $4.05 for the year.
Conversely, JPMorgan will see its earnings get rebased by $0.12 for 2014, from a prior average of $5.87 -- but we don't think it makes sense to lower earnings estimates beyond the second quarter. CEO Jamie Dimon did not seem worried on the call about the year, and he said costs would be reduced to make up for any unexpected shortfalls if the weak revenue trends were to continue.   
Overall, these two banks continue to make progress as each quarter goes by. Growth in loans, deposits and fees continue to climb, while expense and credit ratios shrink. Both banks reiterated an overall positive tone for constructive gross domestic product growth. They also reiterated their commitment to return capital to shareholders via increased dividends and share-buyback activity as business progresses.
Moreover, we still are very positive on the banking sector in general, as the industry will be a major beneficiary of a better economy and rising interest rates over time. We believe Wells Fargo and JPMorgan, in particular, are two institutions that will outperform the sector overall, since both have strong competitive positions and are respectively run by two of the best CEOs in corporate America.
The earnings power of these two banks is just beginning to pick up, and shares of both sell at very attractive valuation levels: Wells Fargo trades for 12x earnings, and JPMorgan is priced at just under 10x. Both have an above-average dividend yield of 2.9%, they are progressively raising their dividends and they will be heavy buyers of their shares in the upcoming year -- and, potentially, years. We would be buyers of both, and we believe the discount that you are getting after the JPMorgan call more than makes up for that bank's earnings miss.
At the time of publication, Katz owned share of JPM and WFC, although positions may change at any time.